Shillong, Jan 25: India a·songni chang 73-gipa Republic Day-ni salo aro Meghalaya a·dokni bilsi 50 gapaniko manianio Meghalaya a·doko songdongenggipa manderangna, a·dokni Chief Minister Conrad K Sangma, mittelpilaniko parakataha.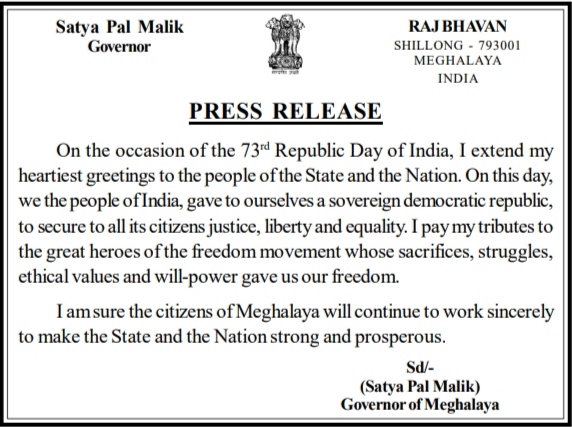 A·songni chang 73-gipa Republic Day-ko manianio a·dokni Chief Minister, jinmana aganprakatengon, a·songni on·gimin bilni gamchataniko mittelpilangenba, a·songo jakgitelanina, ku·cholsan ong·anina aro a·songo songdongenggipa manderangni gisepo apsan bilko man·na gita gital dake on·kangangtaiaha.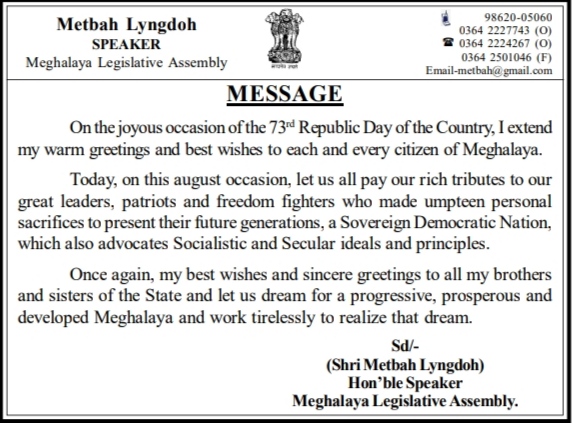 Jakgitelanina krengdilanggipa Meghalaya a·dokni pagitchamrang, jekai U Tirot Sing, U Kiang Nangbah aro Pa Togan Nengminja Sangma-ko man·chape pilak dilgiparangkon ia salo ua dingtangmancha gisik ra·atpilangenba, manderangko chel·chakna rakbee kamrangko ka·enggipa dingtang dingtang sipai dolrangnaba mittelpilaniko parakataha.
Chief Minister-ni aganani gitade, batanggimin bilsio a·doko pilakni gitan tom·tomanirangko man·aha aro pilak manianirangkon tom·tomao ong·atna man·aha.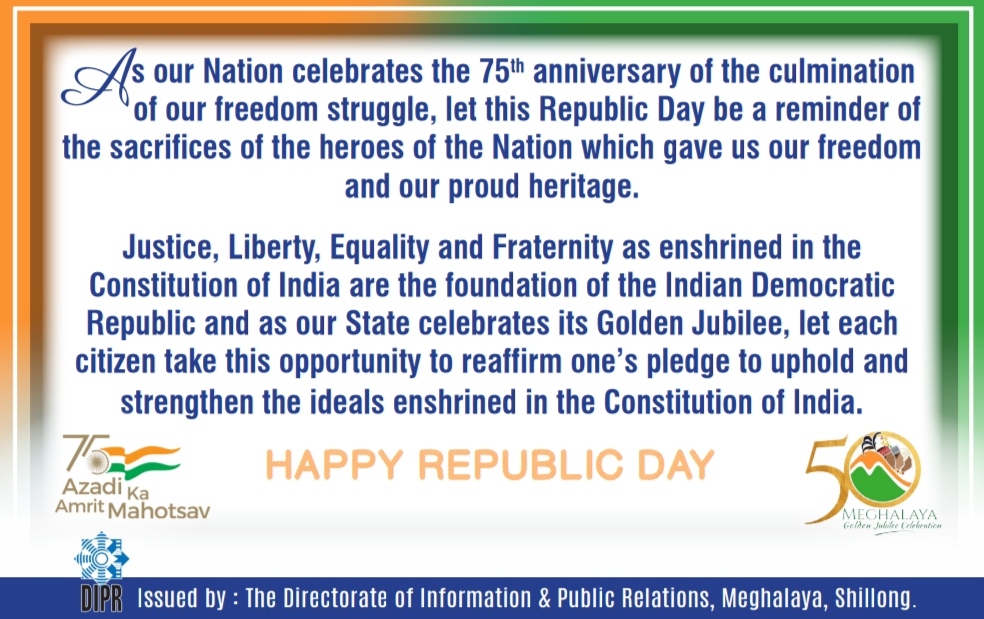 A·dok damgnini simarango ru·uta bilsirangonin meligrikna man·jaenggipani bidingo janapatengon, Assam a·dok baksa meligrikna man·jaenggipa dam 12 biaprangoni damdokkode da·o namatna gita man·engaha ine Sangma parakataha.
A·doko namroro silroroaniko ra·bana man·engani gimin an·tangni kusi ong·aniko parakatengon, PMGSY, Jal Jeevan Mission aro MGNREGS gita dakgipa scheme-rangko a·doko ta·raken chu·sokatna man·aha ine Chief Minister parakataha.
Ia bilsini gisepon, a·dokni gital Assembly nok, Shillong International Centre for Performing Arts, Ganol Hydro Electric Power Project, Crowborough aro Marriott Hotel-rang, Tura-ni PA Sangma Stadium, Wahajier football stadium, Shillong-ni IT Park, Baghmara aro Nongstoin-ni water supply project-rang, Shillong Govt College of Engineering aro Tura-ni College of Architecture & Urban Planning-ko kulie on·gnok ineba Chief Minister parakataha.
Gipin biaprangoni dakchakanichi a·doko tourism-ko tang·doatna, rama jal·langrangko taridapna, an·seng baljokani aro bijoli kamrangko namdapatna gita sorkari, bang·bea tangka paisarangko chamenga ineba Chief Minister parakataha.
A·doko game ge·e cha·giparangna, me·chikrangna aro chadamberangna sorkari dingtang dingtang janggi tangani cholrangko on·na jotton ka·enga ine janapatengon, a·dok sorkarini ra·gatgipa FOCUS program-chi game ge·e cha·giparang, self help group (SHG)-rang aro chadambe dolrangchi producers group-rangko bikotate tangka paisarangchi dakchakanirangko on·enga ine Chief Minister parakataha.
Bilsi 10-ni gisepon Meghalaya a·dokkoba a·songo nambatsranggipa dam 10 a·dokrangoni damsa ong·atna gita MDA sorkari, miksonge kam ka·enga ine janapatengon, ia sorkarini pangchakaniko rikani baksana manderangni bakrimanichi iako sorkari chu·sokgipa ong·atna man·gen ine Sangma, an·tangni ka·dongchakenganiko parakataha.
Bon·kamao ua a·songni jakgitelanina krengdilanggiparangko, joltangko dilenggipa manderangko aro batanggimin bilsignini gisepo sajinmako mikkango donge warachakenggipa manderangkoba mittelpilangaha.