Tura, Dec 1: Meghalaya Chief Minister, Conrad K Sangma, on Thursday inaugurated the newly constructed Prime Hub-cum-Head office of the All Garo Hills Multipurpose Cooperative Society (AGHMCS) Ltd. at Babadam under Rongram C&RD Block in the presence of the Chief Adviser to the Chief Minister, Thomas A Sangma, Secretary of AGHMCS and the Director of Bakdil NGO, Fr. Sunny Mavellil, Rongram BDO, MR Marak, Parish Priests, Nokmas and other dignitaries.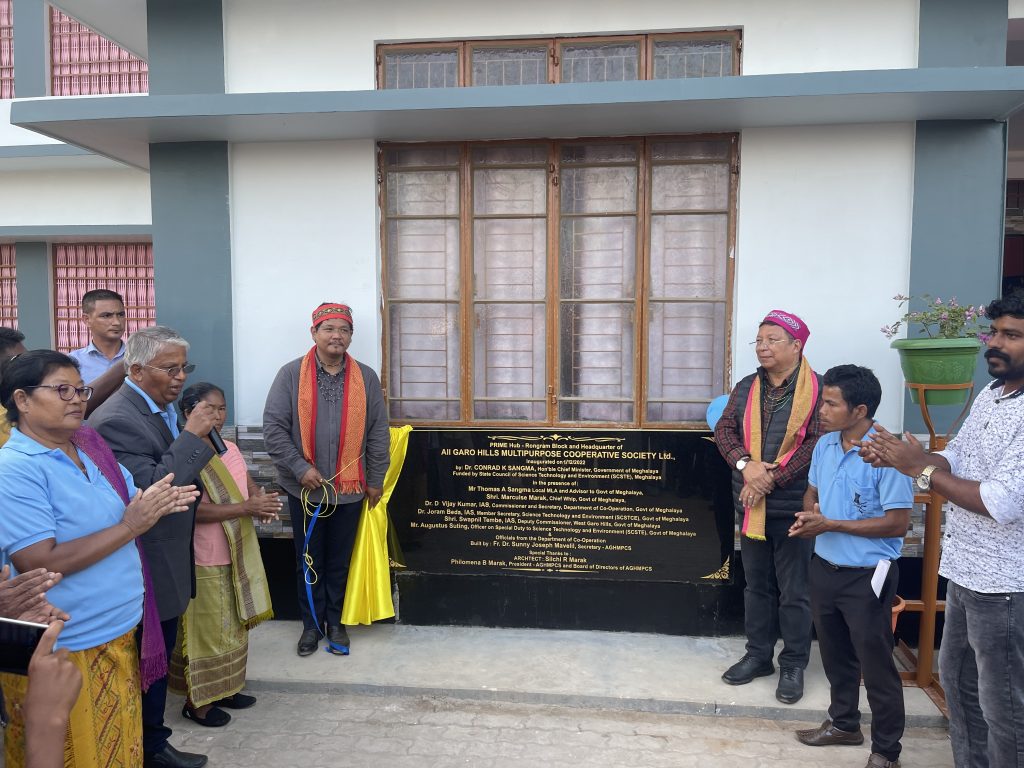 We are happy to play our role in this growing entrepreneurial ecosystem and I thank Fr. Sunny for completing the building in record time.

The PRIME Hub has been constructed at a cost of ₹3.30 Cr. with an additional ₹1 Cr+ for machines for the cashew & ginger processing units

— Conrad Sangma (@SangmaConrad) December 1, 2022
Inaugurating the much-awaited office of the cooperative society, the chief minister recalled the tireless efforts of Fr. Sunny Mavellil, who is instrumental in forming the AGHMCS with a vision to uplift the standards of the farmers in Garo Hills region and lauded him for completing the construction within a year, the foundation stone for which was laid on December 20, 2021.
Stating that there are challenges in bringing development and changes, the CM informed that there are potentials too in Garo Hills which need cooperative movement to be tapped thereby uplifting the economic conditions of farmers as well as the region as a whole. While talking about the commitment of the Govt. to provide necessary help, he said that the present Govt. has launched FOCUS and FOCUS Plus through which the programs and policies for the welfare of the farmers are being implemented.
The Chief Adviser to the Chief Minister, Thomas A Sangma, while speaking on the occasion, said this office of the AGHMCS is a symbol of progress in Garo Hills through the cooperative societies and expected to bring a positive change in the economy of the region. He also expressed his gratitude to the chief minister and the secretary of the AGHMCS for their vision and efforts to transform the region.
Delivering the welcome address, Fr. Sunny Mavellil informed the gathering that the Govt. had sanctioned an amount of Rs. 3.30 crores for the construction of this office and another Rs. 3.65 crores is being sanctioned to the AGHMCS for construction of different processing units for ginger, cashew, black pepper, etc. He also informed that so far 30 cooperative societies have been formed in Garo Hills.
On the day, the chief minister also distributed cheques to various producer groups of Garo Hills under the FOCUS.
At Babadam today, 35 Producer Groups from Rongram Block received financial assistance amounting ₹22.15 Lakhs & another 25 PGs from Dadenggre Block received ₹35.20 Lakha through Meghalaya's biggest farmers' welfare scheme 'FOCUS'@nstomar @AgriGoI pic.twitter.com/cORSSBC018

— Conrad Sangma (@SangmaConrad) December 1, 2022