Guwahati, Sep 21: Assam Congress leader Debabrata Saikia on Wednesday filed an FIR against Chief Minister Himanta Biswa Sarma at the Nazira Model Police station in Sivsagar district for giving hateful speeches during the Jan Ashirwad rally in Madhya Pradesh's Vidhisha on September 19.
Saikia said, "I am constrained to lodge an FIR on account of banel and hateful statement given by Assam chief minister Himanta Biswa Sarma during the Jan Ashirwad rally in Madhya Pradesh's Vidhisha on September 19 (Tuesday).".
"In a contrary government run by law, Sarma has taken electorial rhetoric to its ugliest form while taunting Kamal Nath, a prominent member of the Indian National Congress about his Hindu identity. Sarma has directly suggested that 10 janpath should be burnt," Saikia stated.
Saikia, who is also a Leader of the Opposition in Assam State Legislative Assembly stated that Sarma has given a clear instigation towards violence and arson.
"This is a clear instigation towards rioting and abetment of arson on the part of Himanta Biswa Sarma. He is liable to be booked under sections 153 and 115/436 of the IPC," Saikia stated.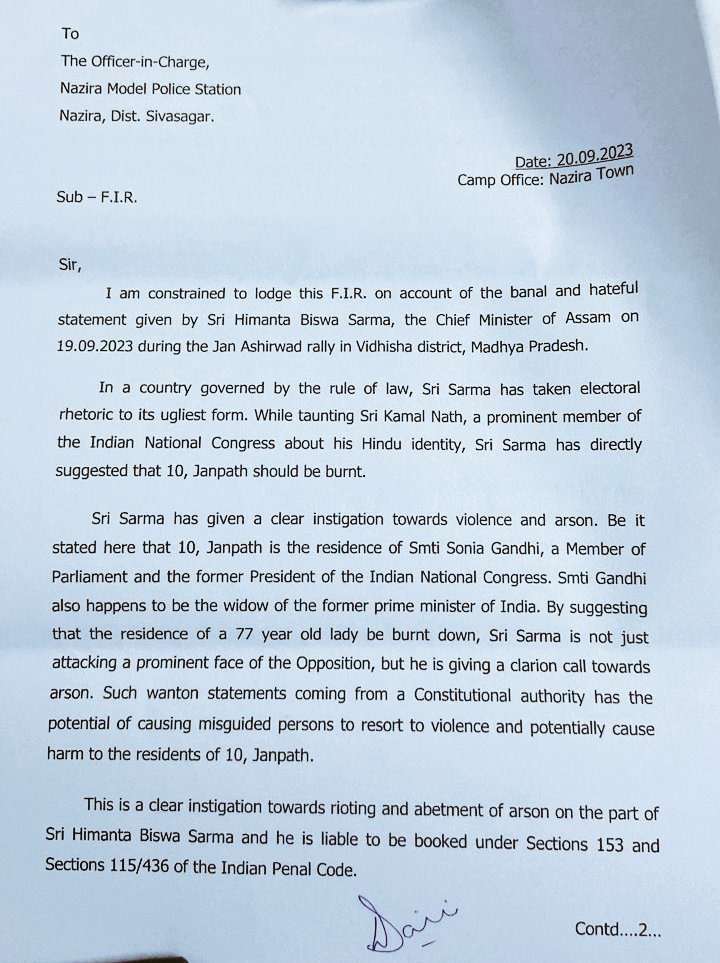 He further said, "10 Janpath is the residence of Sonia Gandhi, a member of parliament and former president of the Indian National Congress. Gandhi also happens to be the widow of the former prime minister of India. By suggesting that the residence of a 77-year-old lady be burned down, Sarma is not just attacking a prominent face of the opposition; he is giving a clarion call towards arson.".
"Such wanton statements coming from constitutional authority have the potential to cause misguided persons to resort to violence and potentially cause harm to the residence of 10 Janpath."
Assam Chief Minister Himanta Biswa Sarma on Monday targeted the Congress central leadership in poll-bound Madhya Pradesh over the Sanatan Dharma row, saying that India was not Babar's nation and challenged former chief minister Kamal Nath that if he indeed was a Hanuman devotee then he should set 10 Janpath on fire like Hanuman set Lanka on ablaze.
Sarma was speaking at the Jan Ashirwad rally in Vidhisha district when he spoke about DMK leader Udhayanidhi Stalin's remarks, calling for the eradication of Sanatan Dharma.
Also read: Govt to come up with comprehensive policy: Conrad on job recruitment process
WATCH:
Find latest news from every corner of Northeast India at hubnetwork.in, your online source for breaking news, video coverage.
Also, Follow us on-
Twitter-twitter.com/nemediahub
Youtube channel- www.youtube.com/@NortheastMediaHub2020
Instagram- www.instagram.com/nemediahub