Tura, Sept 23: Meghalaya Chief Minister Conrad K Sangma on Friday distributed 2000 piglets for 500 beneficiaries of "PROGRESS" – a flagship initiative of the Government under Rural Backyard Piggery Scheme.
4 piglets were distributed to farmers through the Rural Backyard Piggery Support scheme 'PROGRESS'.

Today we also distributed power-operated chaff cutters to dairy societies of Raksamgre, #WestGaroHills District.@PRupala @Dept_of_AHD pic.twitter.com/6KxpPFQvln

— Conrad Sangma (@SangmaConrad) September 23, 2022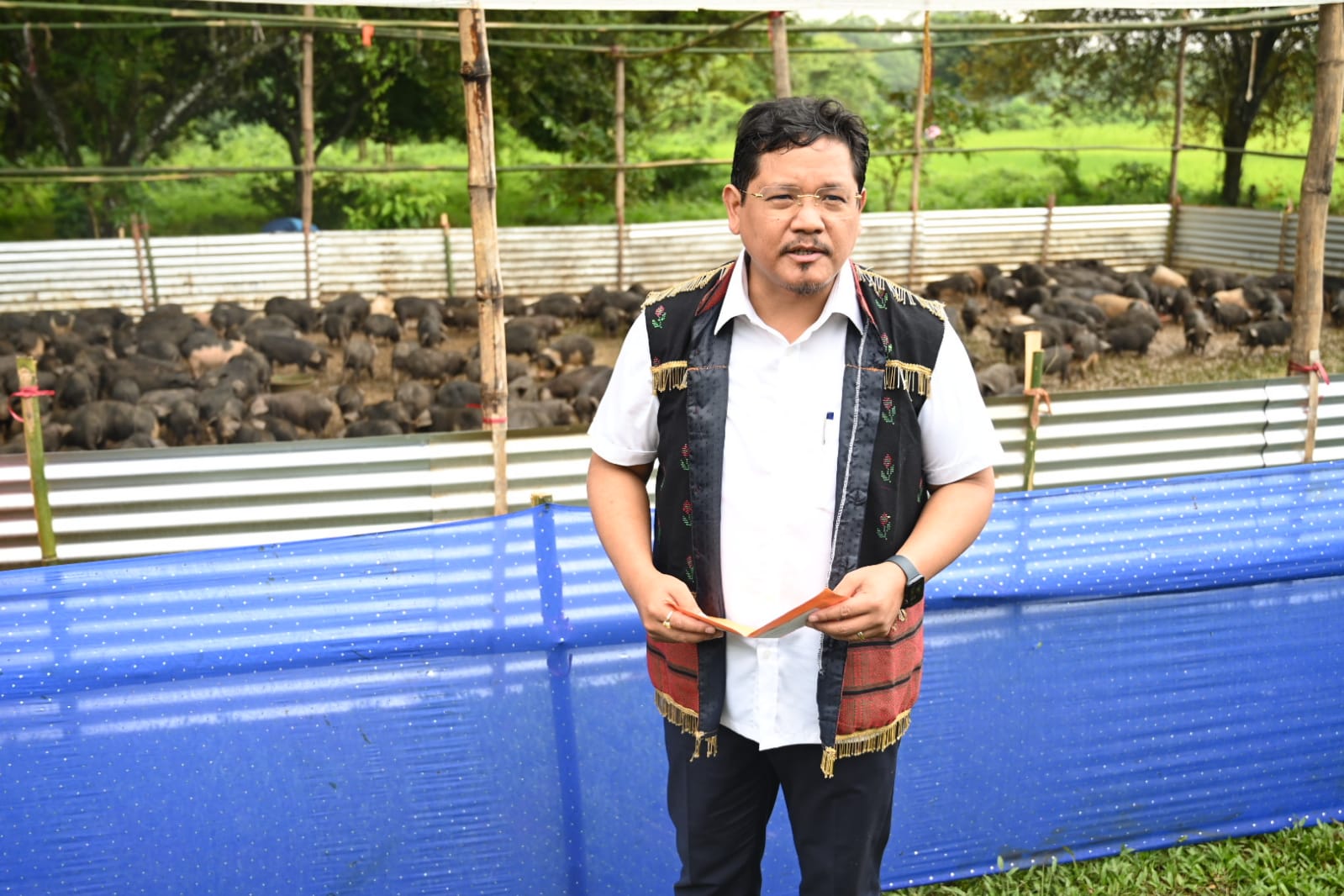 Attending the mega event at Raksamgre organised to celebrate the success of biggest farmers welfare programme "FOCUS" and roll out of Focus+ under Raksamgre Sub-Division in West Garo Hills, the Chief Minister along with other dignitaries handed over piglets to select beneficiaries, cheque to Producer Groups and FOCUS+ cards.
At the confluence of Farmers, SHG members & youth organisations in Raksamgre who have gathered to receive financial assistance & other benefits through FOCUS, FOCUS+, PROGRESS, CIF fund from @meg_srlm, etc

Thousands of smiles & dreams fulfilled through the NPP-led MDA Govt pic.twitter.com/tMYFUelfzk

— Conrad Sangma (@SangmaConrad) September 23, 2022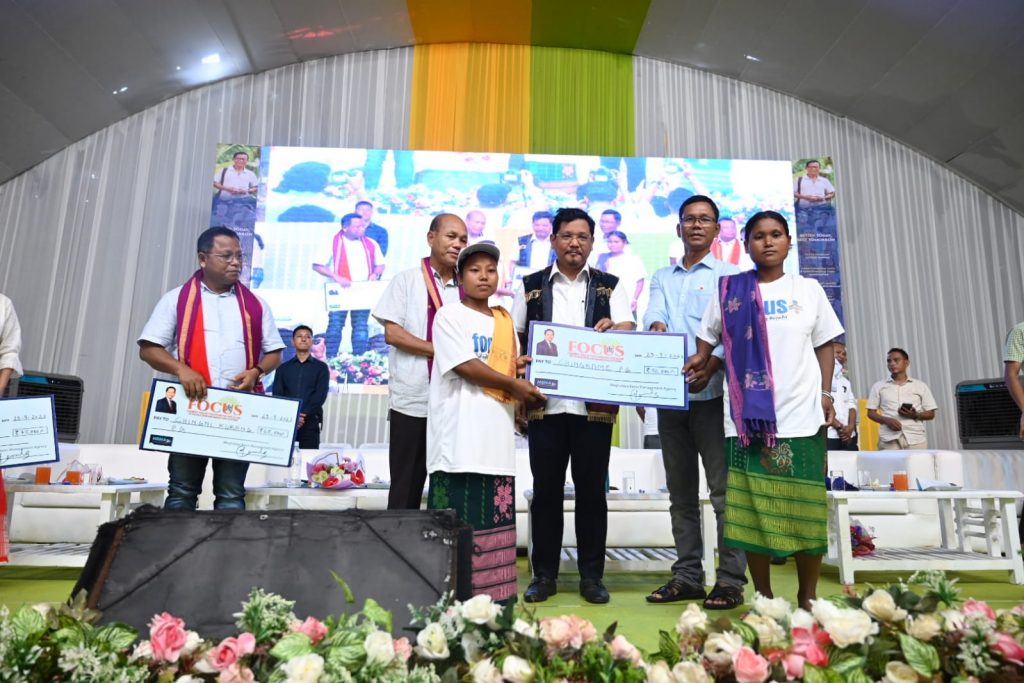 He also distributed financial assistance to several youth organisations under the "YESS Meghalaya" programme.
To support youth organizations create positive impact in the lives of the youth of Raksamgre through programs, cheques worth a total ₹9 Lakhs were given to 21 youth groups through the YESS Meghalaya program.@ianuragthakur pic.twitter.com/JWmVc2srFO

— Conrad Sangma (@SangmaConrad) September 23, 2022
Speaking on the occasion, the Chief Minister said that through the FOCUS programme and FOCUS+ the Government envisages to reach out to every rural farming household in the State.
He informed that Government through several welfare programmes for the farming communities has been able to ensure that opportunities were given to the farmers to avail the benefits of the programmes and ensure sustained livelihood.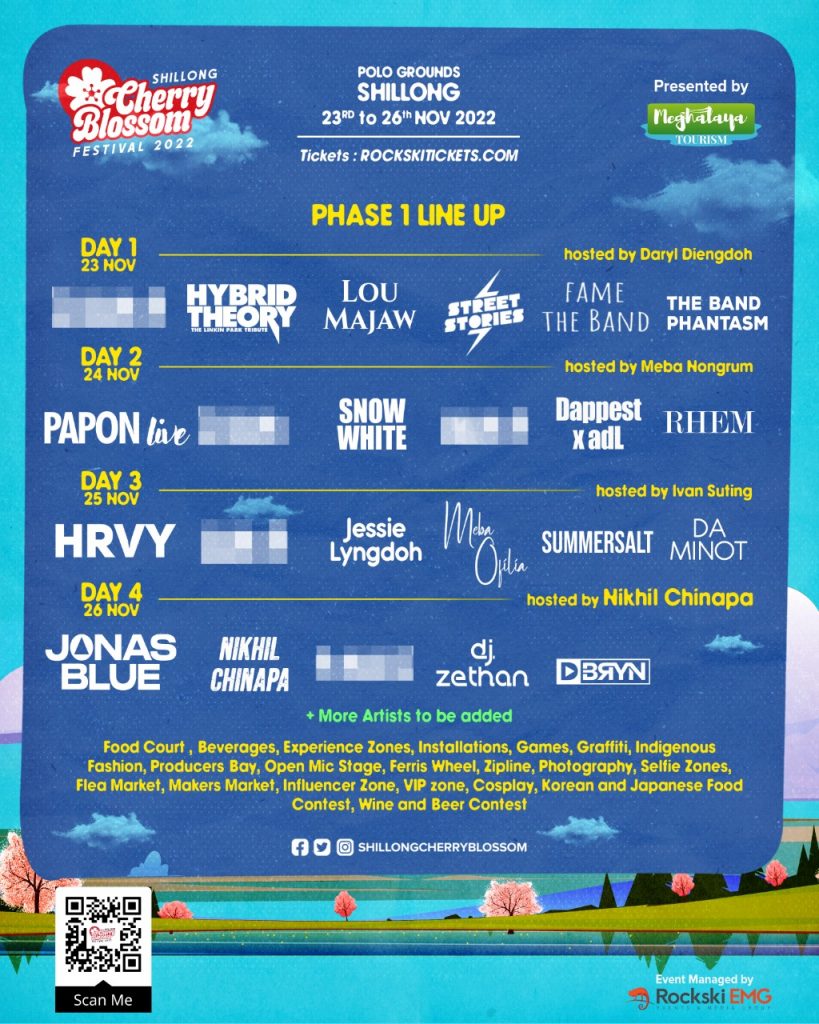 He told the gathering that in the last one and half year 25000 Producer Groups (PGs) were formed in the State under FOCUS programme and more than Rs. 125 cr have already been disbursed to such groups.
Clarifying on the misconception that the funds given to PGs were loan, the Chief Minister said that it is purely financial aid to leverage farming and allied activities.
Through FOCUS, cheques of Rs. 33.90 Lakhs were given to Farmer Producer Groups. Individual producers also received funds today under FOCUS+. Both schemes will give farming households the financial advantage of Rs. 10,000.
To help our enterprising women-led Self Help Groups, Community Investment Fund through @meg_srlm was given to 5 Village Organisations amounting to ₹5.80 Lakhs.@girirajsinghbjp @MoRD_GoI pic.twitter.com/Pu1DtN4wGt

— Conrad Sangma (@SangmaConrad) September 23, 2022
In the programme, the women-led Self Help Groups were given a Community Investment Fund. Five Village Organisations were given Rs. 5.80 Lakhs. Also, 21 youth groups were given cheques worth a total Rs. 9 Lakhs under the YESS programme.
Foundation laid for new Raksamgre Sub-Division building
During the programme, the Chief Minister also laid foundation for the new building of Raksamgre Civil Sub-Division, which will be constructed at an estimated cost of Rs. 4 cr. He said that the creation of the new building will ensure that the civil sub-division functions properly and delivers public services.
School buildings inaugurated
During the day-long programme, he also inaugurated two new school buildings under Raksamgre Civil Sub-Division constructed under Asian Development Bank's Supporting Human Capital Development Projects in Meghalaya. The schools are Pedaldoba Govt Aided Secondary School and Raksamgre Higher Secondary School.
Inaugurated the new building of Pedaldoba G/A Secondary School funded under @ADB_HQ.

It is our Govt's mandate to improve educational infrastructure across Meghalaya, to contribute to the all-round growth of our children & ensure a bright future for the State@dpradhanbjp pic.twitter.com/zOMaki1qHb

— Conrad Sangma (@SangmaConrad) September 23, 2022
Inaugurated the new school building of Raksamgre Secondary School funded through @ADB_HQ. Hoping that the new infrastructure will add to the learning experience of our students. @dpradhanbjp pic.twitter.com/2JxnO2NSoK

— Conrad Sangma (@SangmaConrad) September 23, 2022