Shillong, Feb 26: India a•songni salgro salaram jolo Presidential Retreat-ko songchina, tangka paisani gita neng•nikanirangko man•enggipa a•dokni autonomous district council-rangna tangka paisarangko on•e dakchakatchina aro a•dokni Khasi aro Garo ku•sikrangko Constitution-ni 8th Schedule-o man•chapatchina gita Meghalaya a•dokni Chief Minister Conrad K Sangma, ma•mong sorkariko didiataha.
Sukrobar salo, Lok Sabha Secretariat-ni Parliamentary Research & Training Institute of Democracies (PRIDE) baksana Meghalaya sorkarini ning•o donggipa District Council Affairs department-ni nangrime Meghalaya aro salgro salaram a•dokrangni dingtang dingtang dolrangna Outreach & Familiarization program-ko ong•atanio Chief Minister, ia kattarangko aganaha.
Ia program-ko Lok Sabha-ni Speaker Om Birla, a•bachengate on•angaha aro program-o Meghalaya Legislative Assembly-ni Speaker Metbah Lyngdoh aro Food Processing Industries-ni Union Minister of State Rameshwar Teli-ba dongpae bak ra•angaha.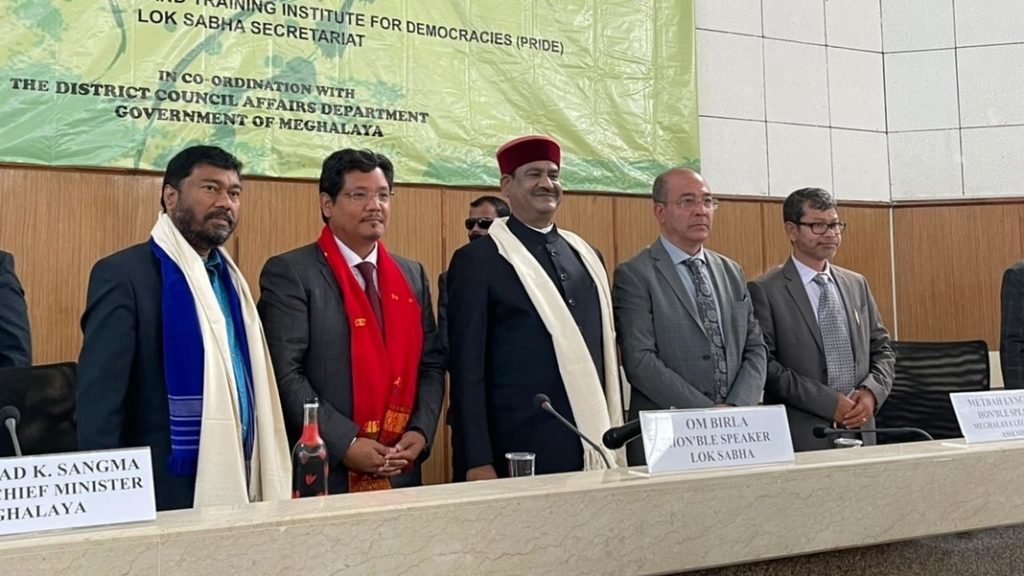 Ia program-ko Shillong-o ong•atahani gimin Lok Sabha-ni Speaker-ko mittelpile aganangengon, "Chinga bebera•a nang•ni dilanichi district council-rango aro jolo donggipa jatni dolrango mikkimko chinga bariatna man•gen," ine Chief Minister parakataha.
Autonomous district council-rangni gamchatgipa ong•ani bidingo janapatengon, "Meghalaya a•doko mongsonggipa jat dolgittam aro district council-ba damgittam donga. Salgro salaramni Tribal-rangko chel•chakna man•anian District Council-rangni gamchatani ong•enga, uni gimin iani daitoko ma•siatna, tang•doatna aro jatni dakani rikaniko chel•chakna gita chinga kamko ka•na nangenga. Ia miksonganiosa Constitution-ko tarigipa pagitchamrang, Tribal-rangko chel•chakna aro jatni daka rikaniko ripinge rakkina Sixth Schedule Area-rangko bakaha. Ian Tribal-rangni daka rikani, ku•aganani, bebera•ani aro uandakgipa dingtang dingtang janggi tangani bewalko chel•chakna songgiminsa ong•e Meghalaya a•doko chalaianioba mongsonggipa ong•a," ine Chief Minister aganaha.
District council-rangko chalaianio chagrongna nangenggipa neng•nikanirangko janapatengon, tangka paisani gita neng•nikanian district council-rangko chalaianio mongsonggipa ra•biani ong•enga ine Chief Minister talatangenba, a•dokni district council-rangko nambate chalaina man•na gita tangka paisarangko dakchake on•china ma•mong sorkariko mol•molataha.
Article 280-ni bidingo janapatengon, iano Panchayati Raj aro Municipal-rangna tangka paisa chamaninade niamrangko donmanaha indiba district council-rangkoba man•chapatjaha ine Chief Minister aganaha.
Garo Hills Autonomous District Council (GHADC)-ni bidingo toe aganangengon, "GHADC-o kajinarangko man•ana bate korosrangsa bang•batenga maina ADC-rang, India sorkari aro Finance Commission-oniko chu•onga gita dakchakanirangko man•paja. Iani a•selsa district council-rangko chu•sokgipa ong•ja gita nikenga indiba uamang tangka paisani gita dakchakanirangko man•jaenga ong•ode kamrangko ka•anioba ja•donggataniko man•a," ine Chief Minister talate on•angaha.
District Council-rango Anti Defection Law ba Tenth Schedule dongjani a•selan sorkarirangko chalaianio mangkimgipa ong•na man•jaenga ineba Chief Minister parakataha.
'Sixth Schedule Amendment Bill'-ni bidingo janapatengon, "Ia Sixth Schedule Amendment Bill-ni bidingo chingnaba chingni nangnikanirangko aro chanchianirangko on•pana gita Select Committee gita cholko on•ahani gimin anga kusi ong•a. Anga bebera•a pilak District Council-rangni nangnikanirangko aro chanchianirangko ra•chengenba District Council-rangko bilakbatatna gita ia Bill-ko tarina man•gen," ine Chief Minister parakataha.
Khasi aro Garo ku•sikrangko Constitution-ni Eighth Schedule-o ra•gatchina ma•mong sorkariko didiangengon, "Khasi aro Garo ku•sikko Eighth Schedule-o ra•gatchina chinga Assembly-o resolution-ko ra•manaha. Salgro salaram jolni Tribal manderangnaba apsan gamchatanikon on•enga ine mesokna gitade chingni ku•sikrangkoba recognise ka•na nangchongmotenga. Ian Meghalaya a•doknasan ong•aija indiba Eighth Schedule ning•o ra•gatchina dabienggipa pilak ming 40 ku•sikrangnan ong•gen," ine Chief Minister parakataha.
National syllabus-o North East chapter-rangko ra•gatchina gitaba ia tom•anio a•dokni Chief Minister didiangaha.