Shillong, Jan 25: Meghalaya celebrated the 13th National Voters' Day on Wednesday. The office of the Chief Electoral Officer (CEO) in collaboration with the Sports & Youth Affairs Department, the Election Commission of India, the Meghalaya Model United Nations organised a series of events like the marathon, sustainable fashion show and the "Festival of Democracy" at U Soso Tham auditorium over the course of two days – January 24 & 25.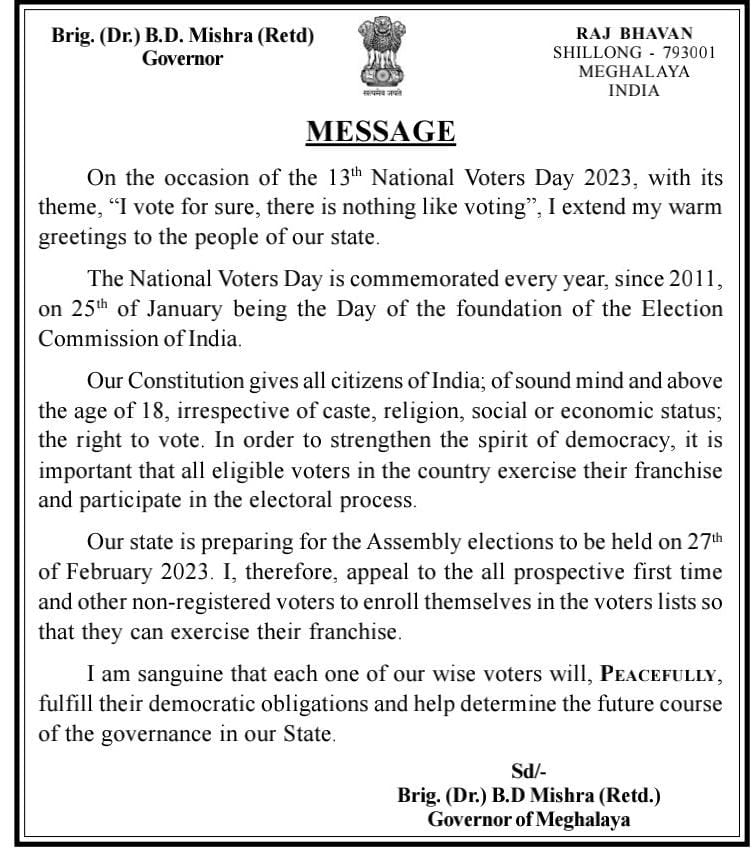 National Voters' Day 2023 was based on the theme "I vote for sure, Nothing like Voting", which was conceptualized as a celebration of the right of people to choose their own leaders as throw off the yoke of foreign rule which was forced into our shoulders for hundreds of years. The celebration of this year was highlighted with the election commission, through the leadership of the office of the Chief Electoral Officer in association with other organizations, bringing to the forefront groups of the society that aren't usually in the limelight.
Among the wide range of events to celebrate the National Voters' Day, a marathon titled "Run for Sure, Run Strong", was held on Wednesday. The marathon was divided in four categories with four different run-kick starting point: 1 km, 5 km, 10 km and 21 km run. The 21 km run was flagged off from Old Assembly, 10 km from Nongmynsong-Pynthorumkhrah junction, 5 km from Dhankheti and 1 km from Barik point. The run culminated at Old Assembly premises in Khyndai Lad.
Apart from the marathon, other activities were also organised like Zumba sessions, Vintage Car show besides various competitions and multiple performances by eminent artists, with the representatives of the Super 6 categories involved in the festivities.
The Chief Secretary to the Government of Meghalaya, DP Wahlang, who was the Chief Guest at the celebration, said, "The challenge nowadays is very familiar; few years back we never had social media. Now, we have the power of social media, circulating different type of videos, pictures; so the election missionary will have to be very alert."
Addressing the event, the Chief Electoral Officer, F.R. Kharkongor said, "If we dwell on the theme of the National Voters' day this year "I vote for sure, Nothing like Voting", the emphasis is on the individual, on me as an individual and my civic duty to vote -"I vote for sure".