Tura, May 12: England Football Association-ni May 3 tarik-oni 9 tarik-ona ong•atanggipa Blind Football Series-o Indian Football Federation ba bakko ra•eaha. Ia mikgrirangni robol kal·susaaniko England ni St. George's Park, Burton ni FA Training Centre-o kal·angaha. Ia kal·susaanio Meghalaya a•dokni Gabriel Nongrum aro Klingson Marak kal·nagita cholko man•aha. Ian Klingson D. Marak ni International Football kal·anio bak ra•ani snigipa chang ong·enga.
Ia kal·susaanio India, England a•songni kal·susagiparang baksa changgitamna kal·angaha indiba rasonggrie uamang changsamangmangsan chena man·aiaha. Ia kal·a gimik-o Klingson D. Marak golsako chipe A·chik a•songna rasongko ra•baaha.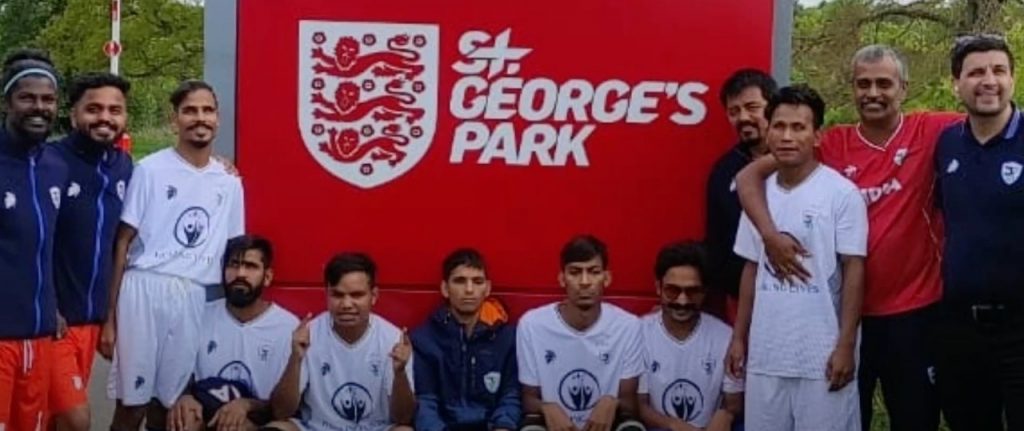 Ia England-chi re•ange kal·anio bak ra·na man•anina ua Meghalaya a•dokni skotong minister Pa Conrad K. Sangma aro Director of Sports and Youth Affairs Pa J.P Marak-ko, uamangni dakchakatani a•selsa cholko man•aha ine ui·ataha.