Shillong, Sept 20: Salgro-salaram a·jao ru·uta salrangoni nisengsoenggipa bading-chiwalgiparangni tom·chimongani, North East Entrepreneurship Machinery Innovation & Exhibition Event (NEEMIE) 2023-ko Meghalaya-ni skotong Shillong-o Butbar salo oprake on·angaha.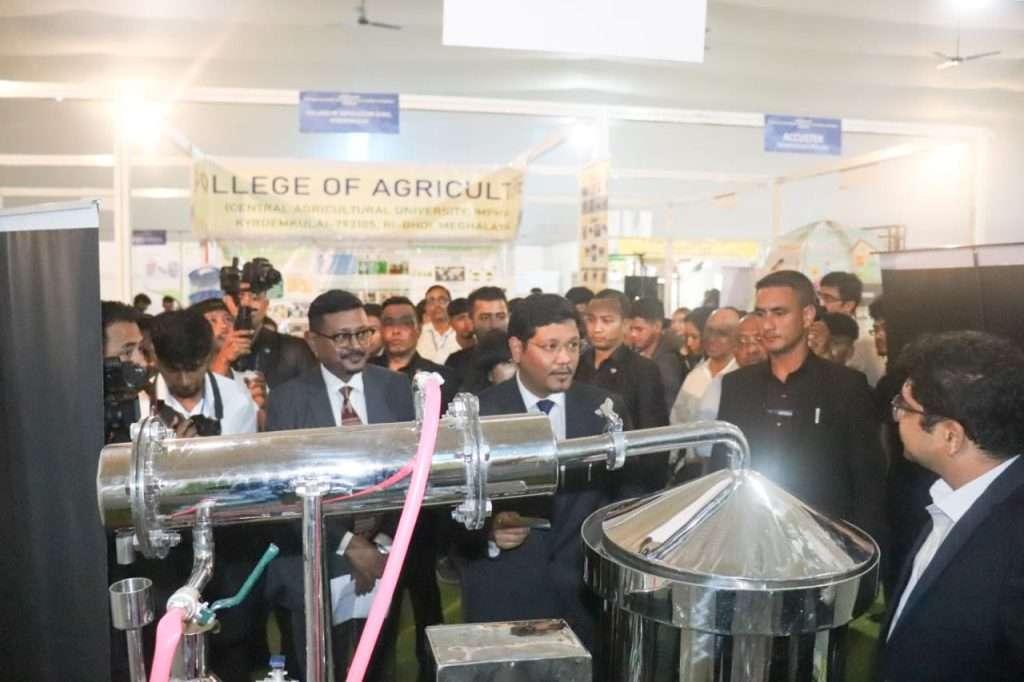 September 20 -oni a·bachenge salgittamna kingking ong·atna manchienggipa tom·bimonganiko oprake on·angani somoio a·dokni skotong minister Pa Conrad K Sangma, Prime Hub-ni Executive Director, Ma Isawanda Laloo, S&T-ni Project Director, Pa Gunanka DB, NEHU-ni Head of Department of Geology aro Incubation Centre-ni CEO, Prof. Devesh Walia, aro Meghalaya, PRIME Hub-ni Program Head, Pa Aditya Sen-maang dongpae bak ra·angaha.
Ia tom·bimonganio, a·dokni skotong minister Pa Conrad K Sangma, jinmana aganprakangengon, batanggimin bilsi-bongarangni gisepo bading-chiwalani kamko a·bachenganio aro bading-chiwalanirango salgro-salaram a·jaoni chonchonggipa a·dokrangoni nambatgipa aro chubatgipa gadangko man·ahanina an·tangni kusi ong·aniko parakangenba, re·baenggipa bilsi-bongarango a·dokna on·kangbate kamko ka·na niksamsoanirang donganiko janapatan baksa, ku·sik mangmangchi agane chu·sokaniko nikjaoba, on·kanganirangchi aro kamrangchi chu·sokaniko aro silroroaniko nikna gita man·a aro iandakgipa on·kanganirangchisa da·alo an·chingko ia gadangonaba sokataha ine ua aganangaha.
Tom·aona sokbapagipa MBMA aro Prime Hub-ni Executive Director, Ma Isawanda Laloo, pilakni nangrime kamko ka·anichi NEEMIE 2023-ko bimang ong·atna gita man·ahanina an·tangni kusi ong·aniko parakangpaan baksa, ia tom·bimonganichi a·dokoni dingtang dingtang department-rangna namgipa didianirangko on·ani mingsa chol gitasan ong·aigija, mikkangchi a·dokni namroro-silroroanina kamko ka·angna aro gital am·sandianirangko dakna aro gital kamrangko dontonggija ka·angkuna gita sakantina didianirangkoba on·angjolgen ine aganangskaaha.
Ia salgittamna ong·atenggipa tom·bimonganio, dingtang dingtang karkanarango tariani aro techology-rangni bidingo sakanti bak ra·enggiparang skie aro ma·sidape ra·na gita cholrangko man·an baksa, dingtang dingtang a·barangoni pilak bading-chiwalgiparang, aro bading-chiwalani gimin gisiko nanggiparang saksa-sakgipinoniko skie ra·grikna, chol donganirangko ma·sie ra·na aro a·jatango bading-chiwalaniko tang·doatanio on·gilanirangko dakna gita chol ong·anggen.
Find latest news from every corner of Northeast India at hubnetwork.in, your online source for breaking news, video coverage.
Also, Follow us on-
Twitter-twitter.com/nemediahub
Youtube channel- www.youtube.com/@NortheastMediaHub2020
Instagram- www.instagram.com/nemediahub