Shillong, Jan 12: The National People's Party (NPP) on Thursday announced its list of 58 candidates for the upcoming Meghalaya Assembly elections. The list was announced at a mega election rally attended by over 20,000 plus crowd titled "Stronger Together" at Polo Grounds in Shillong.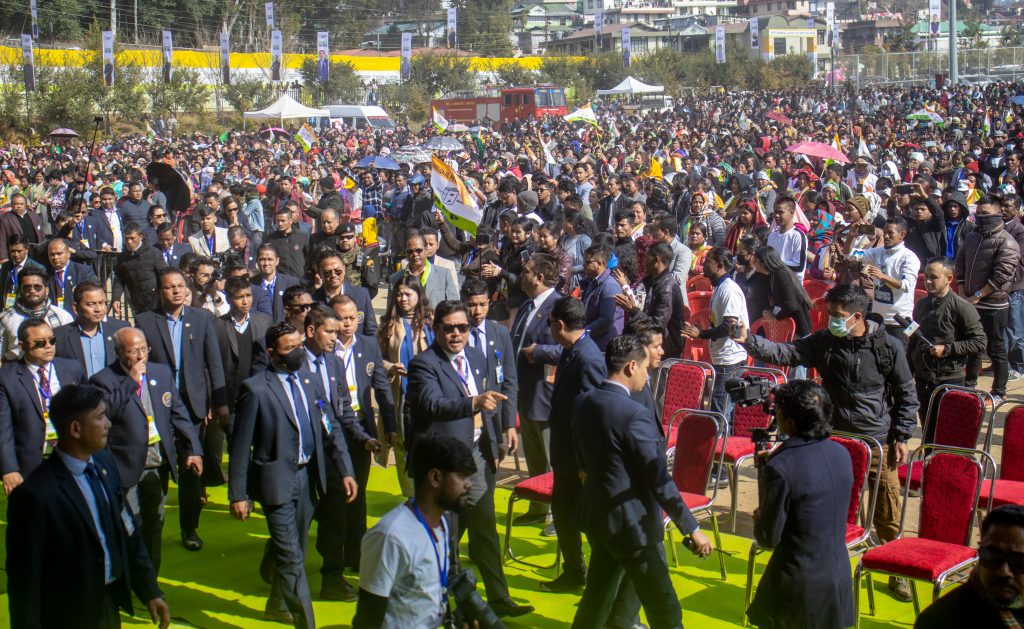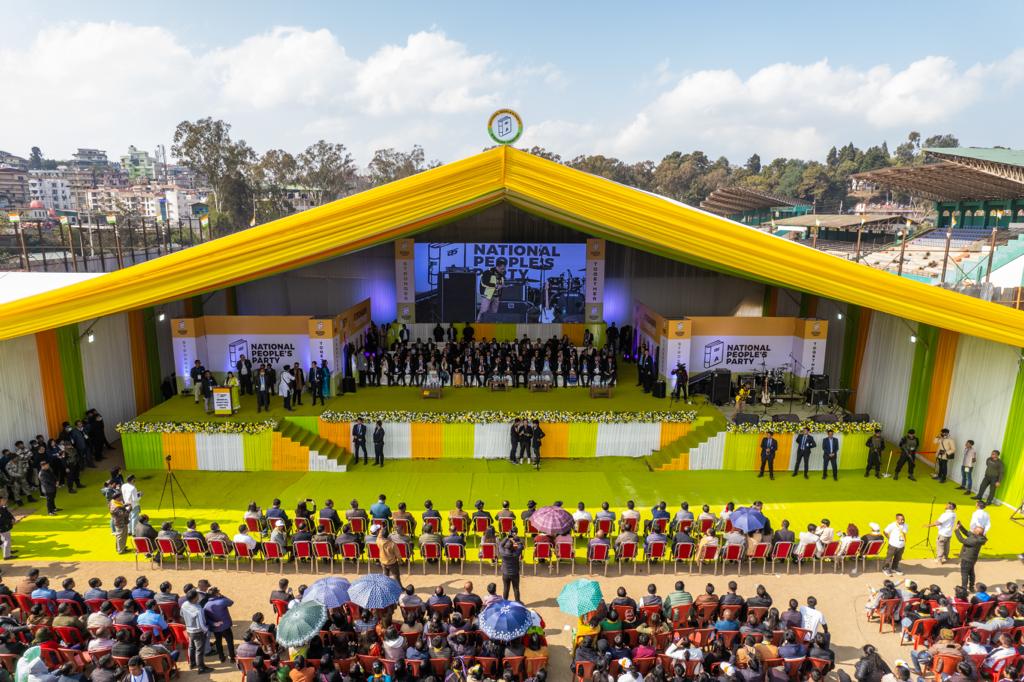 Speaking at the rally, NPP Chief and Meghalaya Chief Minister Conrad K Sangma said in the last five years different political leaders have joined NPP, which demonstrates that NPP is growing stronger.
He said that many of the candidates, who were declared as party candidates for upcoming election, were not in the same stage in 2018 but in the last five years, they have become part of NPP's growing family.
Welcoming all the candidates and leaders from different political parties, the NPP chief said they have not joined the party for political gains but for the greater cause of serving the people of the State.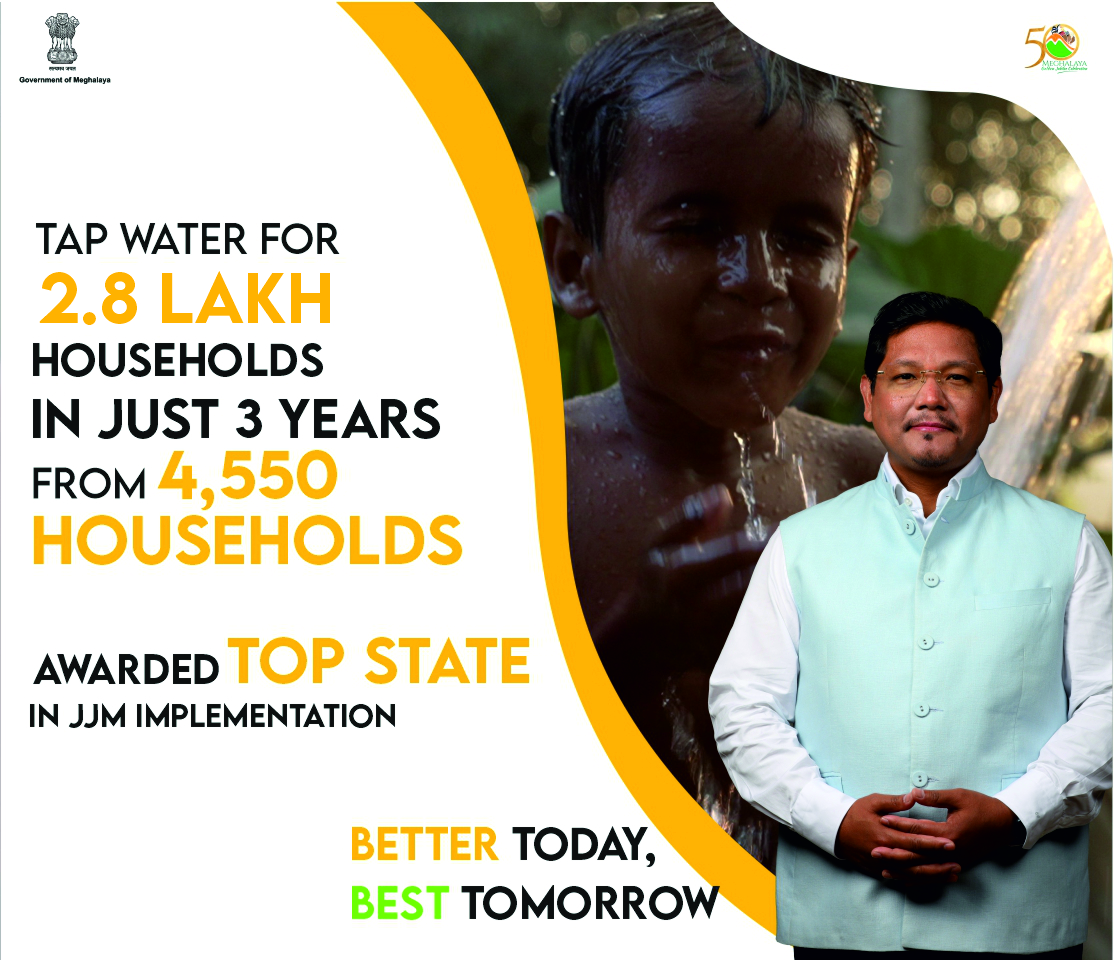 Interestingly, the party has not declared any candidates from South Shillong and Mairang. Presently, South Shillong is represented by BJP's Sanbor Shullai and Mairang is represented by UDP chief Metbah Lyngdoh. The party has not given any reasons for not fielding the candidates from these two important constituencies.
Chief Minister Conrad Sangma will be contesting from South Tura, and his brother James PK Sangma from Dadengrre, while Dy CM and NPP vice president Prestone Tynsong will look to retain his Pynursla seat.
Other prominent names include Sniawbhalang Dhar from Nartiang, Wailadmiki Shylla from Jowai, Comingone Ymbon from Raliang, Pyniaid Sing Syiem from Mawryngkneng, Rocky Hek from Pynthorumkhrah, Dr. M. Ampareen Lyngdoh from East Shillong, Mohendro Rapsang from West Shillong, Hamletson Dohling from Mylliem, Grace Mary Kharpuri from Shella, Kimfa Sydney Marbaniang from Rambrai Jyrngam, Martin M. Danggo from Ranikor, Nihim D. Shira from Songsak, Timothy D. Shira from Resubelpara, Jimmy D. Sangma from Tikrikilla, Abu Taher Mondal from Phulbari, Abdus Saleh from Rajabala, Thomas A. Sangma from North Tura, Rakkam A. Sangma from Rongara Siju, among others.
Full list:
Sl.No.
Name of Constituency
Name of Candidate
Phone Number
1
1 Nartiang (ST) LAC
Shri Sniawbhalang Dhar
+919612161224
2
2 Jowai (ST) LAC
Shri Wailadmiki Shylla
+918787616751

+918787667719

3
3 Raliang (ST) LAC
Shri Comingone Ymbon
+919612171335
4
4 Mowkaiaw (ST) LAC
Shri Habahun Dhar
+919862693279
5
5 Saipung Sutnga (ST) LAC
Smti Santa Mary Shylla
+916009371383
6
6 Khliehriat(ST) LAC
Shri Nehlang Lyngdoh
+917005844754
7
7 Amlarem (ST) LAC
Shri Stephanson Mukhim
+917628020005
8
8 Mawhati (ST) LAC
Shri Shemphang Lyngdoh
+919774003555
9
9 Nongpoh (ST) LAC
Smti Macdalyne Sawkmie Mawlong
+918974370323
10
10 Jirang (ST) LAC
Shri Sosthenes Sohtun
+919366513236
11
11 Umsning (ST) LAC
Shri Jason Sawkmie Mawlong
+919774009321
12
12 Umroi (ST) LAC
Shri Damanbait Lamare
+917085859591
13
13 Mawryngkneng (ST) LAC
Shri Pyniaid Sing Syiem
+919774012277
14
14 Pynthorumkhrah (ST) LAC
Shri Rocky Hek
+917005390150
15
15 Mawlai (ST) LAC
Shri Teibor Pathaw
+919366203802
16
16 East Shillong
Dr. M. Ampareen Lyngdoh
+918787823934
17
17 North Shillong
Shri Ransom Sutnga
+918257920588
18
18 West Shillong
Shri Mohendro Rapsang
+919436105368

+919863021703

19
19 South Shillong
–
–
20
20 Mylliem (ST) LAC
Shri Hamletson Dohling
+919436205225
Sl.No.
Name of Constituency
Name of Candidate
Phone Number
21
21 Nongthymmai (ST) LAC
Dr. Jasmine Lyngdoh
+919436307269
22
22 Nongkrem (ST) LAC
Shri Dasakhiatbha Lamare
+917085059772
23
23 Sohiong (ST) LAC
Shri Samlin Malngiang
+919402316439
24
24 Mawphlang (ST) LAC
Shri Kennedy Cornelius Khyriem
+918974007724
25
25 Mawsynram (ST) LAC
Shri Alvin K. Sawkmie
+917085022121
26
26 Shella (ST) LAC
Smti Grace Mary Kharpuri
+919366577219
27
27 Pynursla (ST) LAC
Shri Prestone Tynsong
+919862570164
28
28 Sohra (ST) LAC
Shri Alan West
+919856131945
29
29 Mawkynrew (ST) LAC
Shri Kansing Lyngshiang
+917005765798
30
30 Mairang (ST) LAC
–
–
31
31 Mawthadraishan (ST) LAC
Smti Biolinda Lyngdoh Nonglait
+917005203245
32
32 Nongstoin (ST) LAC
Shri Macmillan Byrsat
+917005651384
33
33 Rambrai Jyrngam (ST) LAC
Shri Kimfa Sydney Marbaniang
+919774001688
34
34 Mawshynrut (ST) LAC
Shri Gigur Marthong
+917005503867
35
35 Ranikor (ST) LAC
Shri Martin M. Danggo
+919856022235
36
36 Mawkyrwat (ST) LAC
Shri H. Stalyne Diengdoh
+919774146298

+918787624035

37
37 Kharkutta (ST) LAC
Shri Rupert M. Momin
+917002528663
38
38 Mendipathar (ST) LAC
Shri Marthon J. Sangma
+918415922060
39
39 Resubelpara (ST) LAC
Shri Timothy D. Shira
+918837486645
40
40 Bajengdoba (ST) LAC
Shri Pongseng R. Marak
+918974169392
Sl.No.
Name of Constituency
Name of Candidate
Phone Number
41
41 Songsak (ST) LAC
Shri Nihim D. Shira
+918787726755
42
42 Rongjeng (ST) LAC
Shri Jim M. Sangma
+918837415433
43
43 Williamnagar (ST) LAC
Shri Marchise N. Marak
+917628834663
44
44 Raksamgre (ST) LAC
Shri Limison D. Sangma
+919436993939

+919366393992

45
45 Tikrikilla (ST) LAC
Shri Jimmy D. Sangma
+918787682018
46
46 Phulbari
Shri Abu Taher Mondal
+919612001812
47
47 Rajabala
Shri Abdus Saleh
+919436117053

+918729846871

48
48 Selsella (ST) LAC
Shri Arbinstone Marak
+919366029883
49
49 Dadenggre (ST) LAC
Shri James P.K.Sangma
+919862050810
50
50 North Tura (ST) LAC
Shri Thomas A. Sangma
+916003167563
51
51 South Tura (ST) LAC
Shri Conrad K. Sangma
+919856001009
52
52 Rangsakona (ST) LAC
Shri Subir Marak
+918787779500

+918974267891

53
53 Ampati (ST) LAC
Shri Stevie M. Marak
+918787818394
54
54 Mahendraganj (ST) LAC
Shri Sanjay A. Sangma
+917085140052
55
55 Salmanpara (ST) LAC
Shri Ian Botham K. Sangma
+919089802025
56
56 Gambegre (ST) LAC
Shri Rakesh A. Sangma
+919862701192

+918787638848

57
57 Dalu (ST) LAC
Shri Brening A. Sangma
+919436111915

+918837048046

58
58 Rongara Siju (ST) LAC
Shri Rakkam A. Sangma
+918731888946
59
59 Chokpot (ST) LAC
Shri Sengchim N. Sangma
+917005225539
60
60 Baghmara (ST) LAC
Shri Satto R. Marak
+918132013809