Nongpoh, May 13: In an unfortunate turn of events one juvenile lost his life while two others sustained injuries after a tree fell on the vehicle they were in. The incident occurred on Friday morning at around 9 AM at Panitola in Byrnihat, Ri Bhoi District.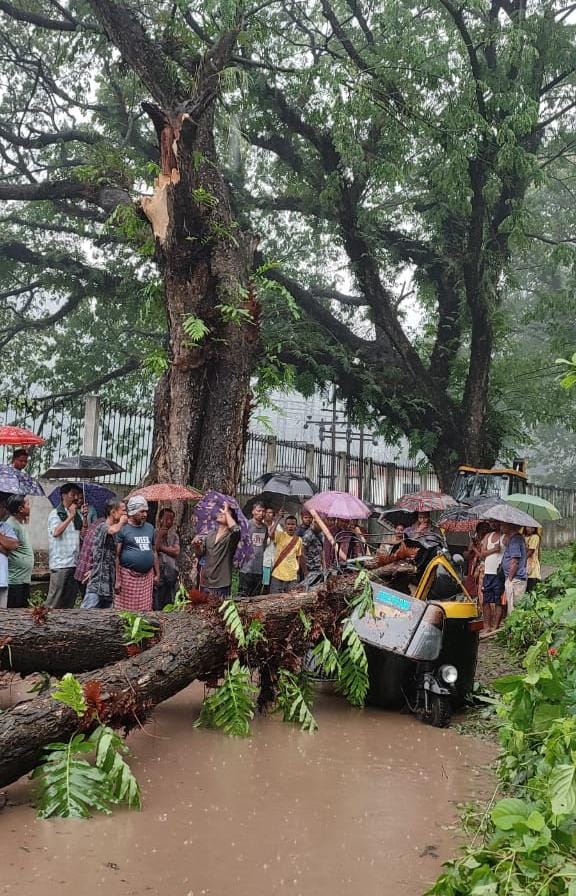 According to sources, the incident occurred while the vehicle, an auto rickshaw, was on its way to Byrnihat but on reaching the spot of occurrence one big tree suddenly fell down over the Auto Rickshaw which was boarded by three people including the driver.

Personnel from Byrnihat Police Outpost rushed to the spot and shifted the injured persons and the deceased person to Byrnihat PHC.
Incessant heavy rains have battered the Ri Bhoi District, which has also made the national highway slippery and dangerous to drive on high speeds. In one incident recorded live on camera, a Bolero Pickup skidded at the Umroi Bye-pass and rammed into a truck coming from the opposite direction and later skidded off the road. Many parts of the state are witnessing flood with water level rising after days of heavy rain.