Shillong, Jan 21: Sukrobar salo, Meghalaya a•dokni bilsi 50 gapaniko maniangaha indiba COVID-19-ni giproroaniko champengna niamrangko donmanahani gimin ia salko chonesa maniangaiaha. Ia salko manianio a•dokni Chief Minister Conrad K Sangma an•tangde gitoko saanirang dongani a•sel bakko ra•epana man•jaha indiba ua internet gita ia salo manderangna aganprakatskaaha.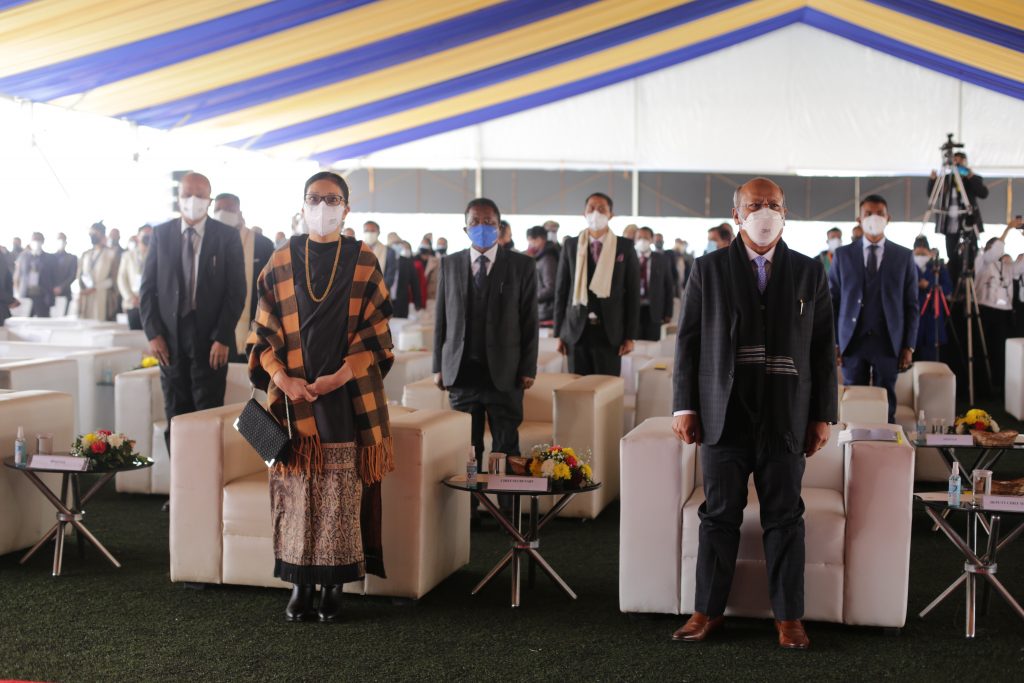 Batanggimin bilsi 50-ni gisepo a•songni gita aro a•gilsakni gitaba a•dokko niksenggipa ong•atahani gimin a•dokni manderangko mittelpilangengon, a•dokko man•e on•na krengdilanggipa pagitchamrang, jekai Captain Williamson Sangma, DD Pugh, BB Lyngdoh aro pilak dilgiparangni kamrangko ua gisik ra•atangpilaha.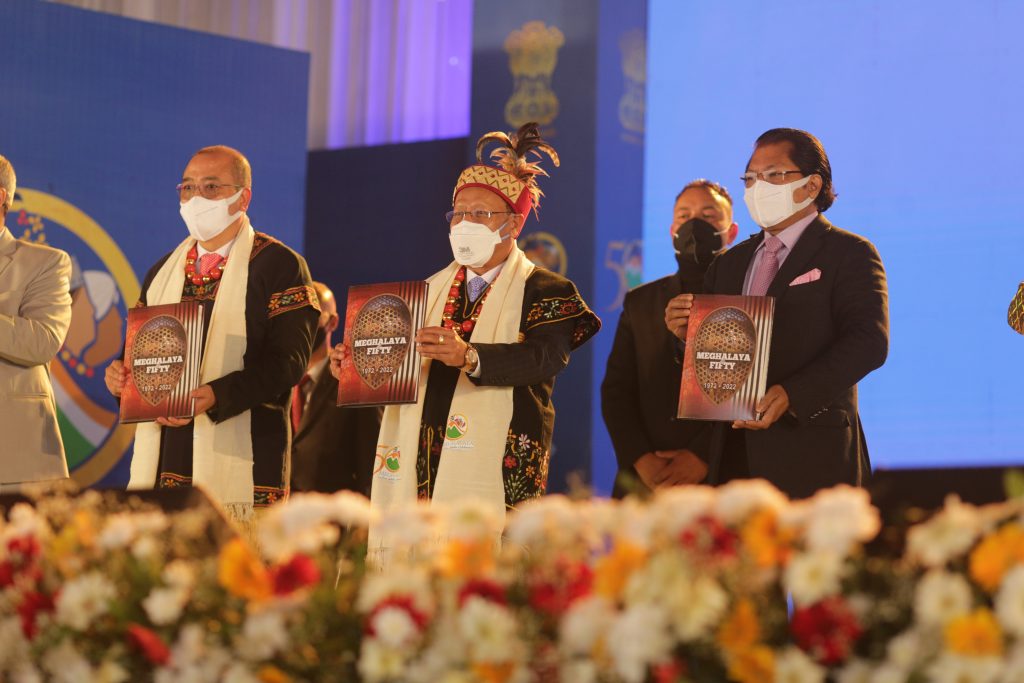 Batanggimin bilsi 50-ni gisepo bang•a kamrangon a•dok tang•dona gita man•ahaon, a•doko pangkamgipa namroro silroroaniko ra•bana aro Meghalaya a•doko songdongenggipa lak 38 manderangni namgnina an•tangtangni man•a gita on•gilchina aro kamrangko ka•china gita Sangma didiangaha.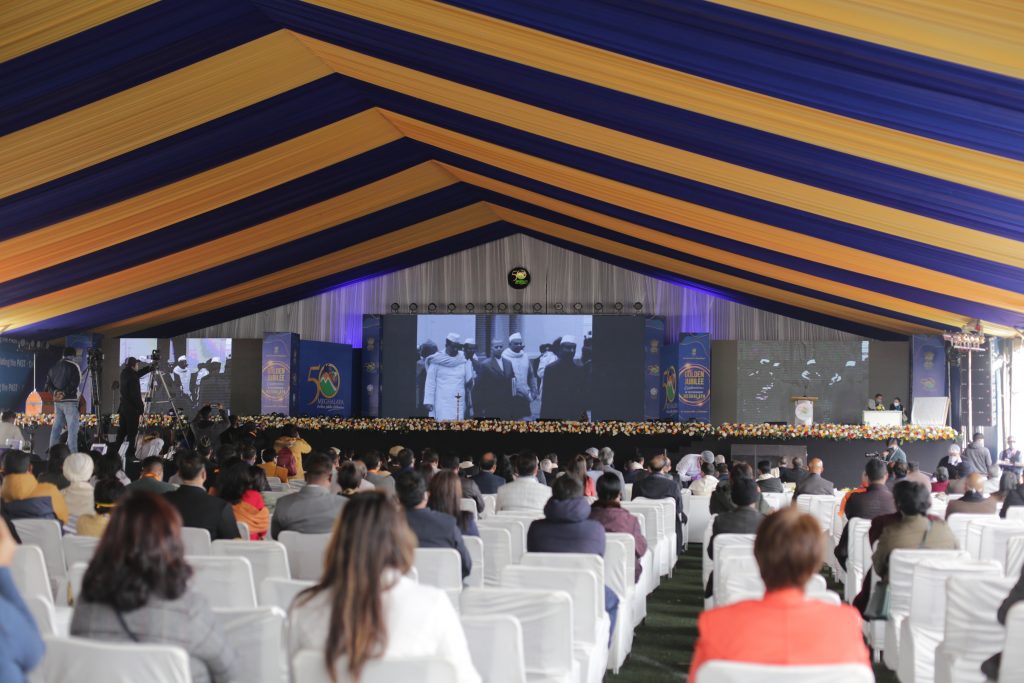 "An•ching da•o gital bilsi 10-ko re•mikkangengon, an•chingni a•dokkoba a•songo nambatsranggipa dam 10 a•dokrangoni damsa ong•atgen ine anga 2020 bilsio ku•rachakaniko on•manaha. Iako chu•sokgipa ong•atna gita anga aro angni sorkari, batanggimin bilsibrini gisepo gadangni gadang dake kamrangko ka•engaha. Sajinmani a•sel dingtang dingtang neng•nikani aro ra•bianirangko chagrongna nangahaoba chinga rama jal•langrangko tarina man•aha, nokdangrangona chi pipe-rangko sokate on•na man•aha, bi•sarangna tika su•aniko bariataha, an•o donggipa me•chik aro bi•sa bakgitchakrangni sianiko komiatna man•aha aro kraa gita nokrangko rikna man•aha," ine Chief Minister aganaha.
2030 bilsini gisepo a•songo nambatsranggipa dam 10 a•dokrangoni damsa ong•pana miksonganio ua matchotna sienggipa project-rang baksana a•dokni bilsi 50 gapaniko maniani bak gita mikkang jarango a•bachengatna sienggipa gital project-rangkoba ia salo jinmana parakatjolaha.
Ia bilsi gimiko rama tariani, skul nok rikani, tourism, an•seng baljokani, gama ge•ani aro kal•susaanirango nangchakegipa ming 300-mangni gita project-rangko a•bachengatgen aro ian a•dokni bilsi 50 gapaniko maniani bak gita salprako project mingprakko a•bachengatani gita ong•gen ine Chief Minister parakataha.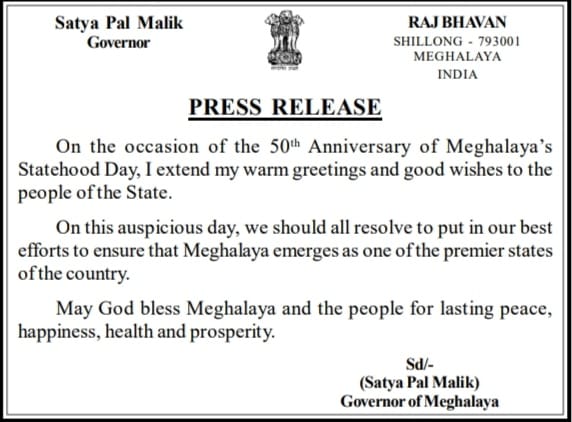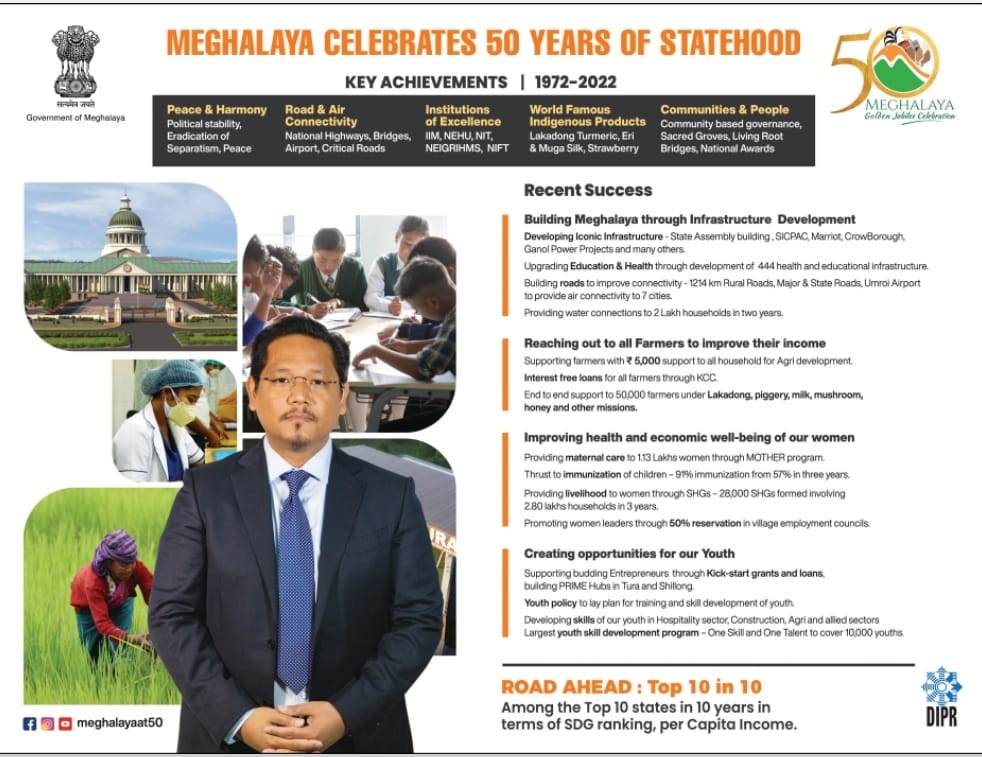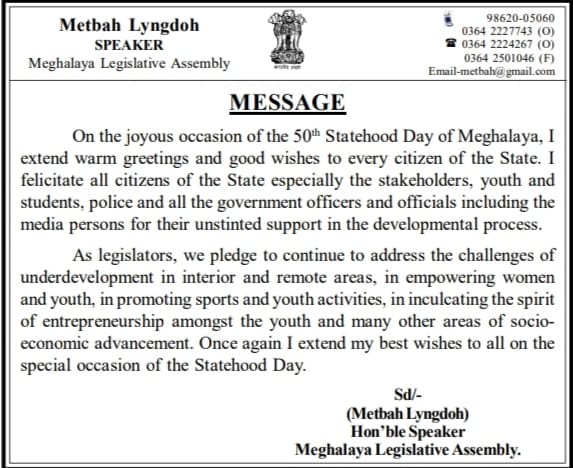 Chief Minister-ni parakatani gitade, Mawdiangdiang-o rikenggipa gital Assembly nok da•o matchotangengahani gimin ia gital Assembly nokko jadokni gisepon sorkari kulie on•anggnok, Shillong International Centre for Performing Arts-ba da•o jadokni gisepon matchotgnok, West Garo Hills a•jani Ganol Hydro Power Project-koba ia bilsion matchotgnok, a•dokni five-star hotel damgni, chong•motan Marriot aro Crowborough-ko ia bilsion chalaina a•bachenggnok, Tura-ni PA Sangma Football Stadium, West Jaintia Hills a•jani Wahaijer Stadium aro Shillong-ni JN Stadium-ko taridapanirangba ia 2022 bilsion matchotgen, IT Park-ko da•o adita salrangni gisepon kulie on•anggnok, Mairang-Ranigodown Azra rama, Rongram-Phulbari Hill rama, Dawki-Bholaganj rama, Bajengdoba-Resubelpara-Mendipathar-Damra rama aro Pasiyah-Garampani ramakoba ia bilsini gisepon matchotgnok, Baghmara aro Nongstoin Water Supply Peroject-rangkoba ia bilsini gisepon a•dokni manderangna pakwate on•anggnok aro Shillong Government College of Engineering baksana Tura-ni College of Architecture & Urban Planning-koba ia bilsion chalaina a•bachengatgnok.
A•dokni bilsi 50 gapaniko maniani bak gita ia bilsini gisepo a•bachengatna sienggipa project-rangni gimin janapatskaengon, New Shillong Township-ni Mawpadang-ona apjitangenggipa sorkari office-rangna Sukrobar salon pangchakaniko songe on•gnok, Umsning-Jagi aro Nongstoin-Maweit rama gita dal•dalgipa project-rangko a•bachengatgen, Tura, Williamnagar, Jowai aro Nongstoin jillani ning•o ramarangko taridapgen, Shillong Peak Ropeway project aro JN Complex-ni fifth ground-o indoor stadium-ko ia bilsini gisepon tarina a•bachenggen, chadamberangna world class convention centre aro incubation centre-cum-skills park-ko Tura-o a•bachengatgen, district office nokrangko, block office-rangko, police station-rangko, bading chiwalchakgipa biaprangko aro dam 20-mangni gita tourist resort-rangko ia bilsini gisepon tarigen aro dam 310 skulrang baksana dam 150 health centre-rangko namdapatgen ine Chief Minister parakataha.