Shillong, Nov 24: Protesters on Thursday vandalized and set fire to a mini bus and police traffic booth even as they hurled petrol bombs (crude bomb) at the police during a sit-in-demonstration and candle light vigil held in Shillong as a mark of protest against the killing of five persons by Assam police at Mukroh, a border village in West Jaintia Hills District.
As many as three persons were assaulted during the incident.
The protest was called by five pressure groups – Khasi Students' Union (KSU), Federation of Khasi Jaintia and Garo People (FKJGP), Hynniewtrep National Youth Front (HNYF), Ri Bhoi Youth Federation (RBYF) and Jaintia Students' Union (JSU) in front of the U Kiang Nangbah statue at Shillong civil hospital junction.
While the candle light vigil was going on, some of the protesters vandalized and set fire to the tyre of a mini bus and a police traffic booth near the protest venue.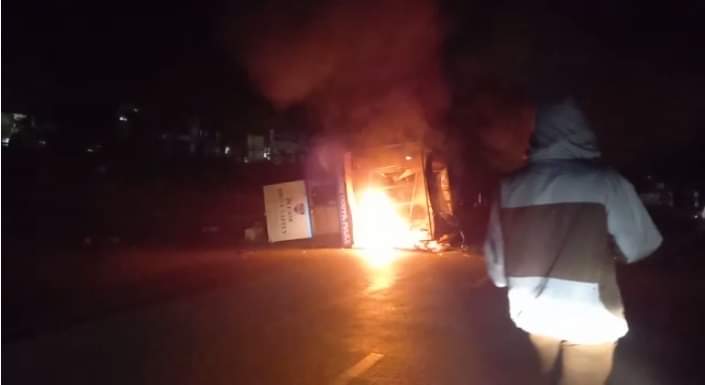 They also went to Barik point and started attacking the police with petrol bombs. Police also immediately swung into action and fired tear gas to disperse the protesters.
"We fired a few shells of tear gas to deter the protesters from causing any harm to civilians since vehicles were still plying as the traffic was being diverted towards Pinemount side," SP (City) Vivek Syiem said.
He informed that the fire did not damage the mini bus – which was on requisition by the police deployed for law and order duty – and the police traffic booth. However, the front windshield of the bus was totally damaged.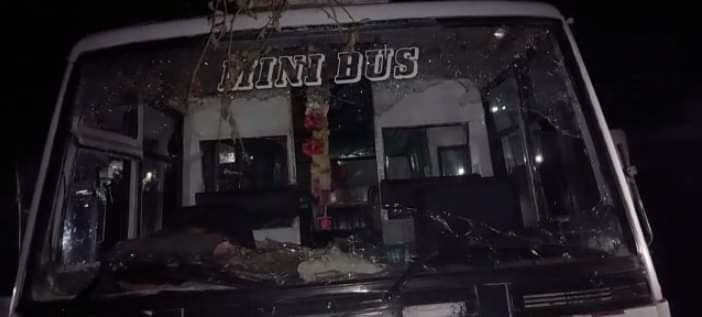 He said that three persons were injured after they were attacked at IGP and civil hospital junction.
When asked, the SP said that the situation is fluid but things will be alright adding, "I don't see that the situation warrants imposition of curfew in the city but as law enforcers we have to be vigilant."
Meanwhile, the police have registered an FIR on the incident.