Shillong, June 18: At a time of sorrow and loss of lives caused by the terrible landslides and flash floods all across Meghalaya, the opposition All India Trinamool Congress party's attempt to politicise the situation by attacking the MDA government through its social media platform in facebook for the disasters has instead led to a powerful backlash from facebook users for trying to equate and blame the natural disasters on the Conrad K Sangma government.
'Disaster and destruction continues in Meghalaya! Lives lost, schools submerged, roads and buildings damaged as people suffer due to lack of accessibility to basic essentials. After 4 years of governance, why has the MDA government's disaster preparedness been so neglectful?' questioned the All India Trinamool Congress, Meghalaya in its official facebook post on a day when 13 people lost their lives to the calamities.
The social media handle of the West Bengal headquartered party even put up blurred pictures of the young child and his two other family members who were buried alive in a landslide in South Garo Hills. Videos of flooded roads and damaged buildings were also put up and blamed on the state government.
There is a Supreme Court ruling that clearly states that dignity of the dead has to be upheld and pictures are not to be circulated nor published for public consumption.
As soon as the opposition Trinamool party began circulating the disaster pictures and videos on its social media handle with attacks on the MDA government, social media users quickly picked up on the story and began criticising the party for trying to play politics.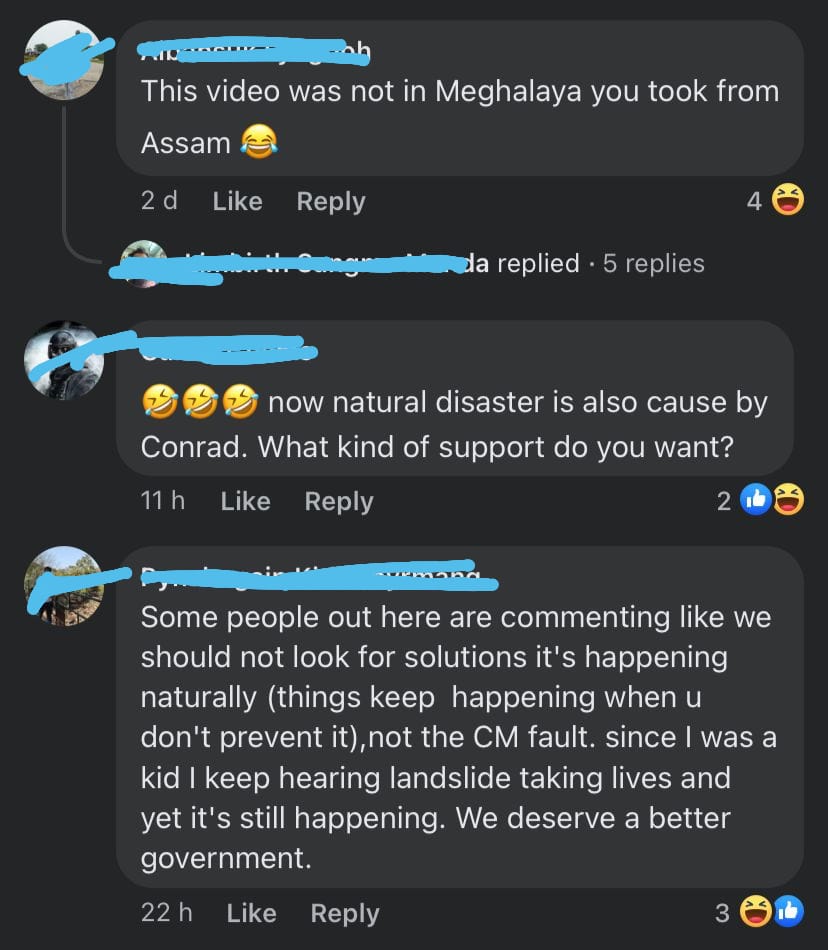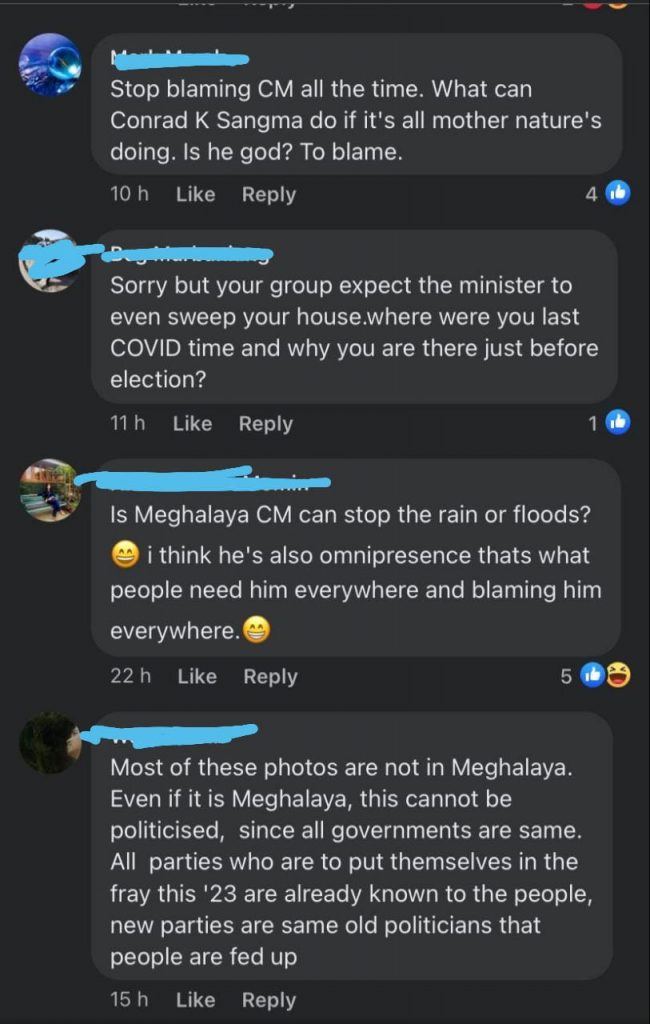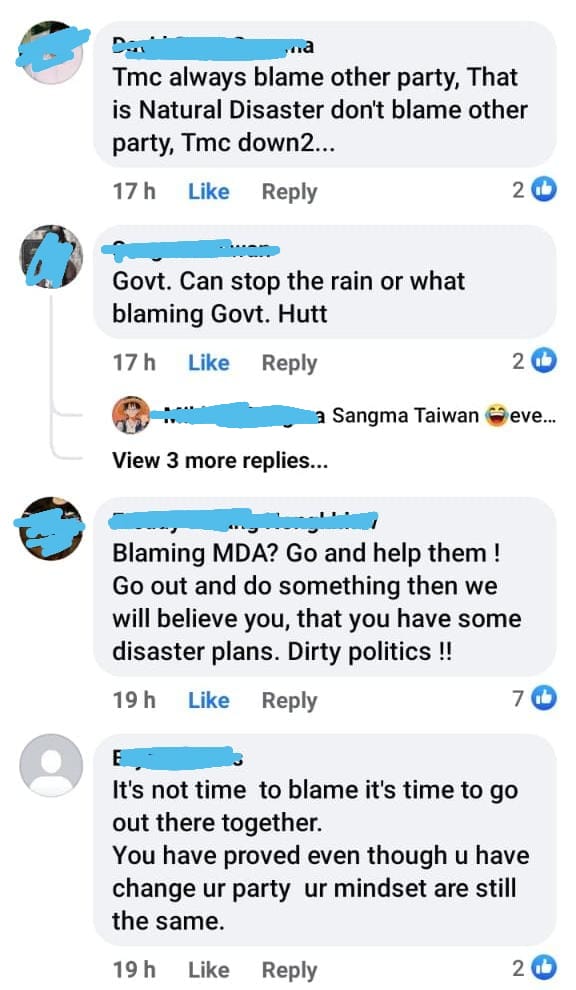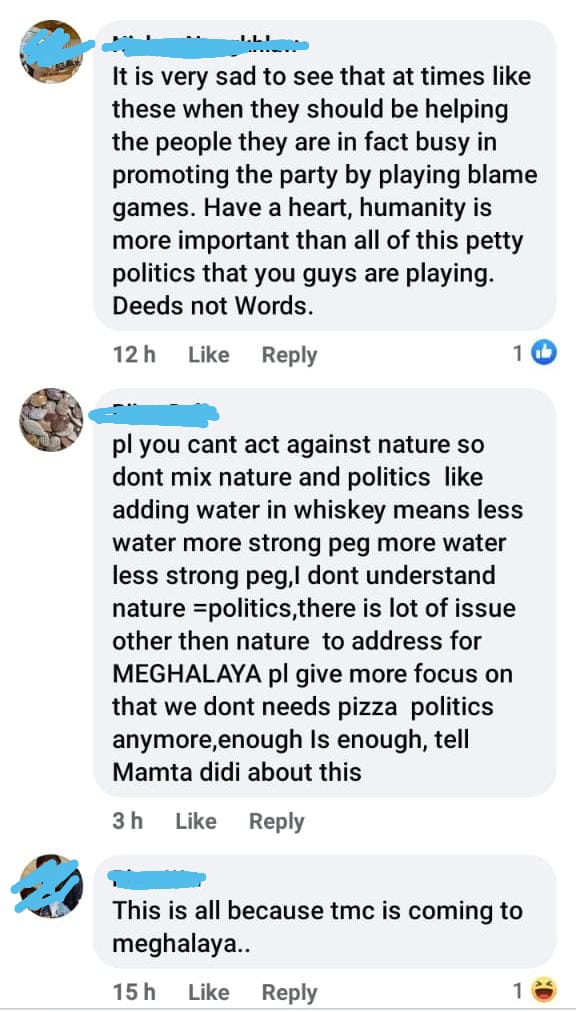 "Don't bring politics into natural calamities because if it were you too, you'd have no answer to this. Nature is nature no matter how well prepared you are," wrote one facebook user in response to the Trinamool claims.
Another user was more direct and ridiculed the party accusing it of playing "dirty politics at the cost of human tragedy".
"At a time when nature is wreaking havoc in the state this petty video is being uploaded. Instead of lending a helping hand to the affected people this petty political party is busy playing cheap political games to gain brownie points. This is so low even for the TMC. It seems lives lost doesn't matter to you guys so long as it plays to your cheap dirty political stunts. Have some conscience!" another angry facebook user wrote on the AITC page.
Other social media users were more blunt, calling on the party to pack their bags and leave the state if their aim is to play politics at the expense of human suffering.
There has been no response from the Trinamool and it has so far not pulled down parts of the video where the bodies of the landslide victims are shown in a hazy picture.