Shillong, Dec 30: Bristish-rangko warachakgipa saksa Jaintia Hills a·jaoni matgrik U Kiang Nangbah-ni chang 160-gipa siani salko gisik ra·e Sukrobar salo Meghalaya-o maniangaha.
Uni sianiko gisik ra·angani somoio, Khasi Students Union (KSU)-ni dilgiparang, KSU-ni padot gitcham Pa Paul Lyngdoh, union-ni General Secretary gitcham aro da·o Cabinet Minister ong·enggipa Pa Hamletson Dohling baksana, Federation of Khasi-Jaintia and Garo People (FKJGP)-ni dilgiparang aro gipinrang Shillong, Civil Hospital sambao a·doktang-chigatangna janggiko on·chakgipa matgrikko gisik ra·na gita tarigipa biapo bibalrangko done gisik ra·aniko dakangtokaha.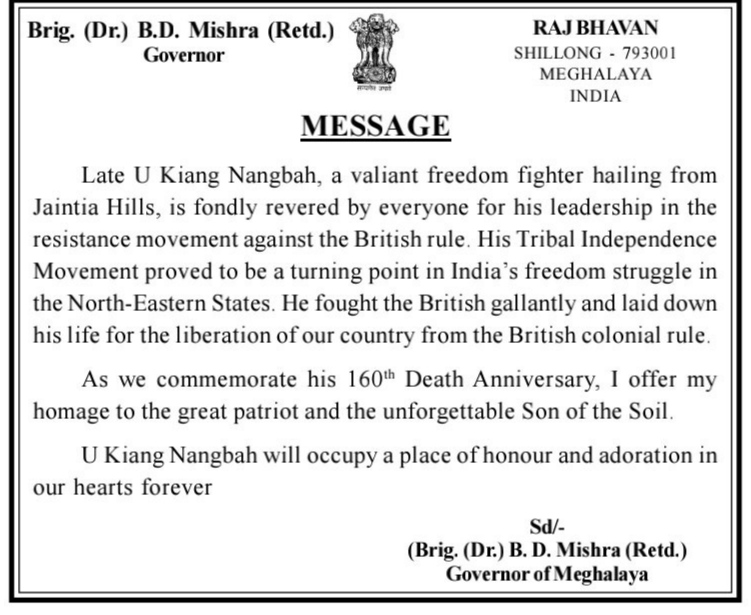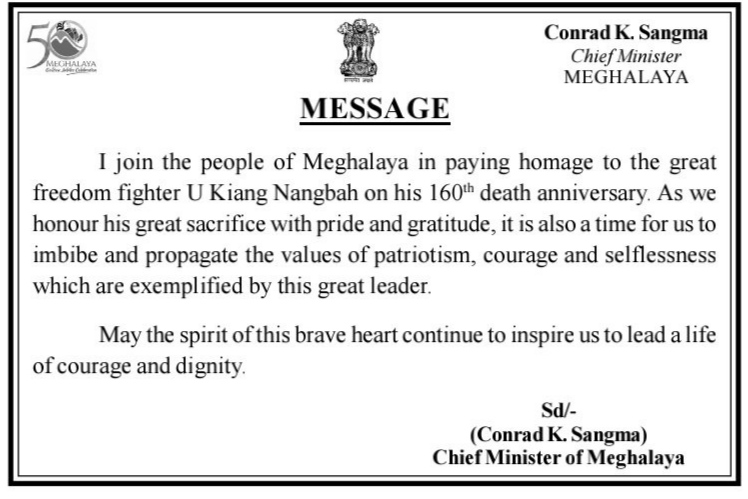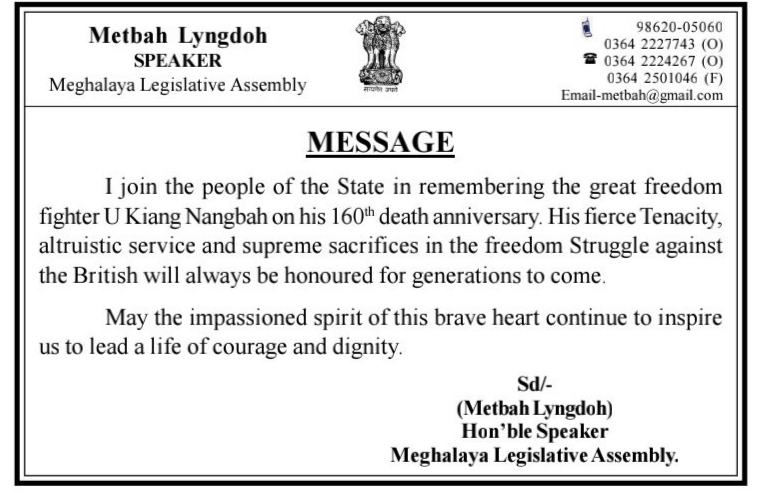 Janapjolna gita, Khasi aro Jaintia a·jarang India-ni bak ong·kujamitingo U Kiang Nangbah, a·doktang-chigatangko chelchakna gita British-rangko warachake dakgrikaha. Uko, 1862 bilsini December 30 tariko West Jaintia Hills a·jani skotong Jowai-ni ïawmusiang-o mande jinma mikkango pasi on·e so·otahachim.
A·jatangni manderangni jakgitelanina dakgrikdilgipa saksa matgrikko gisik ra·anganio, a·dokni skotong minister Pa Conrad K Sangma, a·songko aro uni manderangko chelchakna gita British-rangko warachake janggiko on·kanggipa U Kiang Nangbah-ko chinga da·alo dingtangmancha gisik ra·a aro uni ka·dongani kamrang chingni ka·tongrango dongkamgen ine Twitter-o seachi parakataha.