Shillong, Jan 6: Mawryngkhang Tourist Spot at Wahkhen, known for its bamboo bridges built by local traditional engineers on steep rocks overlooking deep gorges has reopened from January 3 even as strict protocols will be observed.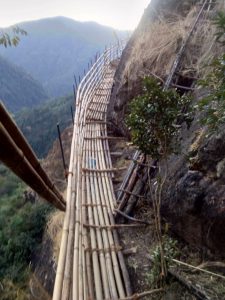 On the day of its reopening, tourists were seen making their way to the huge rock which the locals from Wahkhen claimed to be the King of Stones – Mawryngkhang.
Chief architects of the bamboo bridges are simple rustic folks with no knowledge of engineering but came up with the plan to build bamboo bridges overlooking deep gorges and they are Roget Buhphang who is a school dropout, Nising Khongjirem who is uneducated.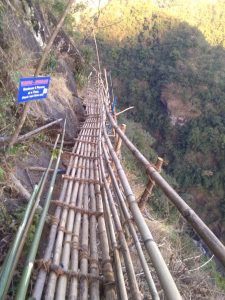 The tourist spot was closed following the months of lockdown due to the pandemic which has brought life to a standstill. The village of Wahkhen came to life with tourists both local and non-local especially trekking enthusiasts thronged the village who was ready to welcome
tourists.
Leader of the Tourism Promoter Society, Wahkhen, Babu Kular Khongjirem
told Hub News, "Tourists have started coming".
He informed that the entry fee is Rs 100 per visitor (adult), Rs 50 for minors, and Rs 20 for children in school uniforms.
He has urged the visitors to the trekking spot to maintain cleanliness
and to indulge in indiscriminate throwing of garbage. He also informed visitors that hand sanitizers will be made available.
A day before the reopening of the trekking route, a cleaning drive was conducted by the locals.