Bajengdoba, March 4: Meghalaya Chief Minister Conrad K Sangma laid the foundation for the construction of the Mini Stadium at Bakennang Nalsa, Bajengdoba, North Garo Hills District in the presence of the MLAs, Pongseng R. Marak and Rupert Momin and officials.
The Bakennang Nalsa Mini Stadium was funded through the State Plan Scheme at a cost of Rs. 3,01,85,000/- (Three Crore, One Lakh and Eighty-Five Thousand). The Mini Stadium will be upgraded with AIFF/FIFA certified Football Turf, VIP and Spectator Seating Galleries, Modern Change Room Facilities, Media Centre, Office Spaces, Parking Areas, and Commercial Spaces.
Laid foundation for the construction of a Mini Stadium at Bakennang Nalsa, Bajengdoba, #NorthGaroHills at a cost of ₹3.01Cr.. As committed, we will revamp sports infra in our districts to unleash the talent of our youth as part of our 1 Skill & 1 Talent mission.@KirenRijiju pic.twitter.com/XAhHEzo5av

— Conrad Sangma (@SangmaConrad) March 4, 2021
The development of an Outdoor Football Stadium in the area with a dearth of sports infrastructure will create a pathway for the youth and the citizens of the region to partake in sports and physical activities.
At the event today, Chief Minister condoled the untimely demise of Rajabala MLA, Dr. Azad Zaman. He also expressed his grief to the bereaved family on behalf of the State Government. 2 minutes silence was observed in respect of (L) Dr. Azad Zaman.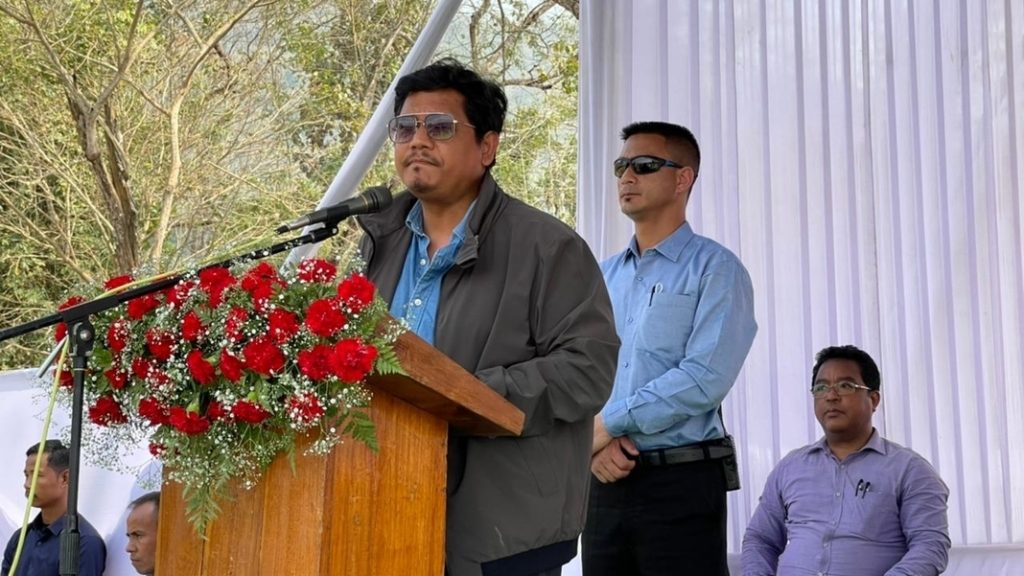 On upgradation of sports infrastructure, Chief Minister said, "To improve sports facilities across the State, the Government of Meghalaya has earmarked Rs. 100 Crore for the year 2020-21, out of which, Rs. 3 Crore was sanctioned for Bajengdoba".
Regarding the development in the road sector, the Chief Minister stated, "The Government has enhanced the budget for road construction across Meghalaya compared to 2013-18, from Rs. 700 Crores, the MDA government has sanctioned about 1800 Crores for road construction in the past three years".
The Chief Minister also declared that the Bajengdoba Mini Stadium will be renamed to the 'Hamilton Stadium' in memory of (L) Hamilton Momin contribution to music in Garo Hills. The wife of Late Hamilton Momin thanked Chief Minister Conrad K Sangma for dedicating the new Stadium in her husband's name.
Thanking the people of Garo Hills, the Chief Minister positively declared that the new Stadium will be constructed and completed by Dec 2022.
Bajengdoba MLA, Pongseng Marak thanked CM Conrad K Sangma for his concerted effort to ensure growth and development in the State. He said that the creation of the stadium in Bajengdoba area will benefit the youth of the entire North Garo Hills district.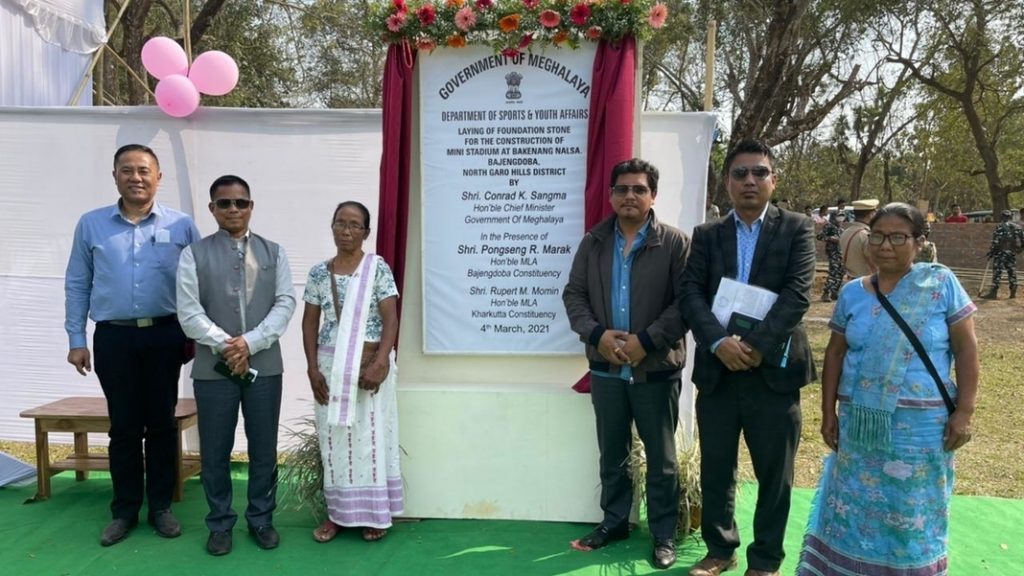 Kharkutta MLA, Rupert Momin in his address stated that the youth of Garo Hills have talent, however, in absence of sporting infrastructure, they are unable to unleash their talent to the full potential. He said that the creation of new sports infrastructure will provide the youth a platform to excel in sports and other activities.