Jowai, Jan 24: Meghalaya Legislative Assembly-na pu·onani tarikko re·anggipa January 18 tariko Election Commission of India (ECI)-chi parakatahani gimino, saliram Jaintia Hills a·jani ning·o donggipa aro damgittam songrango donenggipa polling station-rango eleksinna pilak tarisamsoanirangko nirokna aro ianpakni eleksinko name tom·tome kraa bewalo ong·atani gimin songni nokmarang aro Booth Level Officer (BLO)-rangna talate on·na gita West Jaintia Hills a·jani skotongrang Mongolbar salo, Assam baksa sima-ari chapchapgipa songrangchi wenangaha.
A·jani Deputy Commissioner Pa BS Sohliya baksana, Superintendent of Police Pa Bikram D Marak aro a·jani SSB Camp-ni Adhoc Commandant, Pa S. Chauhan-maang, songsul a·dok Assam baksa sima-ari kachape dongenggipa Lapangap, Khanduli aro Saitsama songrangoni pu·onchaknasienggipa a·damrangona re·ange songni-nokni dilgiparang, Waheh Chnong-rang aro BLO-rang baksa agan-golpogrikaniko dakangaha.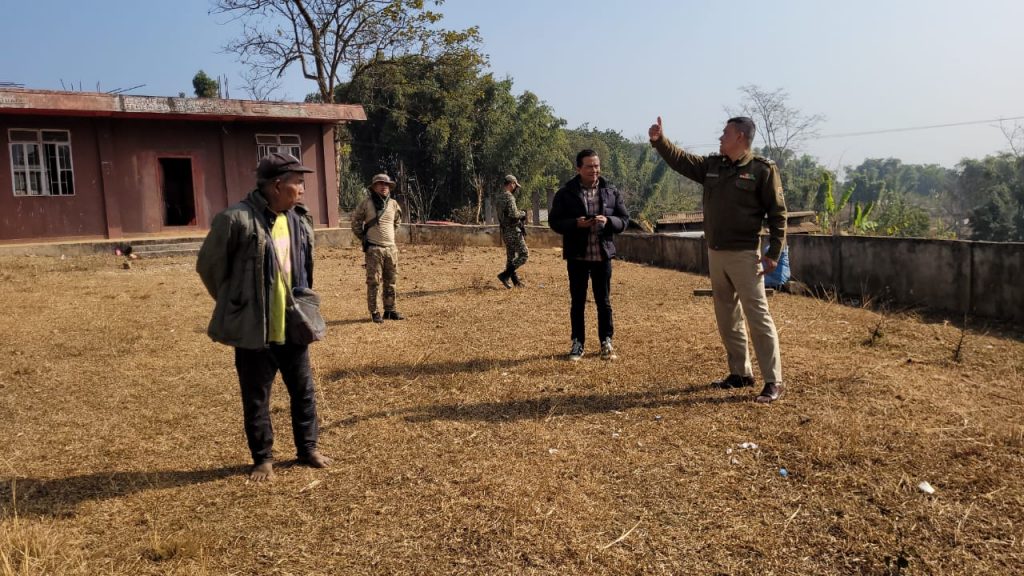 Pu·onchaknasienggipa a·damrangona wenanganio, a·jani DC Pa Sohliya, ianpakni eleksino darang saksakoba watchangatgija pu·onanio bakko ra·atna miksongengani gimin, pu·onnasigipa manderang badita bang·a uko sing·sandie ra·anga baksana be·enni gita bilgrigiparang aro bilsi 80 batgiparang badita gnang uarangko tale ra·angenba uamangna tarisamsoanirangkoba sing·sandie ra·angjolaha.
Ianpakni eleksino pu·ongiparangna skul nokrango pangkamgipa ga·chakanirangko tariachi dingtangdapaniko ra·bagnina ECI-ni ka·dongsoenganiko adita salrang skang parakangani gimin, skul nokrango pu·ongiparangna ga·chakanirangko tarichina a·jani DC ge·etaniko on·anga baksana, nangchongmotgiparang jekai bijoli, paikana, chi ba ugitarang chu·onggijanirangkoba nirokange nandapenggipana nanga gita kamrangko ka·atchina ge·etaniko on·anga baksa administration-oniko chu·gimik dakchakanirangko on·naba ka·dongataniko on·angjolaha.
Unbaksana, songni manderangna jakgitele pu·onna gita cholko on·china aro darang candidate-na chakenganiko manderangna mesokjachina gita a·jani DC, songni nokmarangko mol·molanga baksana, ECI-ni dongimin pilak agan-ge·etanirang gnanggipa chittikoba Waheh Chnong-rangni jako on·bajolaha.