TURA, Feb 4: The five districts of Garo Hills has so far witnessed 28 nominations for the ensuing 27th February elections with a massive show of strength by arch rival NPP in Ampati, the bastion of former chief minister Mukul Sangma with friend turned foe Stevie Marak of NPP displaying support of several hundred thousand people marching alongside to file his nomination.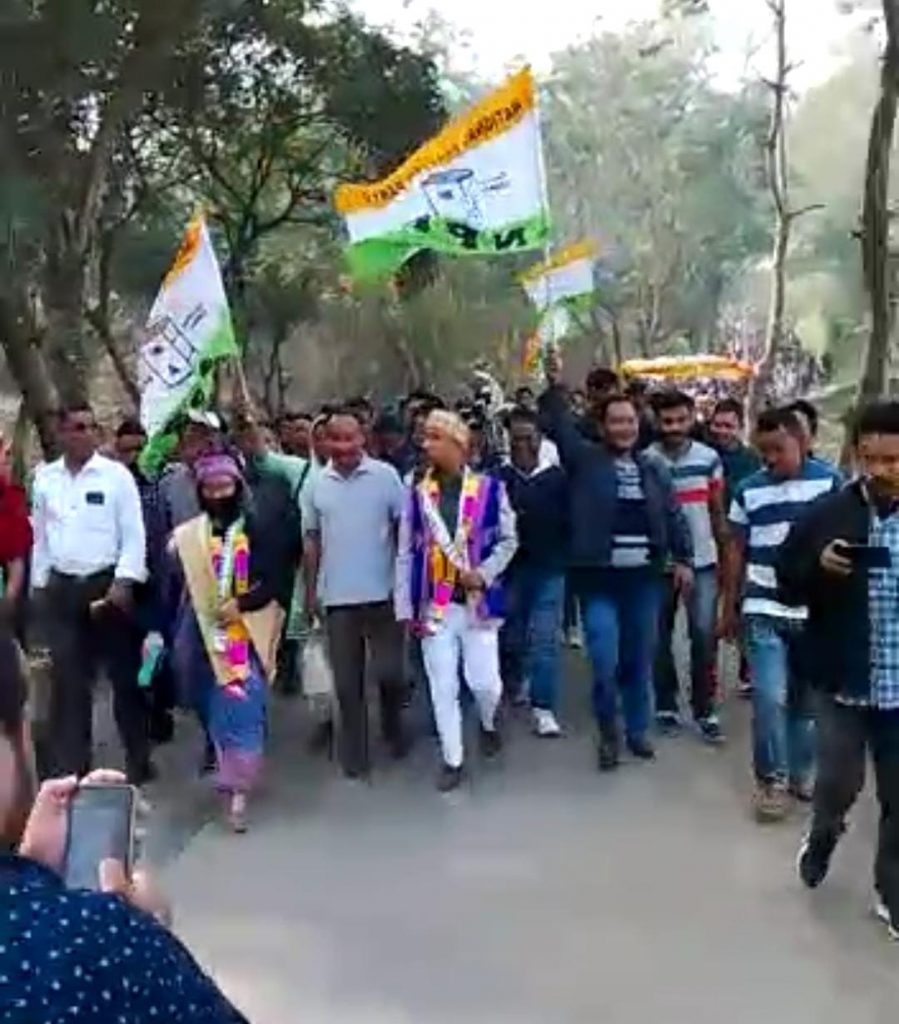 Almost all candidates who filed nominations on day 3 of the elections hailed from the Congress and the NPP, besides a handful of Independents and two Trinamool Congress candidates.
Friday's nominations had an array of who's who in the political cauldron with family members pitted against one another in the quest for political victory.
The biggest shocker appears to be the brother in law of Tura MP and NPP leader Agatha K Sangma, Chireng Peter R Marak, who as congress candidate is fighting against the official candidate of his sister-in-law's NPP party in Kharkutta. Chireng Peter will be taking on Rupert Momin of the NPP who is the sitting legislator.
Mukul's quest for conquest of two seats- Tikrikilla and Songsak was also in the news on the day of nominations.
In Tikrikilla seat, Trinamool defector and legislator Jimmy D Sangma is taking on the former chief minister as the NPP candidate and says "Its a fight between the local (himself) and the outsider (Mukul)".
Another bitter opponent of the former chief minister, former NPP MLA Nihim D Shira filed his nomination to take on Mukul from his second constituency of Songsak that he currently represents.
The NPP is optimistic it will triumph in both seats as party president and chief minister told crowds at Tikrikilla on Thursday that the ground situation is indicating the Trinamool leader could bite the dust in both seats, this time.
Conrad Sangma told crowds of supporters at election meetings in Tikrikilla that the former chief minister has made a blunder in deciding to contest from two seats with voters passing judgement on how he intends to cling to two seats when the election norms clearly mention he has to vacate one.
"The voters of which constituency will he sacrifice? No one wants to elect a leader only to see him resign a month later to retain the other seat. He (Mukul) has made the biggest blunder of his political career because we are winning both seats that he is contesting," said Conrad Sangma confidently.
In Ampati constituency, once loyalist and now opponent of Mukul Sangma, sitting Boldamgre MDC Stevie Marak filed his nomination to challenge the former chief minister's daughter and sitting legislator Miani D Shira. He turned up for the nomination in front of a crowd of several hundred supporters.
Another opponent of Mukul Sangma, Congress candidate Mrs Uttora G Sangma, whose father and sitting MLA was defeated by Mukul Sangma during the latter's maiden entry into politics, filed her nomination to take on Miani D Shira.
Former minister Sayedullah Nongrum was one of the oldest candidates among today's nominees to file his papers for Mahendraganj constituency where he is taking on Mukul Sangma's wife and sitting MLA Dikkanchi D Shira.
Sayedullah's son Noor Nongrum has filed his papers to contest from Tikrikilla, against Mukul Sangma and Jimmy Sangma.
In another show of strength by numbers, two contestants in Baghmara, South Garo HIlls tried to outdo one another with the size of their supporters to bring home the message of supremacy.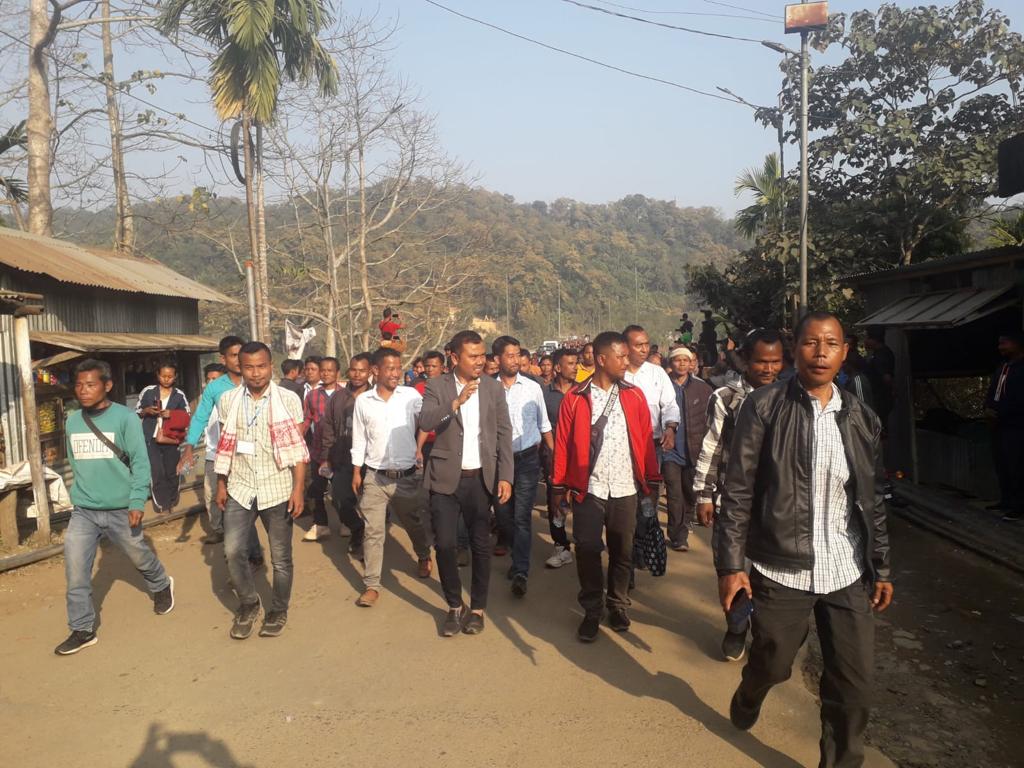 Sitting MDC Nathawal S Marak and businessman Khartush Marak, both Independents, displayed their numbers by marching through Baghmara town for the nomination, filling the largest bridge over Simsang with hordes of supporters.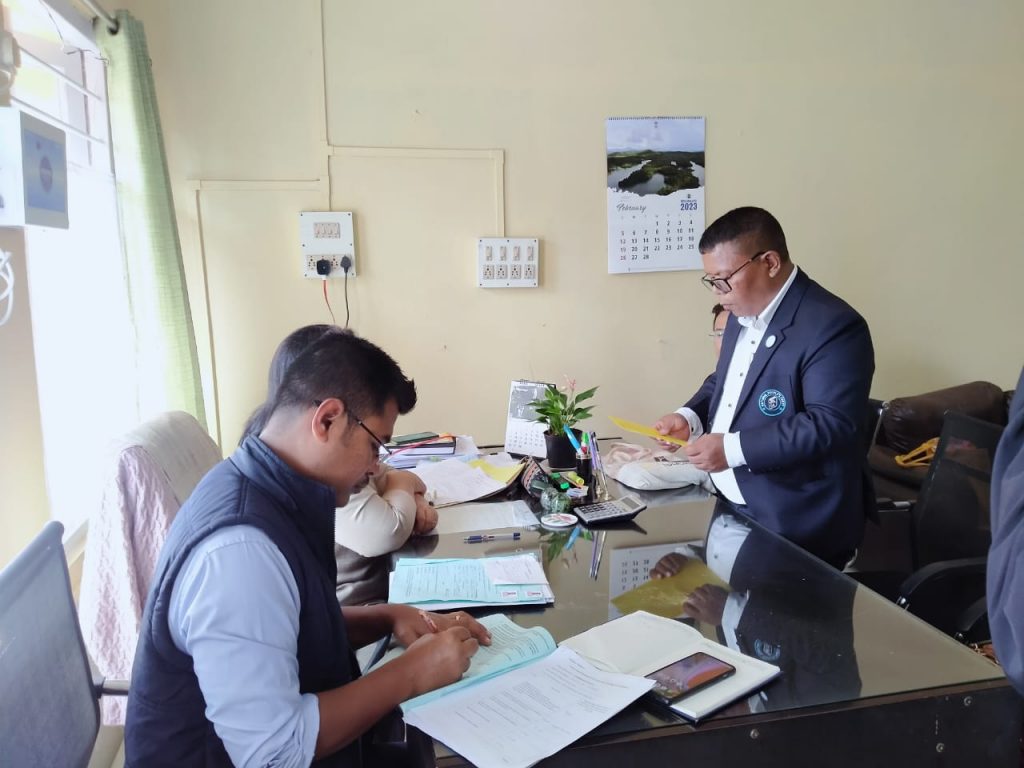 Others who filed their nomination papers included NPP MLA from Rongara-Siju Rakkam A Sangma, GHADC Chairman and NPP MDC Sengchim N Sangma along with Deputy CEM of GHADC and Garo National Council candidate Nikman Ch Marak for Chokpot seat, NPP MDC Rakesh A Sangma for Gambegre seat where he is facing a tough challenge from Congress candidate Saleng A Sangma, NPP MDC Arbinstone B Marak for Selsella, former NPP MLA and now Trinamool candidate S G Esmatur Mominin for Phulbari, former MLA Limison D Sangma for Raksamgre, Andreash Momin (UDP), Bipul Ch Sangma (UDP), Diraj D Marak and former MLA Kennethson Sangma (both Independents) for Dalu, Dr M Mizanur Rahman Kazi (AITC) for Rajabala, and Congress candidates Dr Tweel K Marak (Resubelpara), Brigady N Marak (Bajengdoba), Timjim K Momin (Mendipathar), and NPP leader and Tura MP Agatha K Sangma's own brother in law Chireng Peter R Marak as the Congress candidate for Kharkutta.