Jowai, Jan 27: With the motive to eliminate Tuberculosis (TB) by 2025, the Office of the District TB Officer, Jaintia Hills District on Friday distributed food baskets to the on-treatment TB Patients. These food baskets were donated by The Star Cement Limited under the Corporate Social Responsibility (CSR) Project. It will help the patients in attaining nutritional needs that is required for their healthy balanced diet.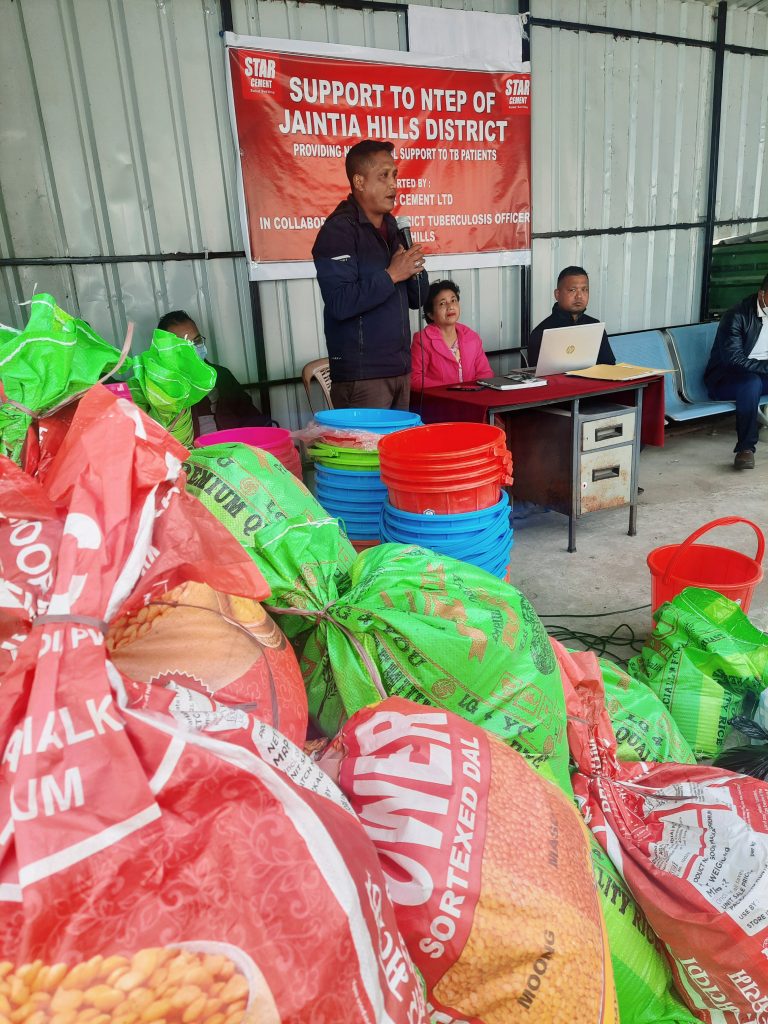 The Pradhan Mantri TB Mukt Bharat Abhiyaan (PMTBMBA) is a new campaign launched by President of India on September 9, 2022, where any individual, political parties, NGOs, Corporate etc. can come forward to adopt TB patients for a minimum of 6 months and maximum for 3 years for their Nutritional Supports, Diagnostic, Vocational training and more. This scheme will enable to connect the community to come forward in achieving district TB free.
The programme started with an introductory speech by Linus Mannar, Senior Treatment Supervisor, Khliehriat TU. This was followed by a welcome address by Dr. Salsan Momin, Medical and Health Officer Incharge, Khliehriat CHC.
Dr. E.V.B Laloo, District TB Officer, highlighted that Tuberculosis is a communicable disease and the general symptoms of TB disease include coughing with or without blood, weight loss, fever, and night sweats and that if anyone has any symptoms, he/she can visit the nearest Government facilities for screening, which is provided free of cost.
She also informed that TB is a curable disease and treatable with a minimum duration of six months.
Kingshok K. Borah, Deputy Manager on behalf of CSR Star Cement, expressed his motivation to support for TB patients so together they can work for TB elimination in the District. The Star Cement has adopted all the TB patients of East Jaintia Hills District, numbering 100 patients.
The food baskets will be given for 6 months so that the patients can maintain their nutritional balanced diet.
Also, an appeal was made whereby it was mentioned that the District is in need of more Donors and requested the citizens to come forward and support, so that the District can aim for TB free status with their contribution in helping the cause.
To become a Donor (Nikshay Mitra) or want to support TB patients, any individual or groups can register himself or herself in Nikshay Mitra portal at https://reports.nikshay.in/FormIO/DonorRegistration or email to [email protected] and can directly contact District TB Officer 9862889778.