Shillong, Jan 25: The National People's Party (NPP) has termed the 'Farm Promises' by All India Trinamool Congress (AITC or TMC) Meghalaya in their election manifesto as 'fallow and fake' and an attempt to replicate what NPP has already started in the State. Calling the promises of TMC as 'mischief and devious' and purely made due to electoral prospects, the party said the people of Meghalaya will teach the West Bengal headquartered party a lesson.
"It is just a matter of time that the TMC would be taught a lesson by farmers and citizens of Meghalaya, for their mischief and devious nature towards the state of Meghalaya, in pursuit of their electoral prospects," NPP said in a press statement on Wednesday.
On the farm promises by TMC, the party said the Mamata Banerjee led party is scared and finding no way out to reach out to the farming community is promising financial assistance to the farmers, which the NPP government is already doing and has envisioned the scheme for next 10 years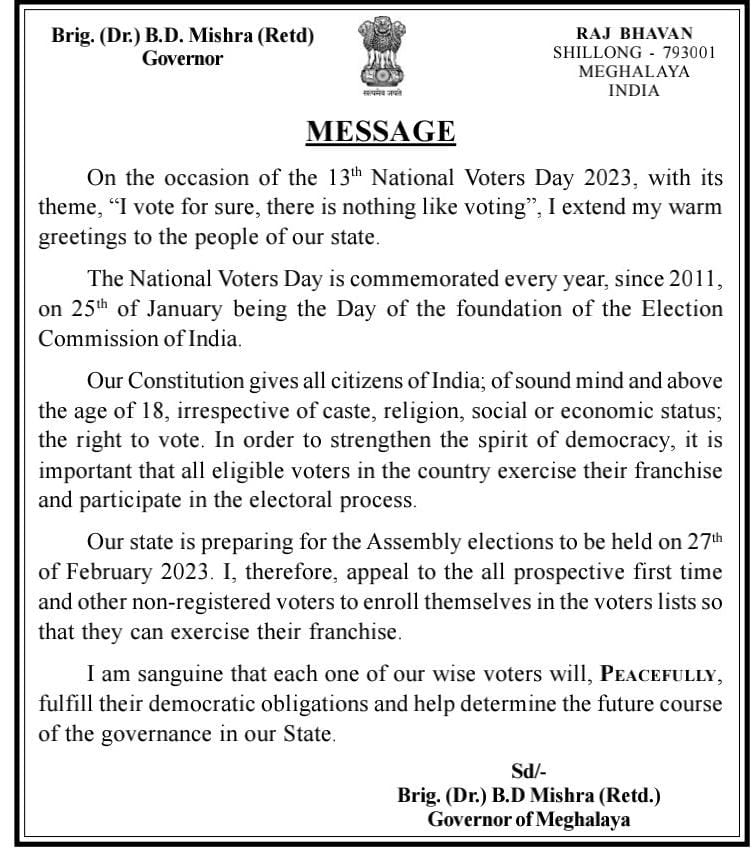 "AITC leaders during their tenure in the State 2010 – 2018 failed to understand the plight of the farmers and ignored them. Now, that the NPP led Government during its tenure 2018-2023 introduced the biggest farmers welfare scheme – Focus and Focus +, the AITC is scared and finding no way out to reach out to the farming community is promising financial assistance to the farmers, which the NPP government is already doing and has envisioned the scheme for next 10 years," NPP said.
It further asserted that the financial assistance being promised by AITC is nothing but 'baaki card' (credit card) and claimed that most people in Meghalaya have already rejected their fake registration process and have outrightly termed their programme as a fake promise. It also said TMC is pushing campaign in media that they have huge registration, which is nothing but an advertisement gimmick adopted by the party.
"Whereas, NPP under the leadership of our National President Conrad K. Sangma launched the ambitious programme Focus and Focus +, which has already benefited 3.1 lakh farmers. We feel that AITC and their leaders were in deep slumber during their tenure and are trying to replicate what NPP has already started. AITC should rely on local issues rather than thinking too much of what they did in Bengal and replicate the same in Meghalaya," it said.
Also, another promise of FARM Centres in every district, is already operational in the state through the dedicated efforts of NPP led MDA government. In the past 5 years, 330 Integrated Village Cooperative Societies have been promoted, 300 Collective Marketing Centres and 50 Farmer's Market have been setup all across the state to provide marketing facilities to the farmers. Till date over 1,00,000 households have benefited through these initiatives by the NPP led MDA government, it informed.
"Surprisingly, the Farm promises by TMC have been vague and generic. They lack any concrete data on the number of farmers to be benefitted or type of interventions that would be taken up. There are promise are hollow and more of publicity stunt," NPP pointed out.
It further called out TMC's fake promises by referring to the pathetic situation of the farmers in West Bengal. "TMC, with the sole of motive of deceiving citizens, can't restrict the public memory of the recent multi-crore cattle smuggling scam in Bengal involving TMC strongman Anubrata Mondal," it added.
NPP also recalled that during the period of 2010-18, when TMC leaders Dr Mukul Sangma and Charles Pyngrope were in the government, as part of the Congress with Mukul being the Chief Minister for 8 years straight, there had been severe distress among the farmers in the state, due to lack of support and assistance from government; farmers had been denied subsidies & fertilizers in the disguise of promoting organic farming, thereby impacting their livelihood.
"Taking cognizance of this pathetic plight, NPP-led MDA government has initiated several interventions beyond the flagship FOCUS, FOCUS+ and Marketing Infrastructure & Supply Chain. Purchase Mechanism for high value crops like turmeric, vanilla, cocoa, ginger through covering over 15,000 ha of agriculture land at different stages of organic certification involving 15,000 farmers and about 28 FPCs. Several Mission Mode projects were also initiated, covering major agriculture and related products like Lakadong, Ginger, Honey, Spices, Mushroom Mission, Milk and Jackfruit among many. The State Piggery Mission, largest in the country, was initiated with a budget of Rs. 209 Crores, to make the state self-sufficient in pork production. Meghalaya Milk Mission is being implemented with a financial outlay of Rs. 215 Crores. All these interventions have brought cheer to the farmers," NPP said.