Agartala, Jan 25: Leaders of the influential Tipraha Indigenous Progressive Regional Alliance (TIPRA), which has been demanding elevation of the Tripura Tribal Areas Autonomous District Council (TTAADC) as a separate state for the tribals, are set to meet Union Home Minister Amit Shah in Delhi, party sources said on Wednesday.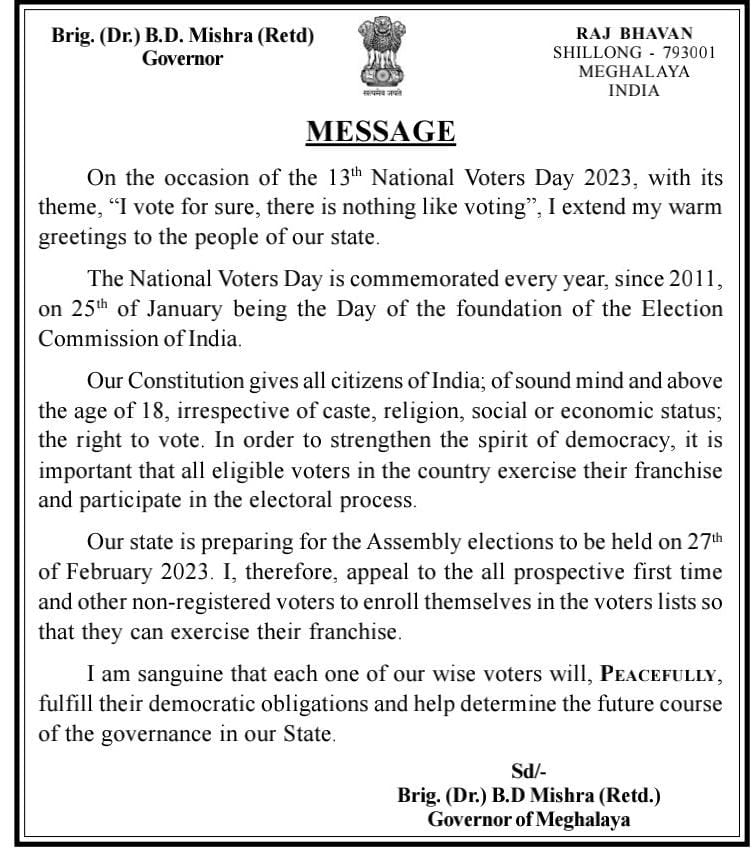 Before leaving for Delhi on Wednesday afternoon, senior TIPRA leader and deputy chief executive member of TTAADC, Animesh Debbarma, said a meeting was held in the national capital on Tuesday night between Shah, Assam Chief Minister Himanta Biswa Sarma and TIPRA chief Pradyot Bikram Manikya Deb Barman, in which the demand for 'Greater Tipraland State' was discussed.
"We have been invited to Delhi. The all-important meeting will be held either on Wednesday night or on Thursday in the presence Amit Shah," Debbarma was quoted as saying by IANS.
TIPRA chief and former royal scion, Pradyot Bikram Manikya Deb Barman, wrote in a Facebook post: "Contrary to rumours, there have been no talks on seat-sharing with any party! We have received intimation from the Ministry of Home Affairs that it would like to talk to us over our demand for a constitutional solution to the Greater Tipraland issue."
"We have repeatedly said that until we don't get written assurance from the government of India on the constitutional solution to our demand, we will not go in for any alliance, leave alone seat-sharing. Please don't jump the gun and relax – we know how to negotiate for our people to the maximum," he maintained.
While the main opposition parties in Tripura — CPI-M, Congress and Trinamool Congress — have been trying to forge alliance with TIPRA to get majority of the 20 tribal reserve seats, the latter has reportedly held meetings with BJP's junior ally Indigenous People's Front of Tripura (IPFT) for a seat-sharing deal aiming the February 16 Assembly polls.
In another development, Tripura BJP leaders, including Chief Minister Manik Saha, after holding an emergency meeting in Agartala, left for Delhi on Wednesday to discuss with the central leaders about election strategies and to finalise candidates' names.
The IPFT, since 2009, has been demanding to make the areas under TTAADC a full-fledged state while the TIPRA, since 2021, has been demanding elevation of the TTAADC areas by granting 'Greater Tipraland State' under Articles 2 and 3 of the Constitution.
The BJP, CPI-M, Congress, Trinamool Congress and other parties have been strongly opposing the demands of both IPFT and TIPRA, saying that they do not want further division of Tripura.
Since April 2021, TIPRA has been ruling the politically-important 30-member TTAADC, which has jurisdiction over two-third of Tripura's 10,491 sq km area and is home to over 12,16,000 people, of which around 84 per cent are tribals, making the autonomous council a mini-Assembly.
TIPRA has organised various events in Tripura and in Delhi in support of its Greater Tipraland demand. The leaders of IPFT had taken part in sit-in demonstrations at Jantar Mantar in Delhi in December 2021 and 2022.
Focusing on the Tipraland issue, the IPFT in the 2018 Assembly polls had secured eight of the 20 tribal reserve seats, which over the decades were the strongholds of CPI-M.
The demand for a Greater Tipraland was raised after the IPFT got massive support from the indigenous tribals ahead of the 2018 Assembly elections.