Shillong, Nov 23: West Jaintia Hills a•jani Mukroh songo a•sel ong•anichi duko ga•akenggipa nokdangrangko Budbar salo, Meghalaya a•dokni Chief Minister Conrad K Sangma grongeaha aro duko ga•akenggipa nokdangrangko uni grongeanio, a•dokni Deputy Chief Minister Prestone Tynsong, PHE Minister Renikton Lyngdoh, Urban Affairs Minister Sniawbhalang Dhar aro Social Welfare Minister Kyrmen Shylla-ba dongpaaha.
A•sel ong•anio sianggipa manderangni nokdangrangko grongeanio a•dokni Chief Minister, nokdang ge•prakna gong lak 5-ni cheque-rangkoba on•angjolaha aro duko ga•akenggipa nokdangrangna a•dokni pal kalimanikoba parakangjolaha.
Today we also handed over the ex gratia of ₹5 Lakhs each to the next of kin of the 5 deceased during our visit to Mukroh.

Pained to see their suffering. We stand with them during their time of grief and will do everything we can to ensure justice is served.@AmitShah pic.twitter.com/k7TlcE9fMy

— Conrad Sangma (@SangmaConrad) November 23, 2022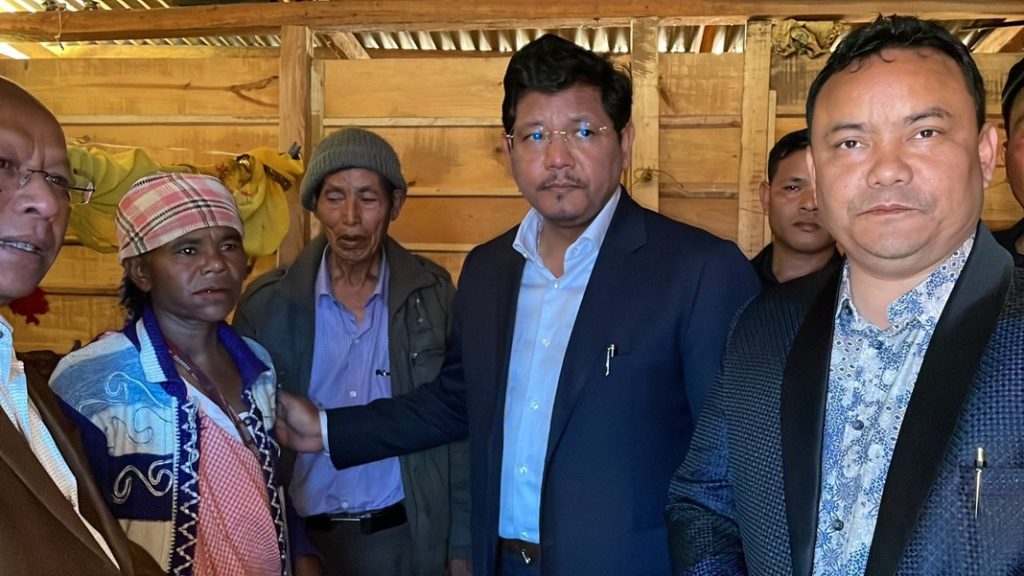 Ia songona re•anganio ua songni manderang baksa agangrikengon, Mukroh songni manderang baksa bakrimaniko mesokna gita sorkari, pilak sorkari program-rangko aro manianirangko dontongatna tik ka•aha ine parakangjolaha.
Mukroh songona re•anganio ua jingjengatenggipa dolrangkoba grongjolaha aro a•sel ong•anio ga•akgipa manderangna kakket bichalko on•na gita sorkari kam ka•gen ine ku•rachakaniko on•angaha.
Ia a•sel ong•anio songni mande sakbonga aro Assam-ni forest guard saksa so•otako man•ahani gimin ia a•selni bidingo NIA ba CBI-chi sandirokaniko dakatchina gita Assam aro Meghalaya sorkari dolgnian, ma•mong sorkariko mol•molna tik ka•aha ineba Chief Minister, jingjengatenggipa dolrangna parakaha.
Meghalaya sorkarini ja•ku de•anio Assam sorkariba bakrimaniko on•paenga ine talataniko on•angengon, ia a•sel ong•anio jak donggipa officer-in-charge aro forest official-rangko man•chape pilak officer-rangkon kam dontongataha aro West Karbi Anglong-ni SP-koba gipin biapona kam ra•jitataha ine Sangma, jingjengatenggipa NGO-rangna aganaha.
Budbar salo Cabinet-ni dilgiparang, Delhi-ona re•ange Union Home Minister Amit Shah-ko grongenba iani bidingo agangrikgen aro uni ja•man Assam-ni Chief Minister Himanta Biswa Sarma baksa tom•aniko ong•atanggen ineba ua aganaha.
Chief Minister-ni ia songona re•angani somoio Mukroh-o police outpost-ko songchina dabie Jaintia Students Union (JSU)-ni dilgiparang una dingtangmancha memorandum-ko on•atskaaha.