Tura, Jan 30: Meghalaya Chief Minister and National People's Party (NPP) Supremo Conrad K Sangma launched his poll campaign for his home constituency of 51-South Tura in a mega show of strength at New Tura Law College field on Monday.
At the 51-South Tura General Election Meeting, I reassured the people who have blessed me with their support that the NPP will continue to work for them. We do not make empty promises, we deliver them. Urge the people's support to ensure the victory of NPP in 2023. pic.twitter.com/PrRDAwOhNM

— Conrad K Sangma (@SangmaConrad) January 30, 2023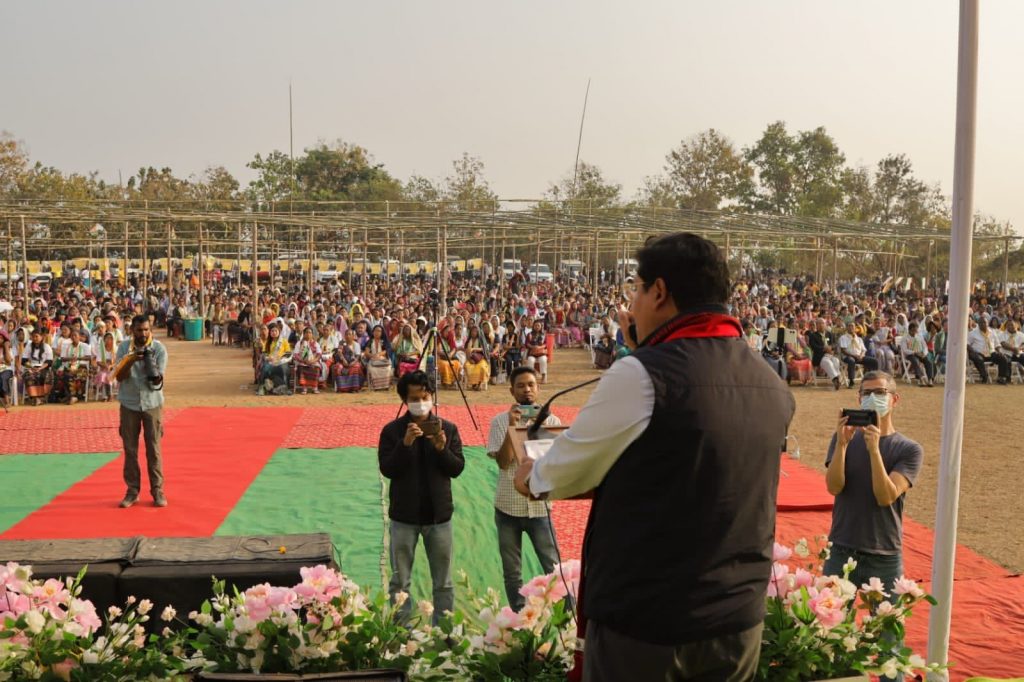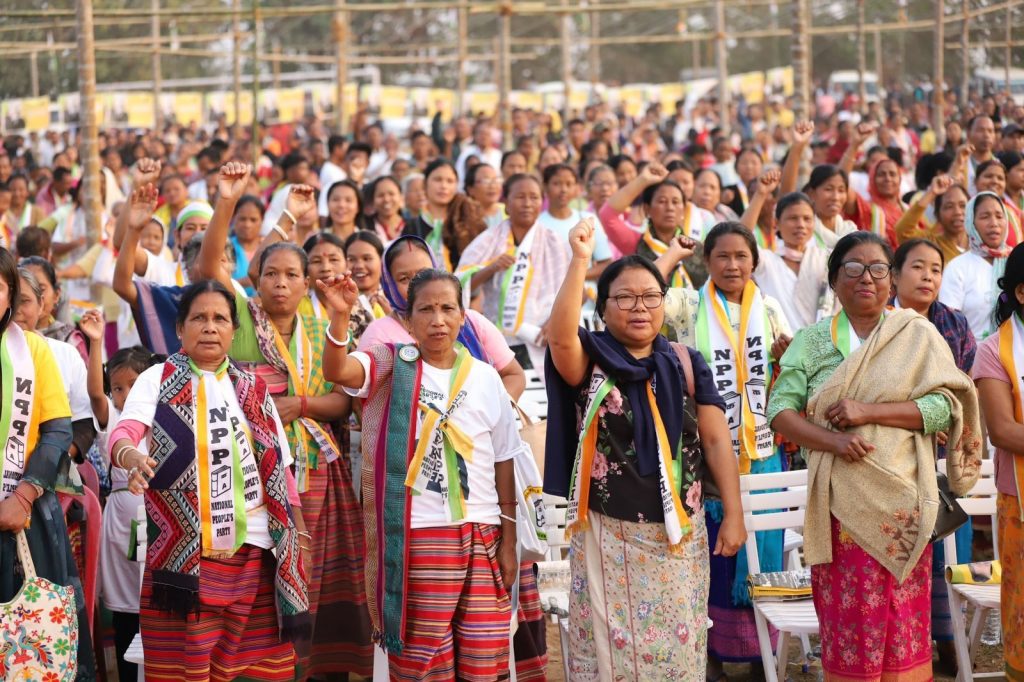 The rally was attended by over 5000 supporters from the constituency to endorse his candidature.
Seeking support for the NPP party in the ensuing February 27 elections, the Chief Minister highlighted the various development works undertaken by his government in the last five years, which he said was 'phenomenal' given that it had overcome 15 years of underdevelopment in the state, especially Garo Hills, and particularly Tura constituency.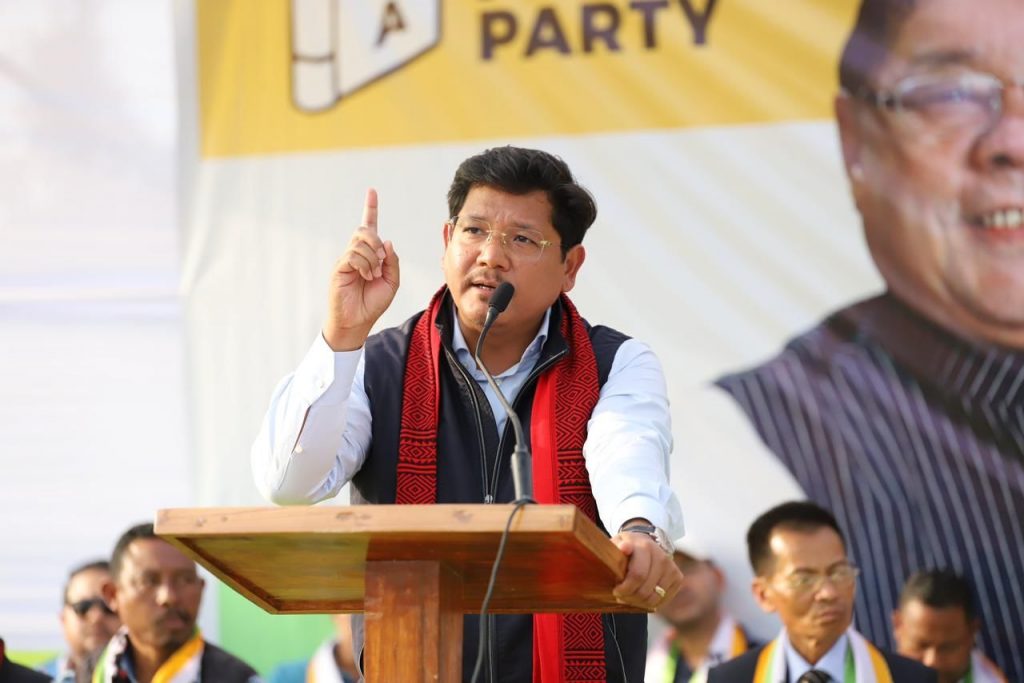 "You as the voters of Tura endorsed my candidature in the by-election and voted me into victory with a record margin of over 8500 victory margin. With your support we were able to do a lot of work in five years for the entire state and Tura as well," he told the gathering.
He said that priority for his government was not a single subject but overall development across all sectors. "I told the media persons after taking over government in 2018, my priority is for every department, be it education, infrastructure, youth and sports. If we cannot improve governance overall, we can never see progress. Which is why my top priority was Good governance, a perfect delivery mechanism, proper administration which is how we ensured development was not just in one sector but across each and every department," he said.
MGNREGS Performance
Under his government, he said that funding for the MGNREGS job card scheme, which has been around for over 20 years, was raised exponentially.
"In 2018, the funding was only around Rs. 500 crores for MGNREGS in our state, but after we took over, it has touched Rs. 1800 crores which would not have been possible but because we monitored and implemented each and every project through good governance," said Sangma.
Highlighting his government's performance, he said, "We were in the bottom ranking for implementation of MGNREGS, between 25-28th among all states, but in the last five years we are one of the top performing states. Same was the case in PMGSY road projects, it was bottom of the table and our state was blacklisted. We have changed that situation and PMGSY is now one of the best performing states."
He said that earlier Meghalaya was able to make only 700 kms of roads in a span of 15 years, whereas from NPP's tenure of 2018 to 2022, close to 2000 kms have been completed in the state.
JJM Achievement
Sangma also informed that Meghalaya is now a model for other states in implementation of the Jal Jeevan Mission (JJM) for water supply to homes. In fact, even the Jal Shakti Minister from the Government of India, Rajendra Shekhawat, during his visit to Shillong told the media that other states ought to follow the successful model of the Meghalaya government, mentioned Sangma.
"Meghalaya is changing for the better"
The NPP Chief further stated that the progress Meghalaya has made in the last five years has made New Delhi sit up and take notice. "Earlier, the perception in New Delhi was that Meghalaya was unable to utilise the funds given to the state. But now, they talk about the progress being made in the field of development which is no small feat. This is a boost for Meghalaya," he stressed.
He further promised the people "Our dream is to make Meghalaya a Model State and be at par with the best in the country."
Danced with the people to the NPP anthem today. Grateful for all the love showered by the people at the 51-South Tura General Election Meeting of the National People's Party.

NPP Again for 2023! pic.twitter.com/wVI33H36cr

— Conrad K Sangma (@SangmaConrad) January 30, 2023