Tura, Jan 12: All Garo Hills Govt Lower Primary Contractual Teachers' Association (AGHGLPCTA) aro All Garo Hills Contractual UP School Teachers' Association (AGHCUPSA) nangrime contractual skigiparangni kamko bon•atengani gimin mongolbar salo jegale jinma re•jomaniko dakangaha.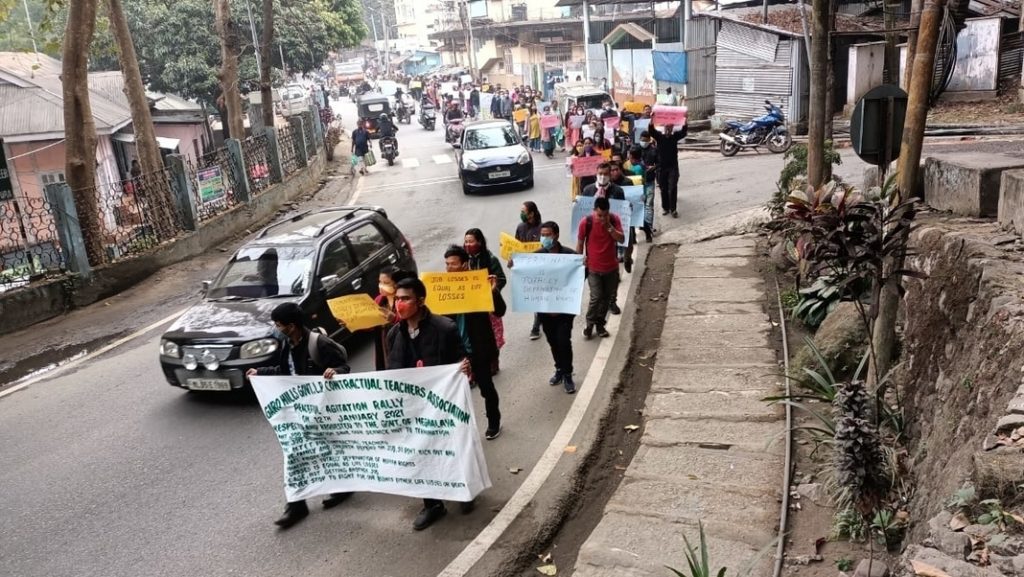 Contractual skigiparangni jegale jinma re•jomaniko dakanio, NGO-rang jedake GSMC, AHAM aro GSU skigiparangna chakpaaniko on•angaha aro skigiparangni dukko nike skigiparangni dabianirango jak on•pagen ine parakataha.
Meghalaya a•doko contractual skigiparangni kamko bon•atna miksongengani gimin Garo Hills-ni dingtang dingtang biaprango skigiparangni kamko ka•enggiparang jingjengataniko dake jegalaniko dakangaha.
Contractual skigiparang bilsi 10 batpile kam ka•ani ja•mano a•dok sorkari skigiparangni kamko bon•atna miksonganiara skigiparangko so•otengsa ine jinma jegalangtokaha.
AGHGLPCTA-ni dilgiparang jinmana aganprakengon, "An•ching skigiparang bilsi 10 batpile Garo Hills-ni bi•sarangna skie on•aha, uni ja•mano an•chingko da•alo sorkari dukni wario galonengjok. An•ching mikkangchi maming sorkarini kamko ba government service-ko man•taina neng•gnok aro bilsirang re•angengjok. Uni gimin an•ching a•dok sorkario raken dabiangna" ine skigiparang tik ka•angaha.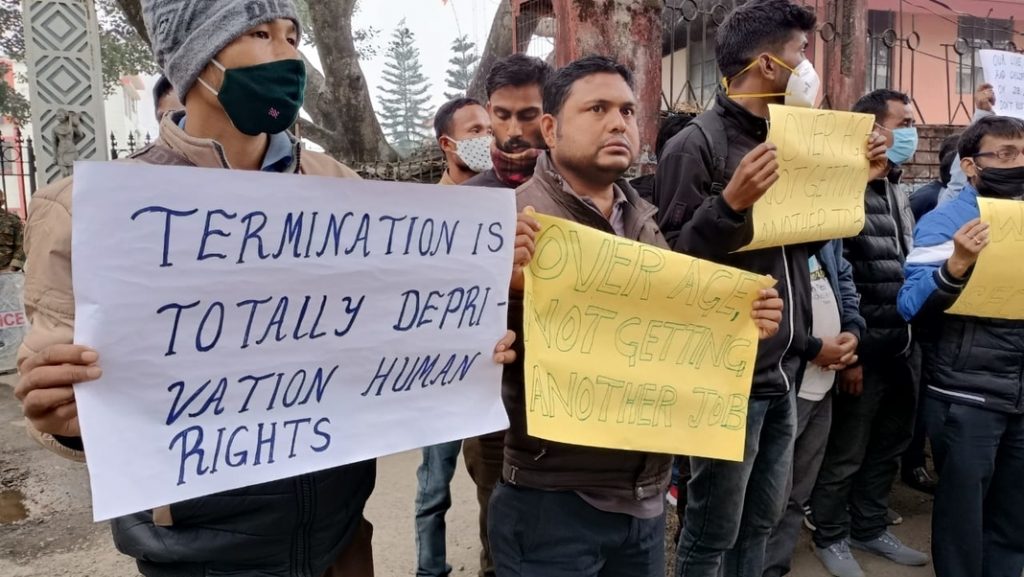 Skigiparang dongjaode bi•sarang u•ianiko ba seng•aniko man•jawachim, bi•sarangna seng•aniko on•gipa aro uamangni mikkangchi janggi tangani ramako mesokgipa skigiparangan ong•a, uko sorkari ma•sina nanga.
Skigiparang minggittam dabianiko dakangaha, uaranga; a•dok sorkari Contractual Skigiparangni kamko bon•atna nangja aro kamko on•angpilna nanga, gnigipa Service Security-ko on•na nanga jedakode kam bon•atna man•jawa aro gittamgipao Special MTET-ko contractual skigiparangna dingtangmancha on•na nanga ine jinma chrik a•boke dabiangaha.
Contractual skigiparang jinma re•jomaniko Tura William Point-oni a•bachenge DC office mikkango matchotaha.
Indake jinma re•jomani ja•mano AGHGLPCTA aro AGHCUPSTA-ni dilgiparang DC-ko gronge Skotong Minister-na uamangni segimin memorandum-ko West Garo Hills-ni Deputy Commissioner-ni jak gita on•ataha.
Indake ong•engon Contractual Skigiparang sal 15 nichakgen uni ja•mano sorkari knachakjaode dingtang ja•ku de•aniko dakgen aro Suprime Court-onaba sokanggen ine parakataha.
Unbaksana AGHCUPSTA-ni paraka gitade ia bilsio uamangni services-ko renew ka•e extention order-ko on•china aro kam bon•ataniko sorkari dontongchina dabiangaha.
"Chingo mai chu•ongijani donga, MTET-ko ong•atna skangan UP-rangnade Proposal of Regularisation sokahachim. Ua Proposal Regularisation format-o chinga fill-up ka•e DSEO-na submit ka•aha. Indiba chingko Regularise ka•jaha. Una skangba chinga 2014 bilsio DSC porikkako seaha, ukoba result on•chipja. Uni kosako chingna MTET on•aha. Chinga koros bon•e DE.LED porikakoba sejok aro 12th class-nikoba 45% improve dakjok. Iarang gimikon a•dok sorkari dakna ge•etani gimin chinga dakaha. Indiba da•alo chingko kamonikosa terminate ka•na am•enga" ine UP skigiparang suk ong•gijaniko parakataha.
Contractual skigiparangko service continue ka•angkuchina aro Proposal of Regularisation-o pangchake skigiparangko Service Permanent ka•china gitaba dabiangaha.