New Delhi, June 1: 15-year-old Maleesha Kharwa has become an incredible source of inspiration for young girls everywhere through her remarkable journey. Despite residing in a slum, Maleesha aspires to become a model and dancer, and her dreams took a significant step forward when she was chosen to be the face of a prestigious luxury skincare brand 'The Forest Essentials'.
In a heart-warming Instagram video released in April, the brand captured Maleesha's sheer delight as she entered their store, adorned with her own campaign photos. The post read, "Her face lit up with pure delight, to see her dreams in front of her in sight. Maleesha's story is a beautiful reminder that dreams really do come true." This video quickly went viral, amassing over 5 million views and more than 406,000 likes.
View this post on Instagram
"Our Yuvati Selection honours this transitionary phase in a young girl's life. We aim to encourage, empower and enable these young minds to achieve their dreams no matter where they come from and how big or small their dream maybe," wrote Forest Essentials. Furthermore, adding that a portion of the proceeds from the Yuvati Selection towards Project Patshala will be used to help dreamers like Maleesha realise their dreams.
Maleesha's captivating story also caught the attention of filmmakers Jas Sagu and Arsala Qureishi, who created a short documentary film titled "Live Your Fairytale" centered around Maleesha's life. The documentary portrays Maleesha's endearing relationships with her father, Mukesh—a clown impersonator at children's parties—and her younger brother, as well as the challenges and triumphs she faces daily.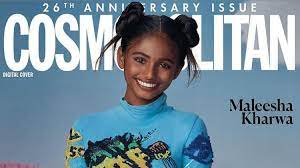 Residing with her family in the slums of Bandra, Mumbai, Maleesha's path to fame began when she caught the eye of actor Robert Hoffman, known for his role in "Step Up 2."
Hoffman had come to India to shoot a music video featuring Maleesha's cousin but became stranded due to the pandemic. It was during this unexpected encounter that Maleesha shared her dreams with the Hollywood star. Touched by her aspirations, Hoffman took it upon himself to help her realize her ambitions before his departure, creating an instagram page dedicated to Maleesha. Today, this page boasts over two hundred thousand followers.
Recalling his initial meeting with Maleesha, Hoffman described it as "something out of a movie." Surrounded by other residents of the slum, Maleesha's remarkable face stood out, leaving him astonished that no one had recognized her potential for child modeling opportunities until then, attributing it to the prevailing Indian perception that beauty is associated with extremely light skin. He expressed his determination to guide Maleesha's talent. To him, there was no doubt that he would open doors for the "slum princess," a term endearingly used by Maleesha's followers. When he met Maleesha's family, he shared his belief in her enormous potential for life-changing experiences.
Gracing the cover of a leading fashion magazine, Maleesha expressed her profound love for her life. She found it peculiar when people questioned her happiness due to her impoverished background, but she remains genuinely content. Maleesha acknowledged the unbelievable adventures her life has taken her on and expressed her thrill at inspiring others to fearlessly pursue their dreams, regardless of their scale.