Williamnagar, Sept 19: Mongolbar salo, East Garo Hills a•jani Deputy Commissioner, Vibhor Aggarwal, "An•seng Baljokani" ine pangchakaniko donenba Ayushman Bhava-ko, Williamnagar-ni AH & Veterinary Department-ni Vocational Centre-o a•bachengate on•angaha jeon bang•a manderang bakko ra•angaha.
Ia campaign-ko a•bachengatengon, sorkarini gita dingtang dingtang department-rang jekai Health, Social Welfare, Agriculture aro uandake gipin department-rangni on•enggipa cholrangko ba dakchakanirangko galgija jakkalchina ine Deputy Commissioner a•jani manderangko didiangaha aro apsan somoion sorkarini on•enggipa cholrangko aro dakchakanirangko on•anio darangkoba watchanggija on•pachina ine pilak line department-ni official rangko didiataha.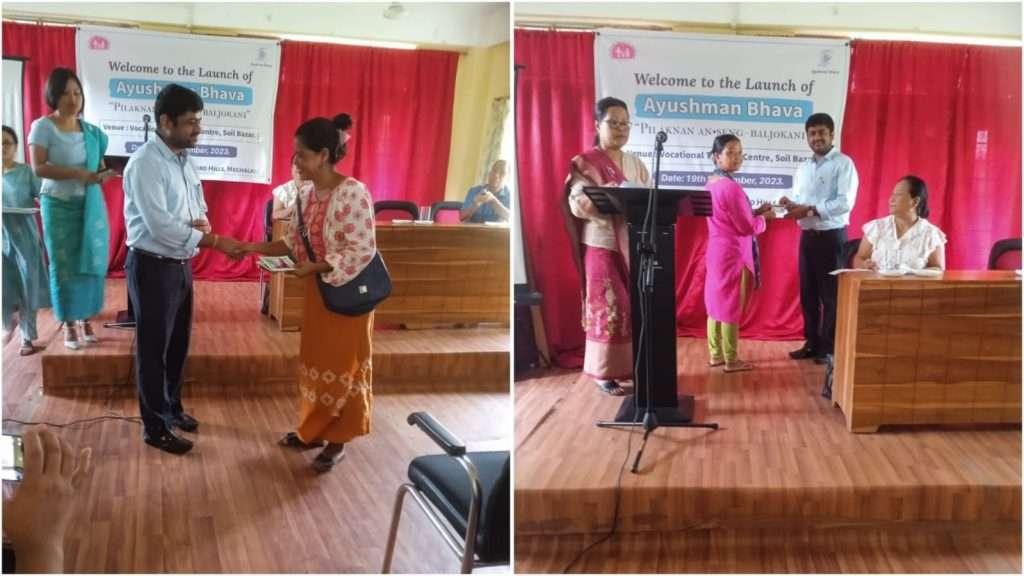 Ia tom·anio East Garo Hills a·jani DMCHO Dr LM Sangma-ba indin sanna bananiko dakna man•a gita MHIS aro ABHA-o bimung segataniara gamchata aro Non Communicable Disease (NCD) ba signigipa sabisirangoniko u•ina man•na gita seng·gnang sandie nianiko dakchina ku•pattiangaha.
A•gipi batgipa Medical and Health Officer, Dr Jimmy Carter Ch Marak, blood donation ba sakgipinrangna an•chi on•ani gamchatani gimin aganangaha, uandake District Welfare Officer, Madonna T Sangma-ba Rastriya Poshan Maah-ni gimin aro ia September jagimiko Nutrition Month-ko India a•song gimiko manienga ine talate on•angaha.
Ia manianio, NCD aro TB sabisiko u•ina man•a gita sandianiko dakangaha, aadhar enroll ka•e on•angaha, MHIS aro ABHA-o bimung segate on•angaha, Poshan Maah stall aro malaria sabisiko porikka ra•e nianirangkoba a•jani manderangna ong•atangaha.
Iakoba poraie nina man·gen: GSU, Rongjeng Regional Unit-ni election-ko ong·atanga
Watch
Find latest news from every corner of Northeast India at hubnetwork.in, your online source for breaking news, video coverage.
Also, Follow us on-
Twitter-twitter.com/nemediahub
Youtube channel- www.youtube.com/@NortheastMediaHub2020
Instagram- www.instagram.com/nemediahub