Tura, Sep 20: Ayushman Bhav Campain-ko Tura-ni Rongkon-o donggipa District Institute of Education and Training (DIET)-o West Garo Hills a•jani District Tuberculosis office-ni gita salsana ong•atangaha.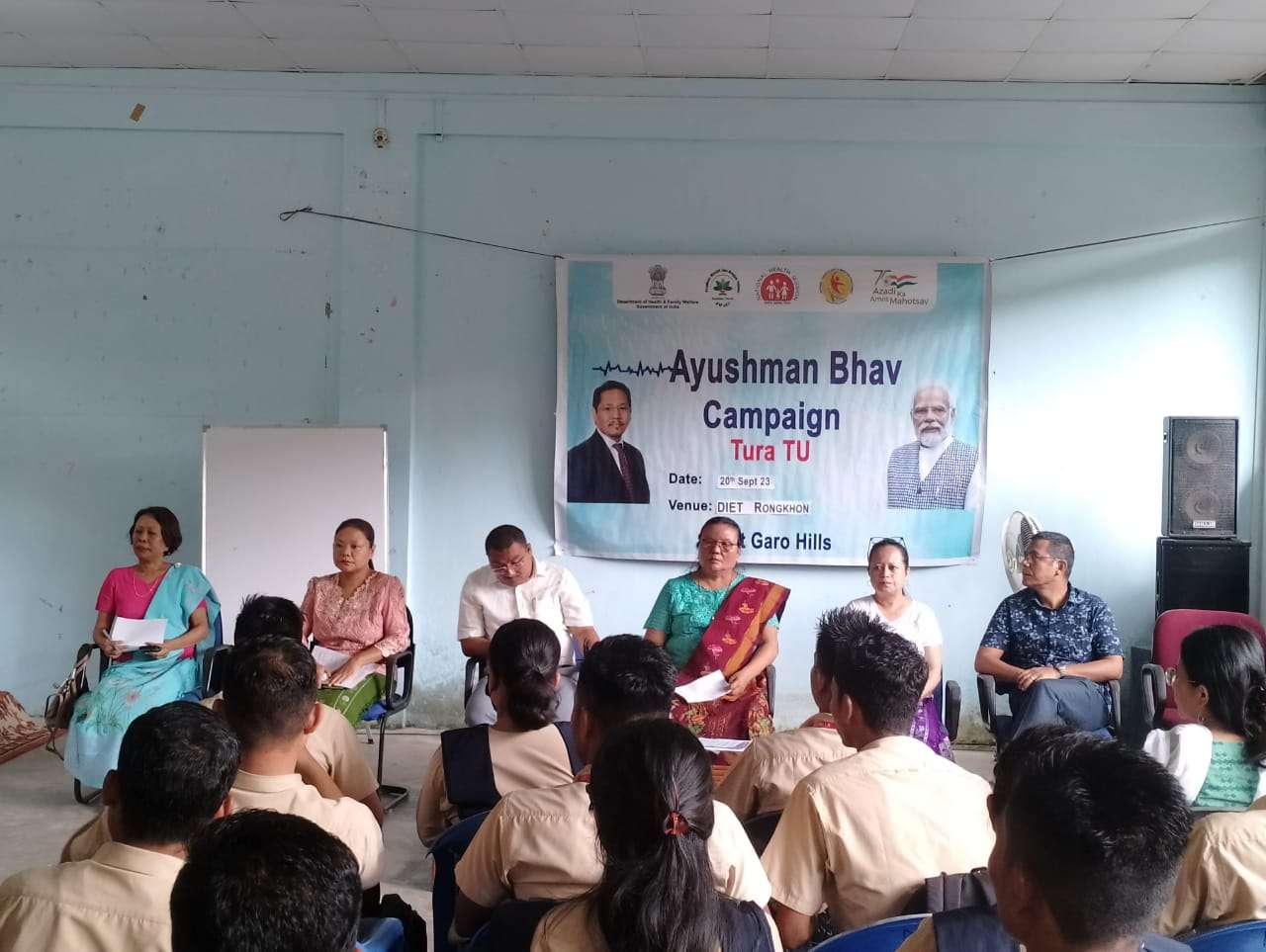 Ia tom•anio MCCL-ni chairman Dabo M Marak, mongsonggipa sokgipa ong•e bakko ra•angaha aro unbaksana Tura-ni LSEO Tengme M. Marak, West Garo Hills-ni DTO Dr. E.A.Sangma, Tura-ni MO-TC Dr. Riksilchi M. Sangma, Tura DIET-ni Principal Aditie B. Momin aro Tura DIET-ni Asst. Professor P Ch Momin-ba dongpae bak ra•angtokaha.
Tom•anio rimchaksoani kattarangko Tura DIET-ni Asst Professor Terabin Ch. Momin aganangaha aro mongsongipa ong•e sokbagipa baksana gipin sokbagiparangna memento-rangko DTO Dr. E. A. Sangma on•angskaaha.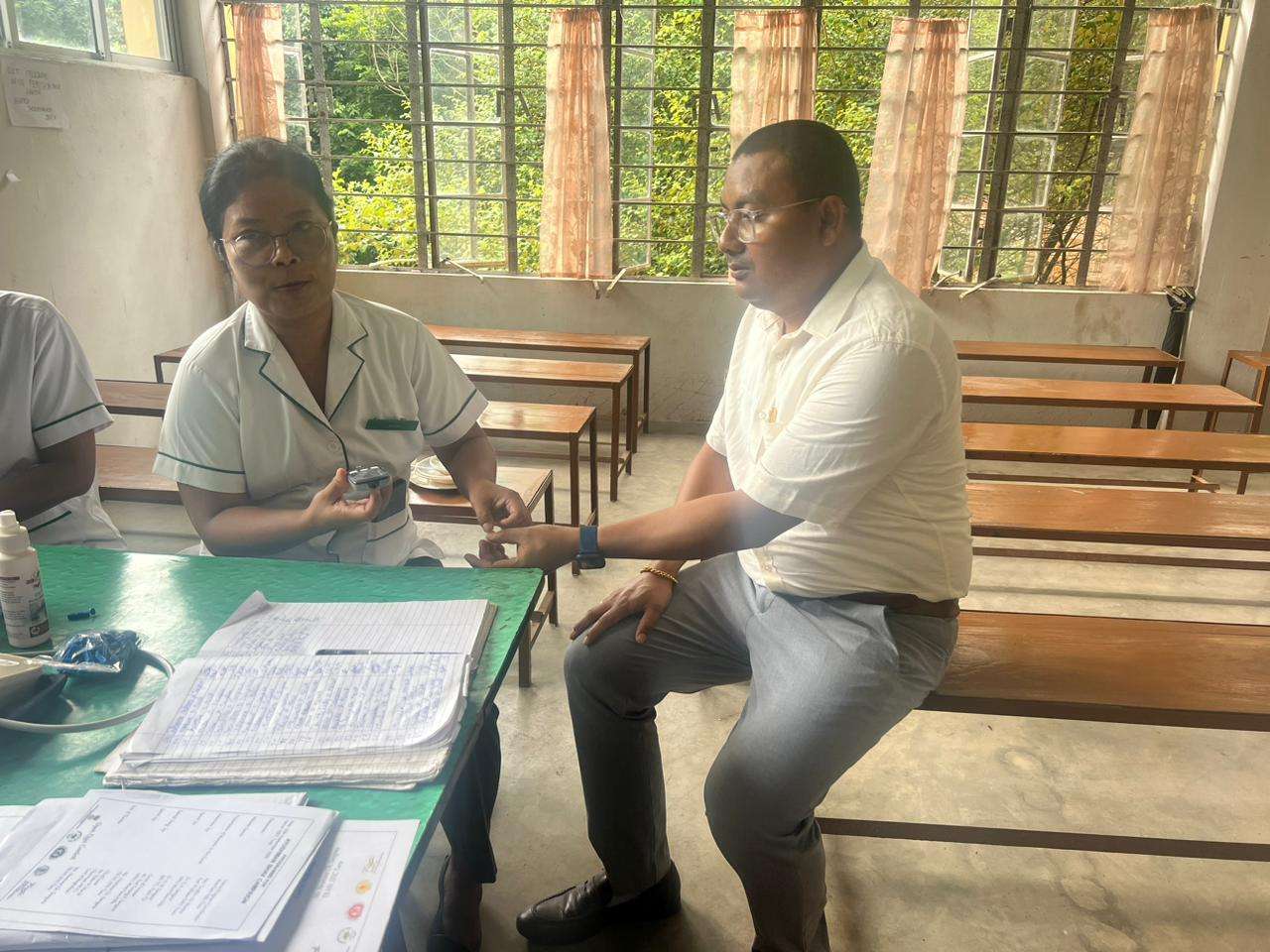 Ia tom•anio MCCL-ni Chairman Dabo M Marak, jinmana aganprakangengon, skigiparangara silgrakrangko atte ba uandake dingtang dingtang jakkaltobegipa bosturangko doke tarina sapgiparang gita chacha ong•a maina uamangsa mikkangchina bi•sarangko skienba dingtang dingtang gadangrangona sokatenga ine skigiparangko mittele aganangaha.
Mandeni salanti janggi tanganio nangchongmotgipara an•seng baljokani aro namgipa bewalrangan ong•a aro mandeni dakbewal rikbewal ringa cha•anirangni bewal namgijani a•selan TB sabisirang batroroataniko man•enga ineba Marak aganangaha.
Ia tom•anio LSEO Tengma M Marak-ba, jinmana aganprakengon, manderang pilakan altuaen sabisi sakanchirangko man•na amgiparang ong•a uni gimin be•en bimangko name rakkina aro sabisioni naljoke dongna nanga ine aganangenba, poraienggipa chatro chatrirang be•en an•senggijaniko man•anichi skulrango poraianirangko dontongna draatako man•ronga ine chatro chatrirangko pangnan an•tangtangna simsakgiparang ong•china didiangaha.
Ia tomanio, Dr. Riksilchi M. Sangma, TB sabisini gimin jinmana mikrakataniko on·angaha.
Indake ia tom•anio Tura DTC-ni TB-HV Newton Ch. Sangma, TB sabisini gimin uni tarigipa gitko ring•e manderangko an•saoatangskaaha.
Iakoba poraie nina man·gen: Mawpat-o, atchigital bi·sako galanina, bi·sani ma·gipa aro pagipako police rim·a
Watch
Find latest news from every corner of Northeast India at hubnetwork.in, your online source for breaking news, video coverage.
Also, Follow us on-
Twitter-twitter.com/nemediahub
Youtube channel- www.youtube.com/@NortheastMediaHub2020
Instagram- www.instagram.com/nemediahub