Tura,Feb 9: Garoland State Movement Committee (GSMC),Centre Executive Committe,Tura Mongolbar salo West Garo Hills, a·jani Deputy Commissioner (DC) Office mikkango a·songe jingjengataniko dakangaha.
Tura songjinmao GSMC-ni asonge jingjengatani miksongara Bangladesh a·songni Modhupuro songdong a·chaenggipa A·chikrangko Bangladesh Sorkari-ni Forest Department, ua song ba biapko wate katchina aro a·rikani lekkarangko see on·ahani gimin Bangladesho songdongenggipa A·chikrangna chakpaaniko mesokna ong·a.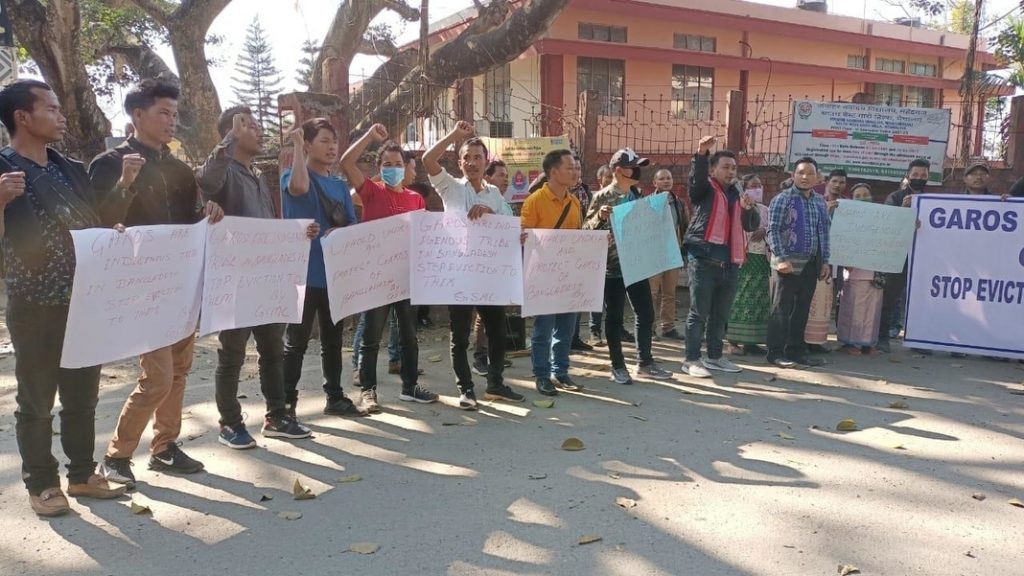 GSMC-ni Chairman Pa. Nikman Ch.Marak, tom·bagipa manderangna je a·songo songdonggenchimoba A·chik-de A·chik-an ong·a, A·chikni an·chian ong·a maming dingtangni dongja, Bangladesh Modhupur songni A·chikrang Forest Department dongna skangan ua biapo songdong a·chachengaha aro ua biapo dam 50-na baten A·chik songrang gnang, uni gimin Bangladesh Sorkari ni Ministry of Forest, Environment and Climate Change-ni gita rike galaniko champengatna nangchongmota maina A·chikrang ma·ambi chasongonin ua biapo songdong a·chabaenggiparang ong.a, uni gimin uamangni neng·nikanirangko nirokatna nangchongmota ine GSMC dabiangaha.
Unbaksana, India a·songko sason ka·enggipa dolrang, MP-rang, Minister-rang,Officer-rang, Meghalaya a·dokni Skotong Minister Pa.Conrad Sangma aro gipin Minister-rang, MLA-rang, Bangladesh-ni Sorkari baksa agangolpogrike Modhupur-o songdongenggipa A·chik-rangni neng·nikako nirokatpachina GSMC mol·molangaha.
"Jingjengataona re·bagipa manderang, Bangladesh-ni A·chikrangko rike galaniko dontongbo, Bangladesh Sorkari A·chikrangko rike galna man·jawa, Bangladesh Sorkari, dontongbo rike galaniko" ine jinma chrik a·bokaha.
Asonge jingjengatani ja·mano GSMC dilgiparang a·dokni Skotong Minister Pa. Conrad Sangma-na mol·mole segipa lekkako WGH-ni Deputy Commissioner Pa. Ram Singh-ni jak gita on·angjolaha. GSMC-ni janape lekka seatani gitade Modhupur-o ong·enggipa obostani bidingo Bangladesh Sorkari baksa agangrike, kakket bichalko on·china aro uno songdongkamgipa A·chikrangni a·dok chigako, United Nations Declaration on the Rights of Indigenous Peoples (UNDRIP)-ni dongimin niamo pangchake A·chik manderangko chel·chakchina Meghalaya-ni Skotong Minister-ko GSMC mol·molangaha.