Shillong, Jan 26: Meghalaya Governor Satya Pal Malik on Tuesday unfurled the national tricolor and took the Rastriya Salute at Polo Grounds Shillong in presence of Meghalaya Chief Minister Conrad K. Sangma.
Wishing the people of the State on the occasion of 72nd Republic Day, the Governor said, "On this day, we salute the values of our democracy and reaffirm our commitment to the constitutional values of liberty, fraternity and equality".
On law and order situation, the Governor said, "The overall law and order situation in the State continues to be peaceful. We began this decade with a vision and a promise of the Meghalayan decade. A decade that would witness Meghalaya progressing to be among the top 10 Indian States within the next 10 years.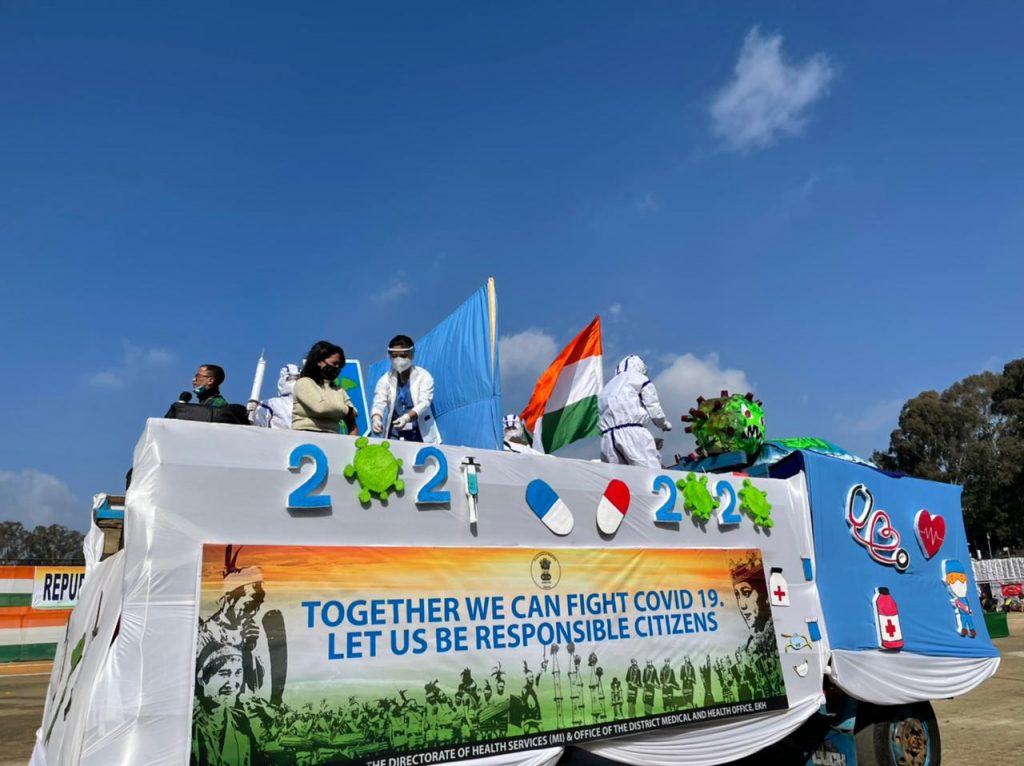 On development, the Governor said, "Despite the Covid-19 pandemic, I am happy to say that most of our initiatives are on track. The greatest achievement, however, during the last year has been the management of the Covid-19 pandemic itself. Meghalaya continues to be amongst the States with the lowest number of active cases and case fatality rates.
Thanking the frontline workers including doctors, health staff, police, municipal and district administration and other stakeholders, he said, "With the development of two made-in-India vaccines, our country has proved its mettle once again as the 'Pharmacy of the world'. As Indians, we stand proud and I would like to congratulate the Hon'ble Prime Minister of India, on behalf of all the citizens of Meghalaya, for this monumental achievement."
Terming that key to our future is sustainable management of natural resources, he said, "Despite being the rainiest place on the planet and having over 75% of forest cover, water scarcity remains an acute problem in the State. Meghalaya already has a comprehensive State Water Policy and will soon be launching the Meghalaya Water Mission to focus on all water-related issues in a comprehensive manner".
Praising the Government, he said, "I also take this opportunity to praise the systematic and consistent governance reforms that are being undertaken by the government."
The Governor also handed over the Meghalaya Award 2021 – The 'U Tirot Sing Award' for Arts & Literature to Raphael Warjri, the 'Pa Togan N Sangma Award' for Social Services to Rev. Dilseng M Sangma and the 'U Kiang Nangbah Award' for Sports and Games to Hame Shaniah Suiam.
As part of the 72nd #RepublicDay Celebration in #Shillong, Hon'ble Governor unfurled the National Flag & inspected parade contingents. Today, #Covid19 Frontliners were felicitated & awards were distributed for the winners of the Meghalaya Day Awards & the tableau display. pic.twitter.com/3dVzy2FcTm

— Conrad Sangma (@SangmaConrad) January 26, 2021
Chief Minister Conrad K. Sangma handed over the trophies to the winners of the tableau display competition and handed over appreciation certificates to different frontline workers of the State.