Tura, Jan 16: A.gilsak gimiko pandemic sajinmana tikka su.aniko dakengon India a.songoba  district level-ni gita district ge.antio tikka su.aniko Sonibar salo a.bachengataha.
Ia tikka su.aniko West Garo Hills-ni Tura Holy Cross Hospital, Walbakgre-o  Medical Officer-rang aro staff-rang sak 100-ko skanggipa tikka su.chengaha.
Tura-o skanggipa sanjinmani tikkako DMCHO, Dr.Ivonne Sangma baksa West Garo Hills-ni District Medical & Health Officer Dr. Marwin R.Sangma, Holy Cross Hospital-ni Medical Officer-rang aro staff-rang man.soaha aro uamang an.tangtangan gimikna skang tikka su.e jinmana mesokangchengaha.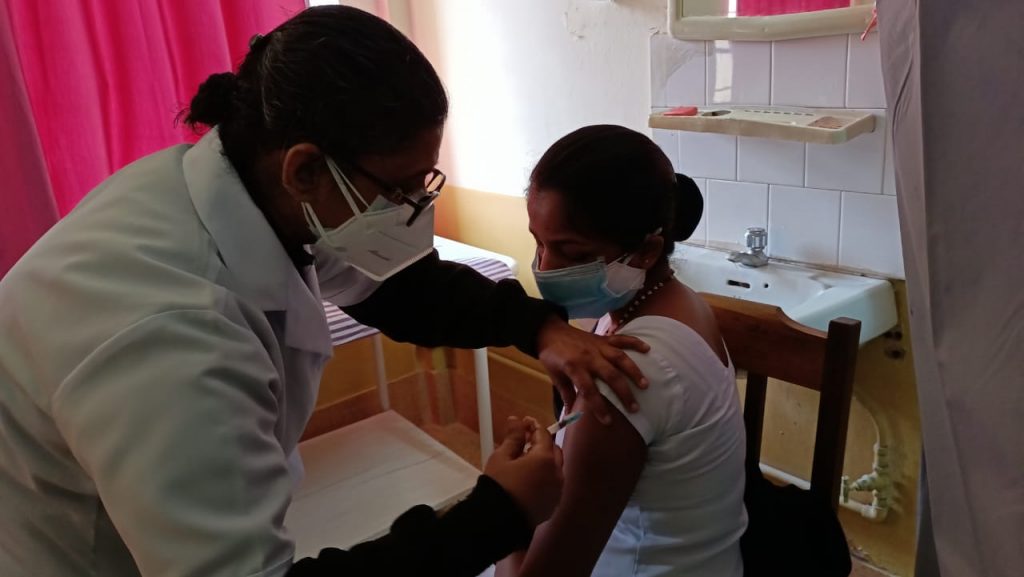 West Garo Hills, Deputy Commissioner, Pa Ram Singh, tom.anio jinmana aganprakengon skanggipa phase-o a.gilsak gimikni dal.batsranggipa tikka su.aniko sengsoe dongengon da.alsa a.bachengatna man.aha.Ia tikkako digital platform database gita melie upload ka.chengaoni somoi gita bimingrangko register  ka.e tikka su.aniko online gita certificate on.ani sal 28 ja.mano gnigipa changna tikkako su.taina nanggen ine aganaha.  Ia tikkako su.na gita changgipa sapgipa aro u.igiparang ia bakkandikgipa somoio chu.gimikko tikka su.na man.jaoba,  bilsi 2 aro bilsi 3 ong.gipa bi.sarangko tikka su.na tarimanaha ine ka.dongatani kattarangko manderangna aganaha. Indiba Pandemic-na dongimin niamrangko tikka su.ani ja.manoba sakantian ja.rikangkuchina ua didiangaha.
Unbaksana ia sajinmako sanna gita dal.begipa Corona Care Centre-ko on.gipa Bishop,neng.takpilgija sagiparangko nirok simsakgipa medical officer-rang,public leader-rang aro manderang ia programo dongpanina aro dakchakanina DC demitele aganangaha.
West Garo Hills-o ge-6180 Covishield tikkako man.soaha aro ge-4999 tikkarangchi an.sengbaljokanina kam ka.giparang, medical Officer-rang aro para military force-o kam ka.giparangko skanggipa phase-o su.na nisanko donaha ine West Garo Hills-ni DMHCO Dr. Ivonne Sangma aganaha.
"Ia sabisina manderang tikka su.na kensoe dongengon anga an.tangan ka.donge gimikna skang tikka su.e mesokaha aro ia tikkako su.anio mamingba kenani dongja. Indiba ia tikkako changsa su.e matchotaha ine chanchina aro Kenna nangja, changgnina kingking tikka su.na nanggen, skanggipa su.ani sal 28 ja.mano changsa su.taina nanggen. Unbaksana ia tikkako su.ani ja.manoba dongimin niam gita social distancingko ja.rikna, mask-rangko ganjringna aro jakko jaksujringna nanggen.Tikka su.ahaode sabisi namjok ine chanchina nangja niamko ja.rikangkuna nangaigen" ineba ua aganaha.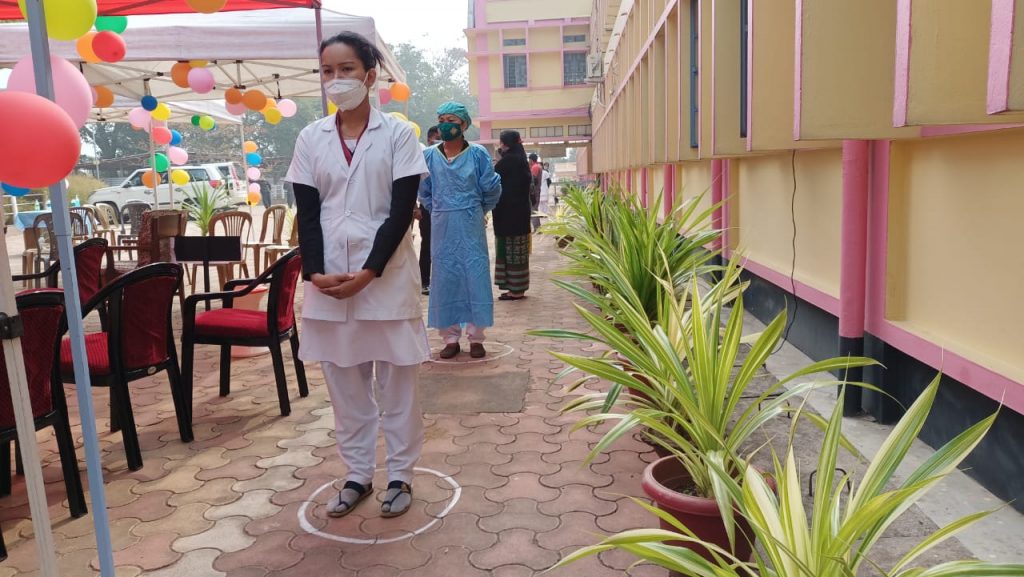 Ia samko Oxford University-ni England aro Astra Zeneca-o tariaha, uko Pune-ni Serum Institute of India-ni gita an.chingona  sokataha aro ia samko vaccinator officer sak 2 namedake check ka.e niani ja.manosa watataha ineba Dr. Sangma aganaha.
Ia tikka su.aniko a.bachengatna gita India-ni Prime Minister Narendra Modi tikka su.ani gimin live telecash-o aganprakatna  skang  Bishop Emiretus Bishop George Mamalasery, Isolo bi.e tom.aniko dilangaha.
Indake tikka su.aniko a.bachengatani salo West Garo Hills-ni District Medical and Health Officer, Dr. Marwin R Sangma, Garo Hills Region-ni Joint Director, Menakshi A Sangma, World Health Organisation-ni Representative Dr. Neeraj Singh, Tura-ni Auxilary Bishop C J Jose, Medical Officer-rang,  staff-rang aro gipinrang tikka su.aniko a.bachengatani  program-o dongpaha.