Dawki is a town in West Jaintia Hills district in Meghalaya, India. Dawki can be visited all throughout the year. However, November to May is the best time to visit Dawki when the weather is cool and perfect for sightseeing. Dawki usually takes one full day to visit the most popular tourist places. Dawki can be mixed with nearby wonderful places like Shillong, Cherrapunji, Jowai, and Mawsynram by adding a few additional days to your trip.
The budget of the Dawki trip depends on the trip duration and category of hotel you choose for your stay along with the kind of vehicle you prefer. Dawki tour packages offered by Trawell.in start from as low as INR 6300 per person for a 2D/1N trip and from INR 9150 per person for 3D/2N vacation. Ensure to cover the most important places to visit in Dawki like Umngot River, Jaflong Zero Point, Burhill Falls, etc. Shillong is 82 km from Dawki and one can visit Dawki as a day trip from Shillong.
Dawki is a year-round destination with a beautiful climate all year. The town by virtue of being located in the Jaintia Hills is blessed with beauty and greenery. Winters are usually colder than summers and therefore some sort of warm clothing will be required especially during night time. Otherwise, temperatures remain pleasant throughout. Shillong should be the preferred location for accommodation as it is a major tourist centre with many suitable options for all budget sizes. Shillong should be the preferred location for accommodation as it is a major tourist centre with many suitable options for all budget sizes.
Try out the delightful Meghalayan delicacies such as Jadoh, Dohneiihong, Makham-Bitchi and Jhur Sideh. Also, taste the sweets and oranges of Dawki it is quite famous for them. Dawki doesn't have a sprawling market to offer to its visitors and thus there is a lack of good restaurants but one can find some dhabas along the route from Dawki till Shillong offering local cuisines. Dawki is a perfect day trip from Shillong. Take the Car Ride from Shillong to Dawki, spend a day under its charm and follow it with a trip to Khasi.
How to reach Dawki Meghalaya?

By Road
Dawki is just 90 km from Shillong and the route passes through beautiful gorges, deep forests and rivulets. It is connected by state buses as well as some private buses to Shillong and Guwahati. One can easily get a bus for Dawki from Bada Bazaar in Shillong or near Guwahati Railway Station in Guwahati.
By Train
The nearest railhead is at Guwahati from where one can either hire a cab or catch public or private buses either direct till Dawki or till Shillong.
By Air
The nearest airport is Guwahati which has direct flights to all other major cities of the country. Guwahati is about 200 km from Dawki and can be reached by hiring a cab. Alternatively, there is a helicopter service from Guwahati till Shillong from where one can reach Dawki by road.
Explore Dawki – Top 5 places in Dawki
Umngot River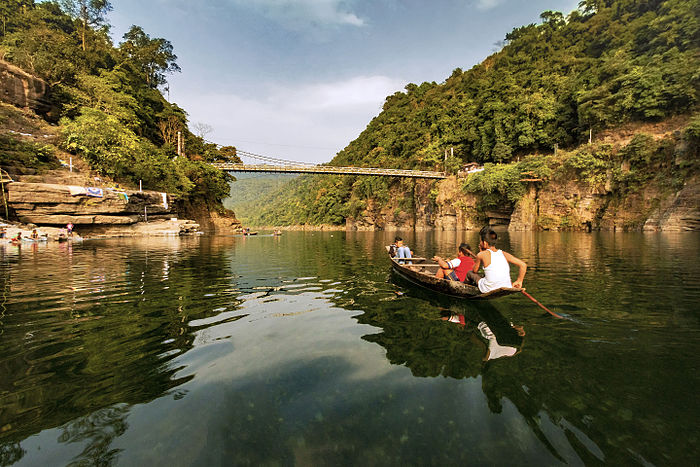 At a distance of 1 km from Dawki Market, Umngot is a small river that flows through Dawki in the East Jaintia Hills of Meghalaya. Also known as Dawki River, it is one of the pleasant places to visit in Meghalaya and among the prime places to visit in Dawki.
Situated near the Indo-Bangladesh border, the Umngot River is the cleanest river that flows in India. Umngot River marks the separation between Ri Pnar or Jaintia Hills and Hima Khyrim of Khasi Hills over which hangs a single span suspension bridge. Built-in 1932 by the British, the bridge can accommodate only one vehicle at a time and acts as a gateway to neighbouring Bangladesh.
Umngot River is a prime fishing spot for both Indian and Bangladeshi fishermen. The river not only flows through a green ambience but also shines like silver. Also, boating in crystal clear water is the experience of a lifetime. The ride starts from the border point and went up the river to a small island type place where there were boulders all over the place. While boating, one can clearly see the marine life in the water. The town attracts a large number of tourists especially in the month of March-April as it hosts the annual boat race on the Umngot River.
One can also see the Indo-Bangladesh border nearby. There is no fencing, no demarcation so it is in fact extremely easy to cross over into Bangladesh illegally.
Boat Cost: Rs.300 for Boat
Timings: 7 AM – 5 PM
Jaflong Zero Point
At a distance of 1 km from Dawki Market, Jaflong Zero Point is a border point located at Dawki in Meghalaya. Situated at the India-Bangladesh border, it is one of the top places to visit in Dawki.
Zero Point is the international border point where River Dawki, also known as Umngot River, crosses India and enters Bangladesh. At Zero Point, there would be Indian border security guards who keep an eye over any unforeseen circumstances ensuring the security of the border and visitors. One can see Bangladesh and people on the other side from this point. Jaflong is popular for its stone accumulations and is home to the Khasi clan.
Timings: 8 AM – 4 PM
Burhill Falls
At a distance of 9 km from Dawki, Burhill Waterfall is a scenic waterfall situated near Dawki in Meghalaya. It is one of the scenic waterfalls in Meghalaya and among the best places to experience Dawki Tourism.
Burhill Waterfalls is located on Dawki – Riwai Road. It is an ideal place for nature lovers as it is situated amidst the thickly wooded hills. With milky white water, the streams flow into a river in the Sylhet borders of Bangladesh. It is difficult to go near the waterfall but one can have great views and take some snaps from the bridge built over it.
Timings: 6 AM – 5 PM
Mawshun Cave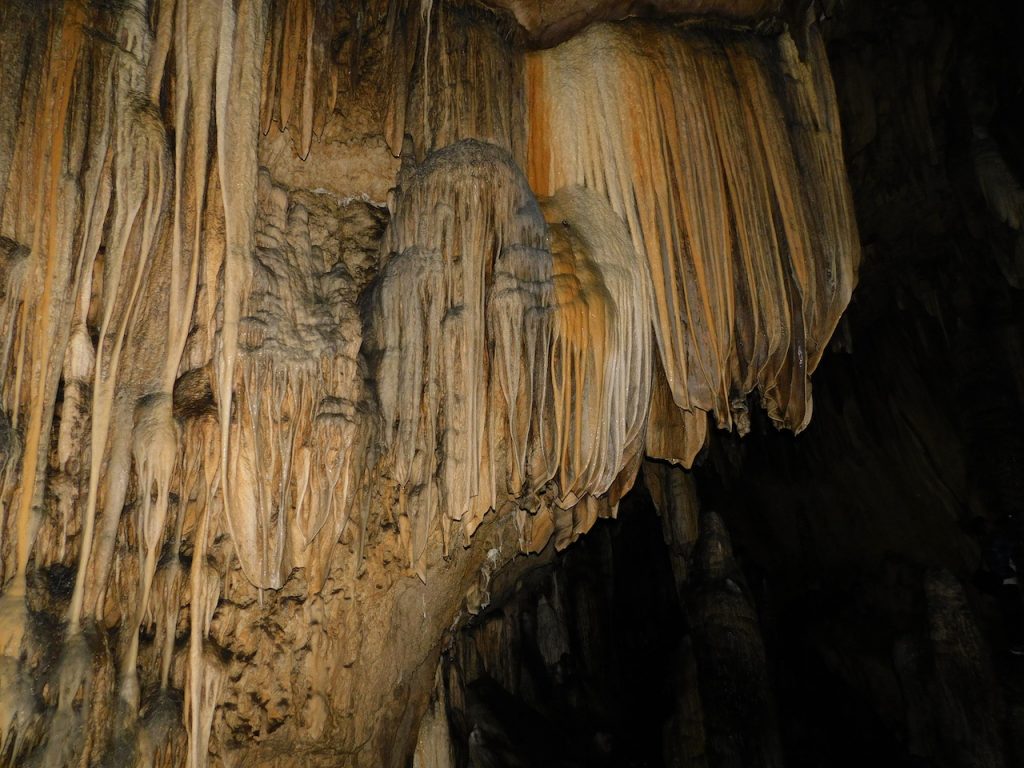 Mawshun caves are one of the famous and most crowded attractions near Dawki village. Situated in the East Khasi Hills of Meghalaya, the caves are located outside the Mawshun village. Providing a calm atmosphere, the cave has cute little ponds that are formed due to the flow of water. Reaching this cave is not easy. One has to walk on rough paths and rocks for about three to five odd minutes to reach the entrance of this cave. With a tricky terrain, the cave gets adventurous as it goes. The path gets narrower and is filled with stalagmite making it one of the beautiful caves in Meghalaya. Tourists are welcome here every day throughout the week.
Byrdaw falls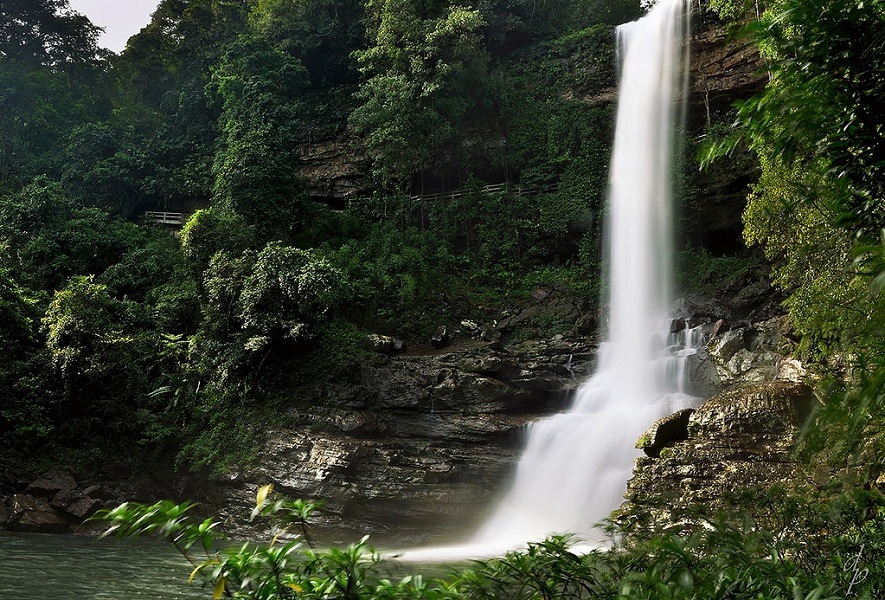 Located next to Dawki is the village named Pomshutia village. The village is famous for its beautiful waterfall called the Byrdaw falls, which is one of the best places to visit in Meghalaya. The best time to visit the falls would be during the monsoon season when the weather is equally beautiful as the waterfall. The surroundings of the waterfall become much greener and alive after getting soaked in the monsoon rain. One has to trek for at least two kilometres from Pomshutia village to reach the waterfall. Once there, take a deep breath and admire the beauty of nature.
Timings: 8 AM – 5 PM