TURA, September 18: A lady PHE engineer from Tura, posted as the Sub-Divisional PHE officer in Bajengdoba, North Garo Hills, is in the eye of a storm after a contractor filed a police FIR and also submitted a case in the Meghalaya High Court accusing her of demanding a bribe of over one lakh rupees to clear his bill, took Rs. 30,000 and still refused to release the bill amount.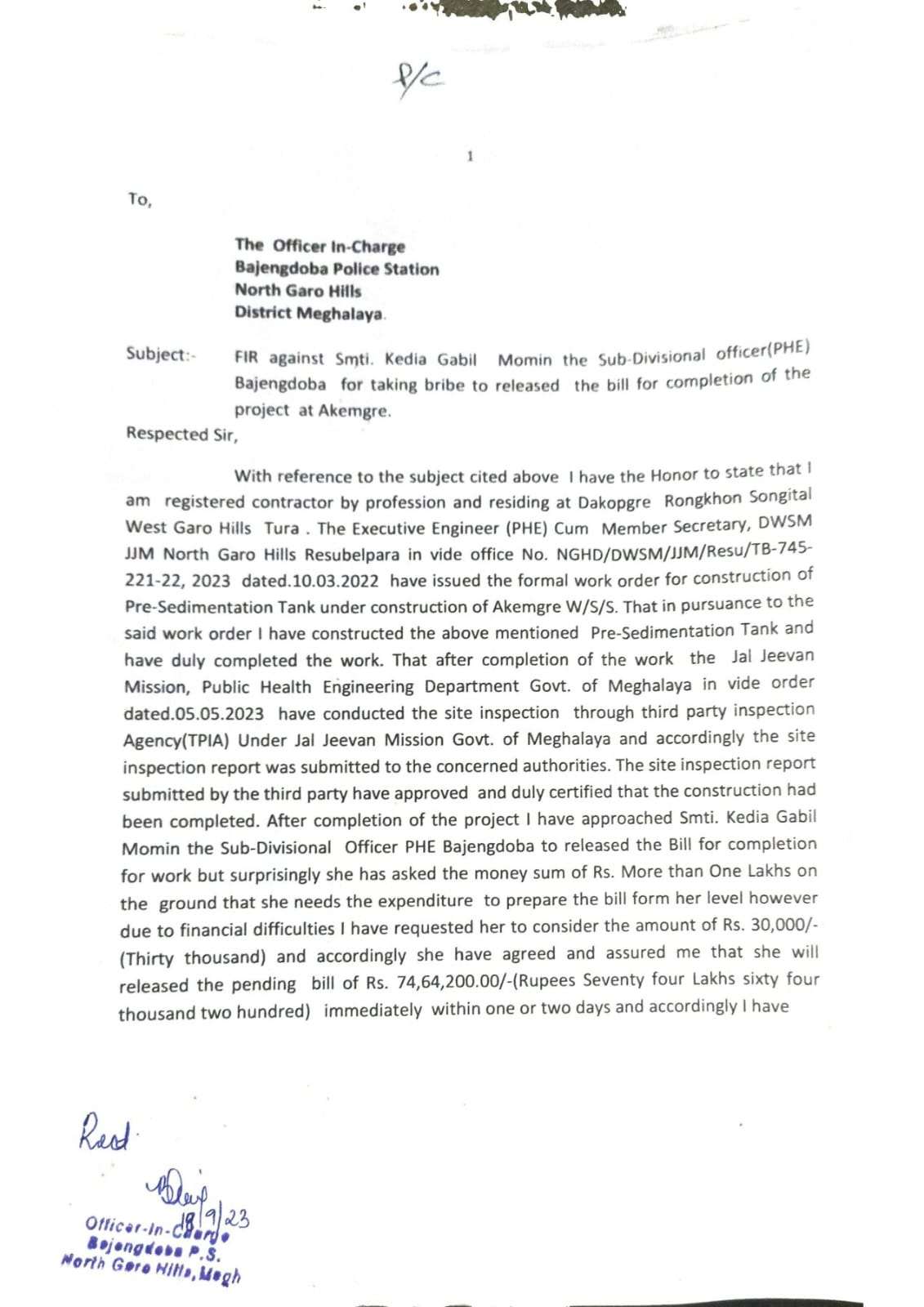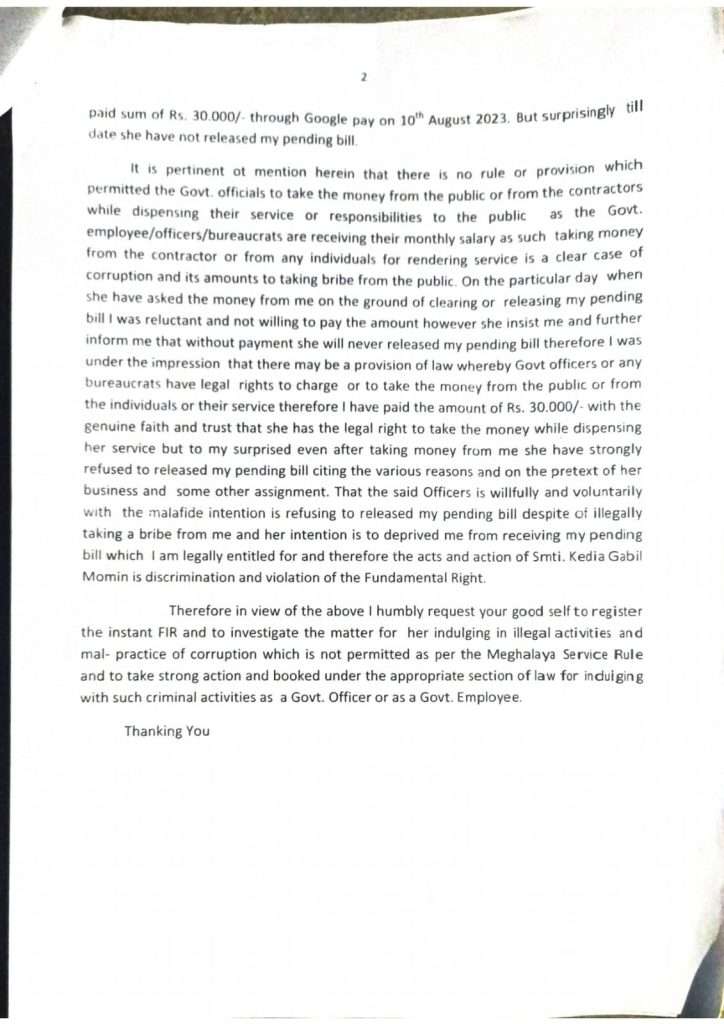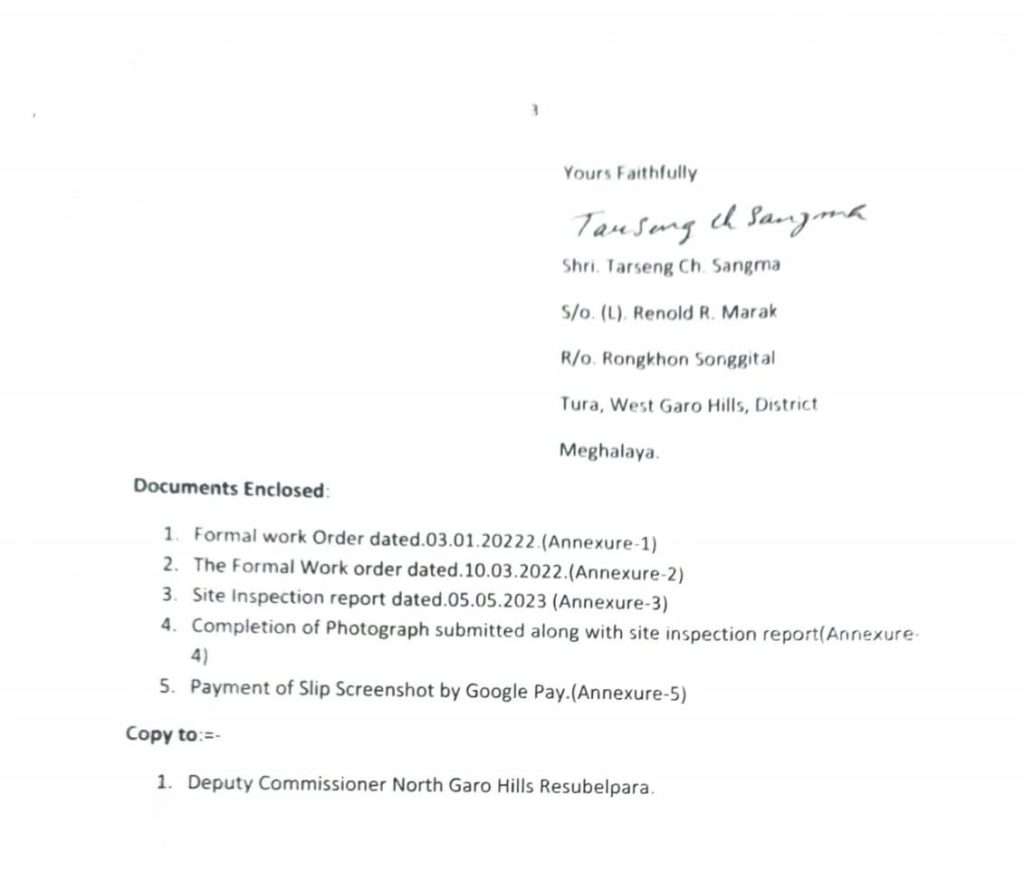 The engineer, Kedia G. Momin, has been named in the court case and FIR and the victim is contractor Tarseng Ch Sangma of Rongkhon Songgital locality of Tura.
As per the police FIR filed at Bajengdoba police station and the subsequent case filed in the Meghalaya High Court, the contractor was issued a formal work order for construction of a Pre-Sedimentation Tank under the Akemgre water supply scheme in the district.
The cost of the project was Rs. 74,64,200.
The tender was issued in his favour by the executive engineer (PHE) cum member secretary, DWSM of Jal Jeevan Mission (JJM), North Garo Hills on March 10, 2022.
According to the contractor, after completion of the JJM project, a site inspection by a third party was conducted, as per norms, on May 5th of this year and the work was found satisfactory and given a certification.
"When I approached the Bajengdoba SDO Kedia G Momin to release the bill for completion of the work, she asked for a sum of more than Rs 1 lakh on the grounds that she needs the expenditure to prepare the bill from her level. However, due to financial constraints I requested her to consider the amount of Rs 30,000 and she agreed and assured she will release the entire bill of Rs 74,64,200.00/- immediately within one or two days. I paid her the thirty thousand rupees through Google Pay on 10th of August 2023 but till date she has refused to release my bill citing various reasons and on pretext she is away on business," alleged the contractor.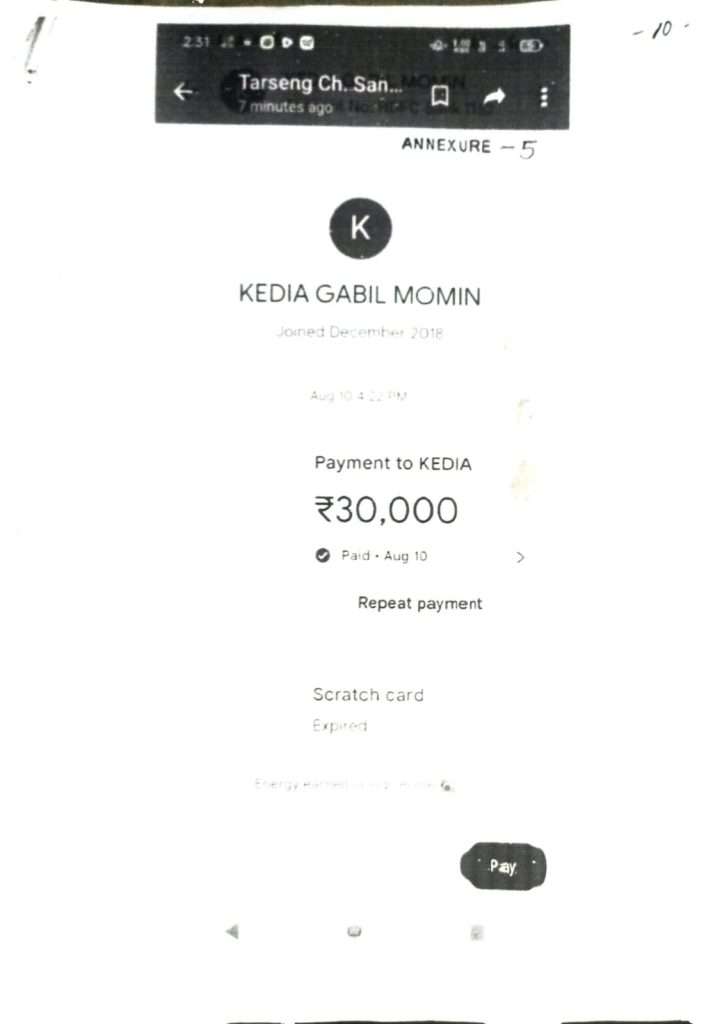 He has questioned as to how and why should a government officer demand money for a service he or she is supposed to discharge and accused the lady engineer of abusing her official position and indulging in a malicious practice.
The aggrieved contractor, Tarseng Ch Sangma, has also filed a case in Meghalaya High Court on September 12 through his lawyers G. Ch Marak and P T Sangma.
Meghalaya High Court has given 2 weeks' time to government to respond to the allegations by way of an affidavit.
Also Read: Umbrella Project – Five-Day Workshop begins in Tura
Also Watch
Find latest news from every corner of Northeast India at hubnetwork.in, your online source for breaking news, video coverage.
Also, Follow us on-
Twitter-twitter.com/nemediahub
Youtube channel- www.youtube.com/@NortheastMediaHub2020
Instagram- www.instagram.com/nemediahub