Tura, Jan 26: Member of the Parliament from Tura, Agatha K Sangma, unfurled the National Tricolor and took the Rashtriya Salute of Seven Parade Contingents on the occasion of 73rd Republic Day Celebrations at Matchakolgre L P School Playground, New Tura on Wednesday.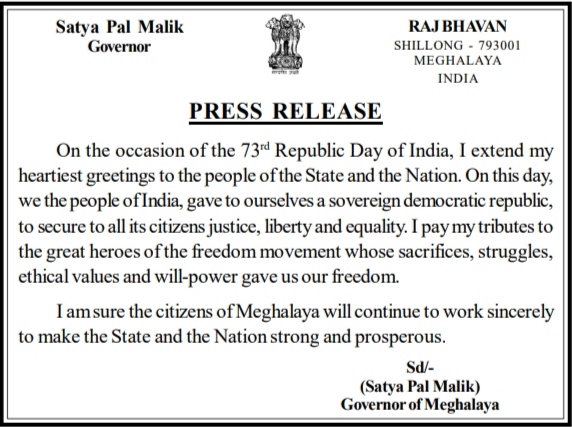 The parade contingents led by Parade Commander Pankaj Rasgania comprised of 2nd MLP Battalion, DEF, Women Home Guard Volunteers, Don Bosco College NCC Senior Division, Female Wing and Junior Wing Contingent and Band Platoon.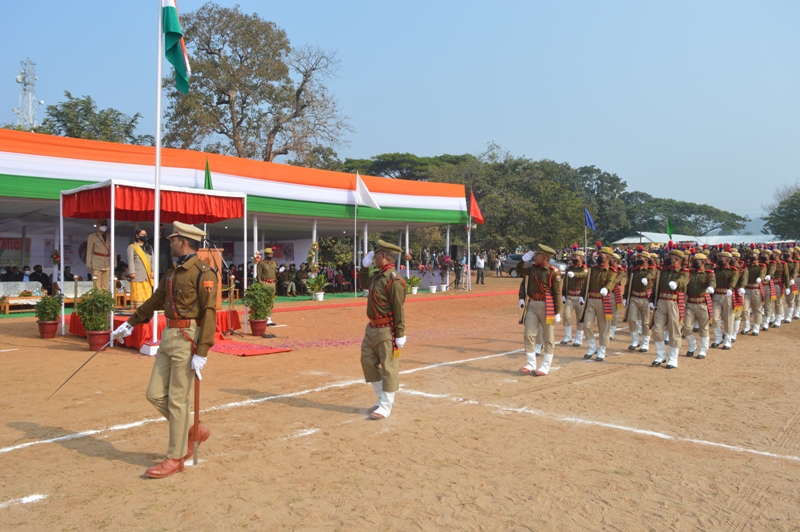 Speaking on the occasion, Agatha recalled the great contribution of the visionary leaders of the state and said that the selfless service rendered by them should be remembered by all.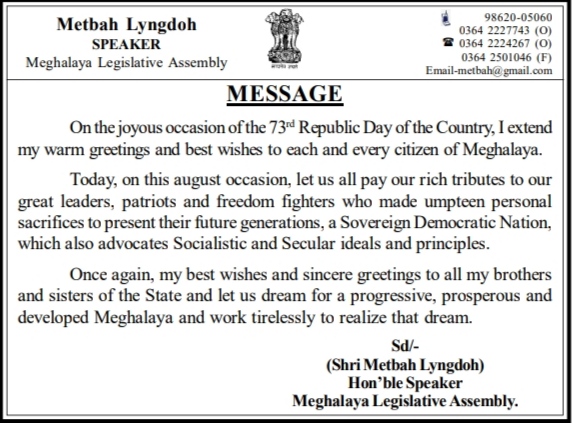 Mentioning that Meghalaya was carved out of Assam as an Autonomous State in April 1970 and was declared a full-fledged State on 21st January 1972, she said that the State had witnessed a remarkable journey over the last 50 years and has seen significant changes and developments.
Major achievements
Citing few significant indicators she mentioned that in 1971, the population of Meghalaya was only 10,11,699 which has now increased to almost 34 lakhs in 2021. The density has increased to 132 persons per sq. Km in 2011 from 45 persons sq. Km in 1971 while the literacy rate has improved to 74 % in 2011 from 29%. Moreover, the length of the National Highway in the State is more than 1,100 Km today which was around 150 Km in 1972, she informed and that the installed power generation capacity in the State has jumped by over 500% from 60 MW to 353 MW at present.
Border issue with Assam: She also made a mention that the State Government is committed to resolve long pending border dispute between Assam and Meghalaya to usher peace and development to the citizens living in border areas and added that the Chief Ministers of both the States have had several meeting, field visits and joint inspections in the last six months and have submitted the report to the Home Minister on 20th January, 2022 in New Delhi.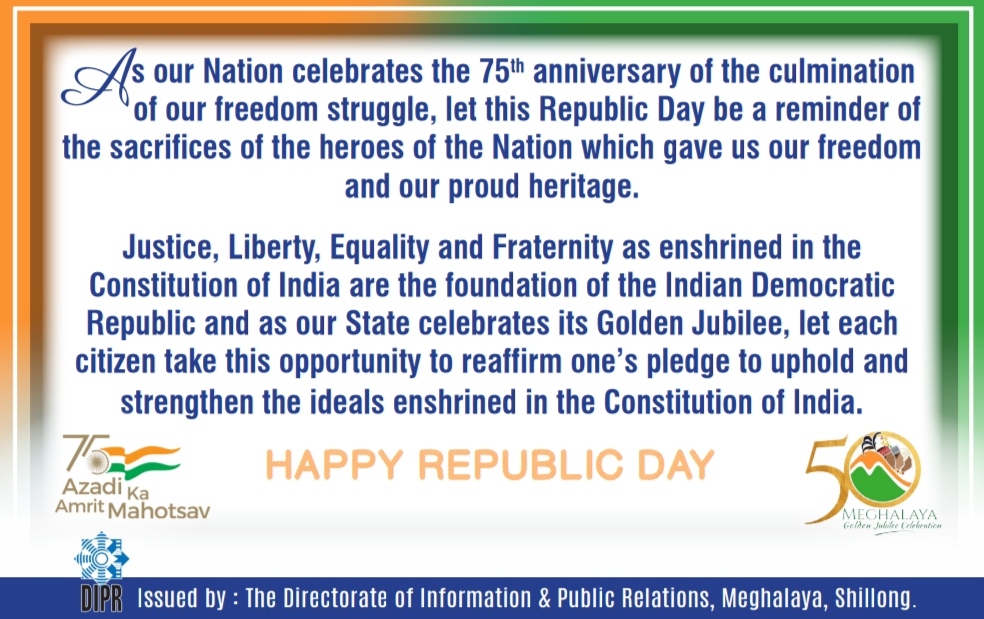 Health Sector: In the health sector, she informed that the State Government had initiated the Meghalaya Health Systems Strengthening (MHSS) Project with funding from the World Bank to infuse around Rs. 350 crore in a span of five years to improve health care infrastructure in the State of which Jowai MCH, Nongstoin MCH, Khlieriat 100 bedded Hospital, etc are due to be inaugurated in 2022-23.
Power Sector: Meanwhile, in the power sector the North Eastern Region Power System Improvement Project implemented in Meghalaya, construction of 33/11 KV Substations at chibinang, Mawpat, Raksamgre, Mawkynrew, Sutnga have completed Augmentation of existing 33/11 KV Substation at SE Falls Substation, Phulbari and 33 KV line extensions from Jongksha to Mawkynrew along Bay extension at Jongksha have been completed she said. She also expressed hope that the Ganol Hydro Electric project will be completed and commissioned by this year coinciding with the Golden jubilee celebrations of the State.
Tourism Sector: Stressing on the importance of Tourism sector she said that Meghalaya Eco Tourism infrastructure Development Project (MEIDP), which is an externally Aided Project under New Development Bank at a cost of Rs. 750 crores has been initiated in the State to create iconic infrastructure at some key tourist destinations like Sohra, Shillong, Tura and accommodation units in Khongthong which has been recently nominated from India for United Nations World Tourism Organisation (UNWTO) for Best Tourism Village Award. She also mentioned about the launching of Meghalayan Age Store in the National Capital, New Delhi on 9th December, 2021.
Farming: Coming to the primary sector, she said that the State Government has launched FOCUS program as a flagship initiative to provide market access and financial assistance to farmers and till date have formed 3,500 Producer groups comprising of 46, 000 household.
Further, in fisheries sector, the implementation of second phase of the Meghalaya State Aquaculture Mission had improved the fish production from 12329MT in 2016-17 to 16123 MT in 2020-21.
Education: Informing that the State is making rapid strides in education, she said that the Shillong Government College of Engineering and the College of Architecture & Urban Planning, Tura will be made operation this year adding that the progress of work of first Technical University of State at Tura have also completed 90%.
Expressing her gratitude to all the health and frontline workers and the communities who have contributed to fight against Covid-19, she said that despite the pandemic, various developmental activities are taking place in all sectors and urged everyone to strife towards better Meghalaya in future.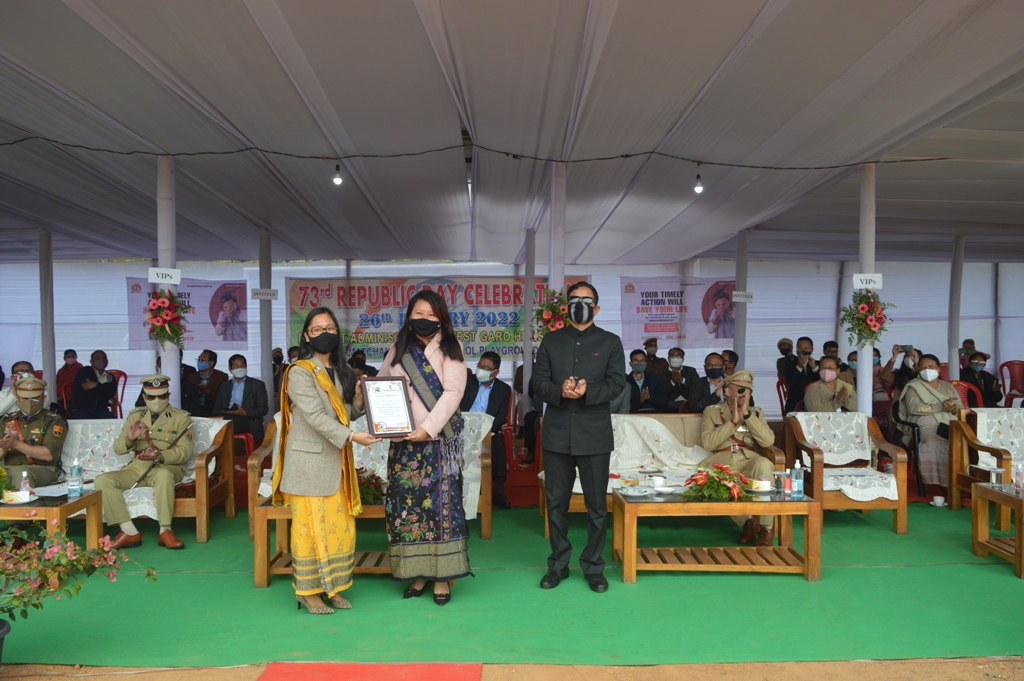 The other highlight of the day's celebration comprised of colourful dance and songs presented befitting the occasion. In the Tableau presentation, the Animal Husbandry and Veterinary Department, Tura bagged the First prize, Border Area Development Department the Second and Soil and Water Conservation Department the Third prize, respectively.