Shillong, Jan 15: The Community Toilet Complex near Additional Secretariat, Shillong was inaugurated by Isawanda Laloo, Deputy Commissioner, East Khasi Hills District on Friday.
The Community Toilet Coimplex was constructed by the Sulabh International Social Service Organization under CSR activity of Antrix Corporation Ltd., Bangalore. In which the land was given by PWD, Shillong for the construction of this project. The North Eastern Space Application Centre (NESAC) in co-ordinating with local authorities for realizing this project.
The toilet facility is a two-storey building with one IWC, one EWC with shower and washbasin for ladies and three urinals for gents in the ground floor, two bathrooms with shower, two IWC, two EWC with washbasin for gents in the first floor. This toilet block will be maintained on pay and use basis by Sulabh International for 30 years.
The facility was inaugurated by the DC (EKH) at 11 A.M in the presence of P L N Raju, Director, NESAC, and B S Sohliya, Chief Executive Officer, Shillong Municipal Board. Rakesh Sasi Bhusan, CMD, Antrix Corporation Ltd, Bangalore participated in the event in virtual mode.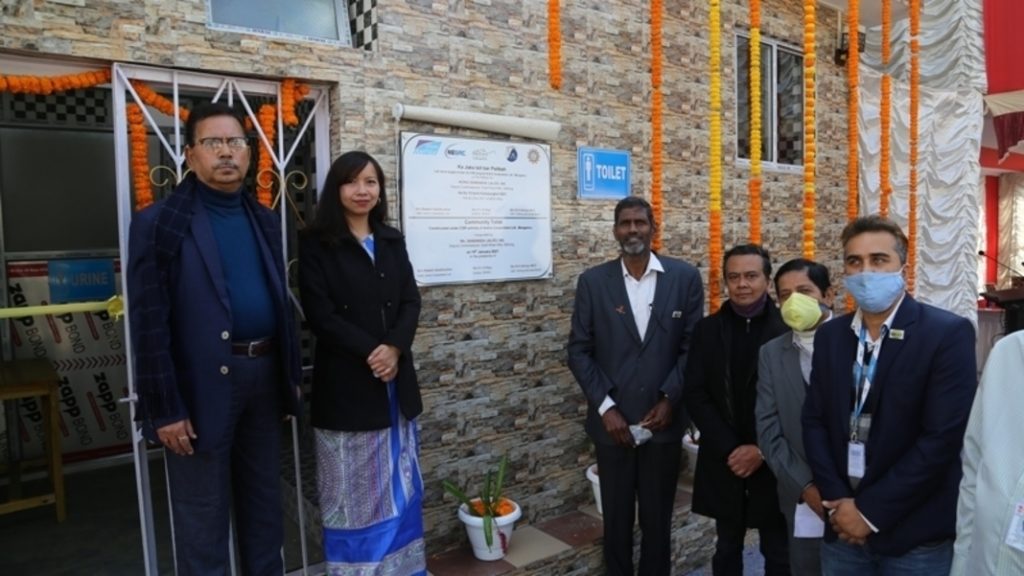 The meeting has commenced with a welcome speech by Director, NESAC followed by an address from CMD, Antrix and the CEO of Shillong Municipal Board. A representative of Sulabh International also spoke on the occasion. DC (EKH), being the Chief Guest in addressing the programme, lauded the efforts taken by Antrix, NESAC and Sulabh International to construct the toilet block in a central location and stressed the need to upkeep the toilet to serve the public in Shillong city.
DC (EKH) also expressed the hope that many more initiative of this kind has to be taken in the district in particular and Meghalaya as a whole.