Tura, Jan 09: North Garo Hills a·jani ning·o donggipa A·dokgre-o gital rikgipa Chenanggre Stadium-ko, assembly-ni dakchakgipa agan-chalaitimgipa Pa Timothy D Shira aro MLA-rang Pa Marcuise Marak, Pa Rupert Momin aro Pa Marthon Sangma-maangni dongpaanio Meghalaya-ni skotong minister Pa Conrad K Sangma, Sombar salo ua jolni manderangna oprake on·angaha.
Chenanggre Stadium was constructed in 2 phases with Phase 1 funded by @TribalAffairsIn & the State scheme & Phase 2 from State resources

We are elated to see this project through & hope that the infrastructure will encourage the youth to take up sports as a career. @MundaArjun

— Conrad Sangma (@SangmaConrad) January 9, 2023
Gong kror 17.28 korosrangchi rikatgipa stadium ba kal·chakramko pagipa sagi Purno A·gitok Sangma-na dingtangmancha on·kangenba Sombaro oprake on·anganio, uni pagipa sagi A·dokgre songko aro uanoni manderangko dingtangmancha namnikachim ine skotong minister parakataha.
Ia stadium-ara uni pagipa sagini ua jolni manderangna niksamsoe kamko ka·ani bakan ong·achim ine parakatengon, a·dokni pilak kona-noksikona kingking namroro-silroroaniko ra·bana gita NPP-chi rikdilenggipa sorkari dingtang dingtang ja·kurangko de·e kamko ka·atenga ineba ua agan-parakataha.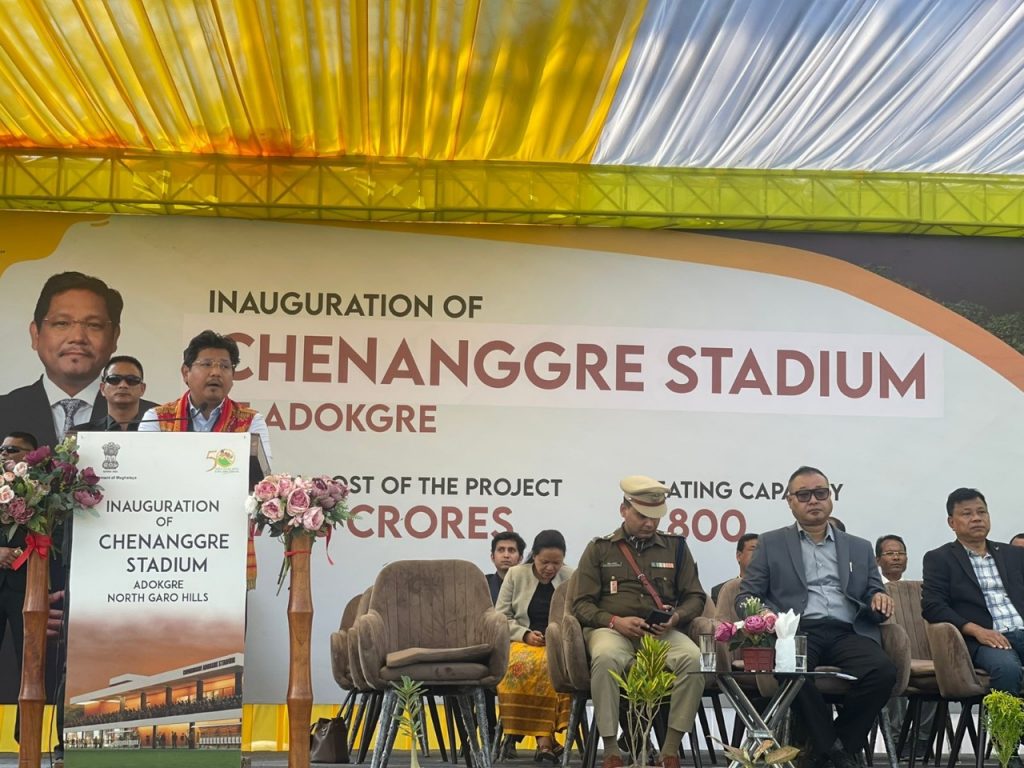 Unbaksana, North Garo Hills a·jao songdonenggipa manderangni namgnina NPP-chi rikdilenggipa sorkari dingtang dingtang namroro-silroroatani kamrangko ka·angkugen ineba a·dokni skotong minister salni bako tom·bagipa manderangna aganprakataha.
Janapna gita, Pa Purno A Sangma sagini tangmitingo A·dokgre songoni eleksinna rally-ko ka·chakatode pangnan chinanga ba cheronga ine bebera·e A·dokgre songko Chenanggre ine gital bimingchi mingskagipaoniko ra·e ua stadium ba kal·chakramni bimingko donskaaha.