Tura, June 4: South West Garo Hills Scheduled Caste Welfare Association (SWGHSCWA) has urged Meghalaya Chief Minister Conrad Sangma for 5 percent separate reservation for Scheduled Caste people in the state.
In a memorandum submitted to the Chief Minister, SWGHSCWA said, "Though Meghalaya is a State having Sixth Schedule of the Indian Constitution to protect the tribal. However, it ought to be remembered that Scheduled Caste Category people are also a deprived community and a reserved category as per Indian Constitution and without providing any separate reservation to Scheduled Caste, Roster System Reservation is seemed to be imperfect. Hence, inclusion reservation of 5% separate quota for bonafide Scheduled Caste Category people of Meghalaya is the need of the hour to protect Socio-economically deprived Scheduled Caste people."
In light of the controversy on the Roster System and reservation policy, SWGHSCWA said Indian Constitution has provisions under articles 15 (4) and 26(4) which are fundamental rights for reservations in education, employment or affirmative action for both Scheduled Caste and Scheduled Tribe and no one can change it.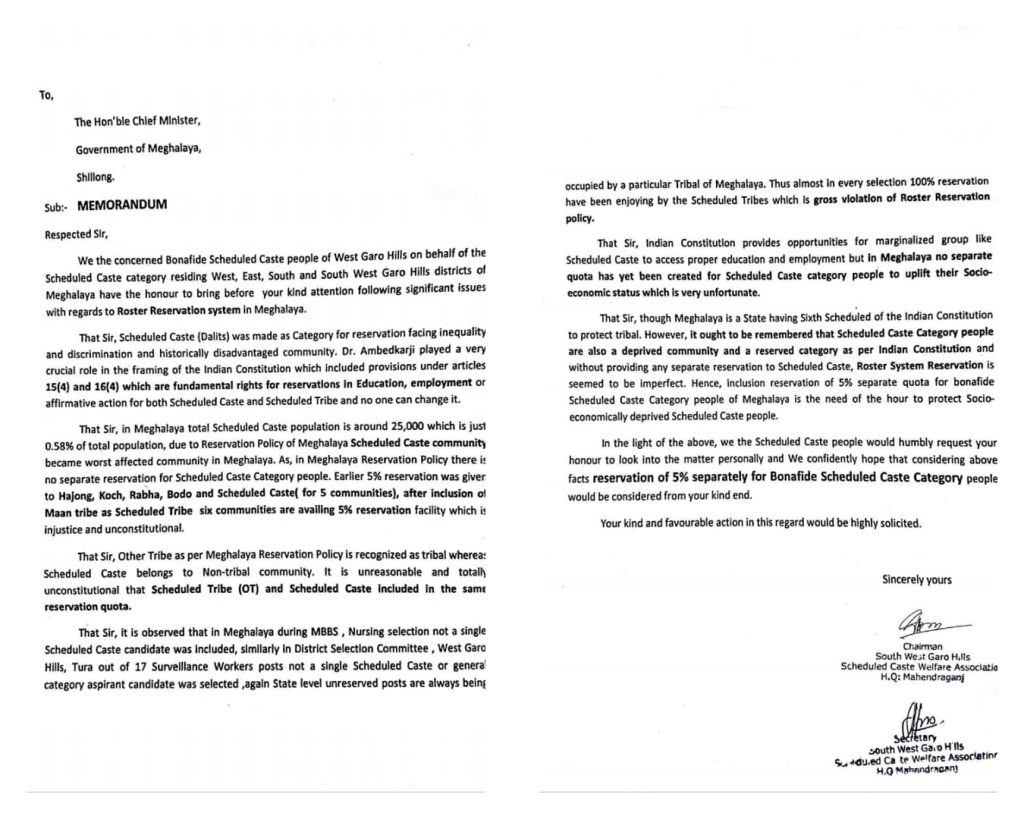 "In Meghalaya total Scheduled Caste population is around 25,000 which is just 0.58% of total population, due to Reservation Policy of Meghalaya Scheduled Caste community became worst affected community in Meghalaya. As, in Meghalaya Reservation Policy there is no separate reservation for Scheduled Caste Category people. Earlier 5% reservation was given to Hajong, Koch, Rabha, Bodo and Scheduled Caste( for 5 communities), after inclusion of Maan tribe as Scheduled Tribe six communities are availing 5% reservation facility which is injustice and unconstitutional," they said.
They highlighted that other tribes as per Meghalaya Reservation Policy are recognized as tribal whereas Scheduled Caste communities residing in West, East, South and South West Garo Hills have been categorised as non-tribal community.
"It is unreasonable and totally unconstitutional that Scheduled Tribe (OT) and Scheduled Caste Included in the same reservation quota," they asserted.
SWGHSCWA further said it is observed that in Meghalaya during MBBS Nursing selection not a single Scheduled Caste candidate was included, similarly in District Selection Committee , West Garo Hills, Tura out of 17 Surveillance Workers posts not a single Scheduled Caste or general category aspirant candidate was selected, again State level unreserved posts are always being occupied by a particular Tribal of Meghalaya. "Thus almost in every selection 100% reservation have been enjoying by the Scheduled Tribes which is gross violation of Roster Reservation policy," they said.