New Delhi: The  women's reservation bill was approved by the Union Cabinet on Monday, sources said. This came after the Union Cabinet met on Monday evening after the first sitting of the five-day special session of Parliament.
The cabinet meeting was attended by Union ministers including Amit Shah, Rajnath Singh, Piyush Goyal, S Jaishankar, Nirmala Sitharaman, Pralhad Joshi, Dharmendra Pradhan, Nitin Gadkari and Arjun Ram Meghwal.
The Union Cabinet has approved the tabling of women's reservation bill, posted Union Minister Prahlad Patel in X(formerly Twitter). However, he deleted the post later.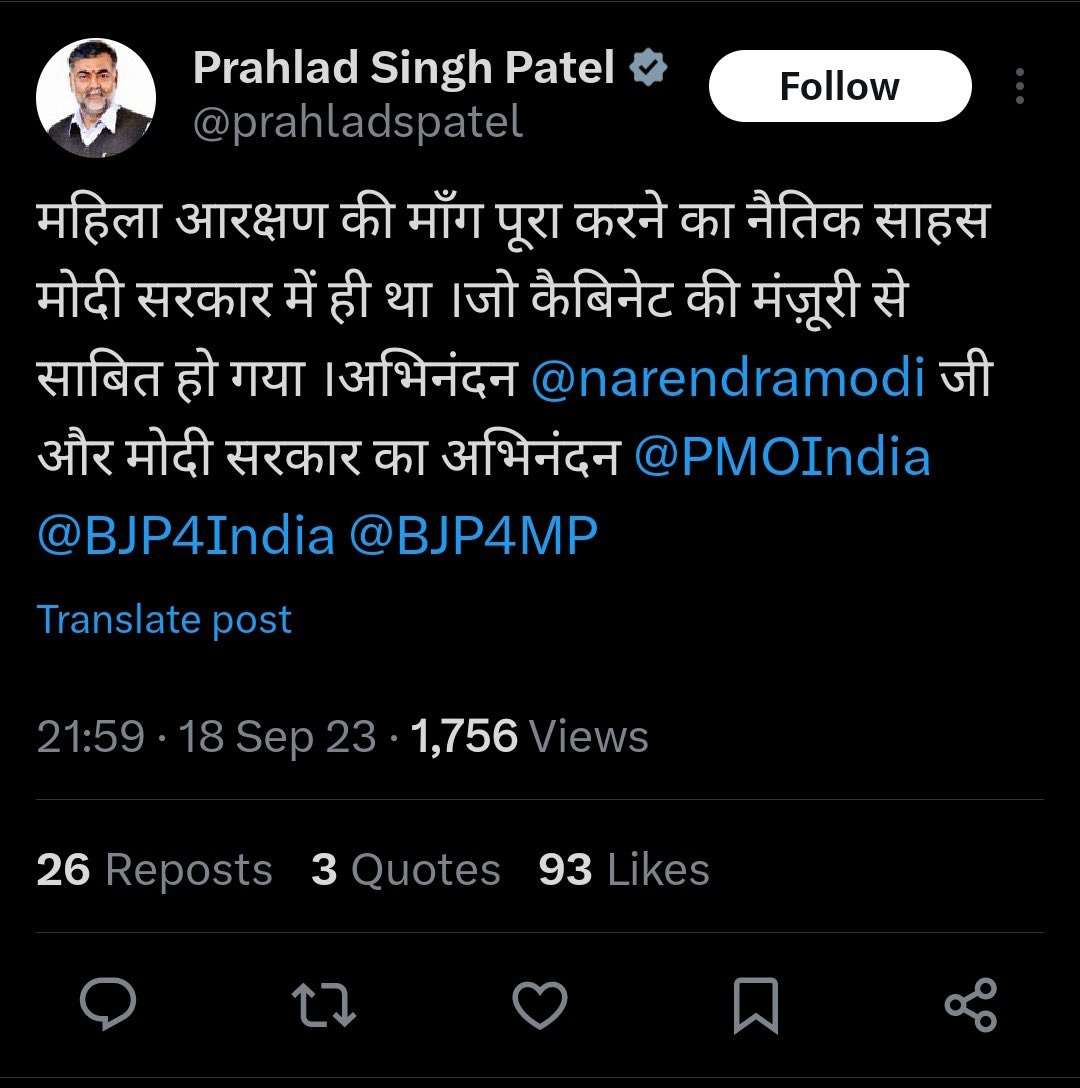 The Women's Reservation Bill passed by the Rajya Sabha in 2010 had provision for 33 per cent reservation for women in Lok Sabha and state assemblies.
According to sources, several BJP ministers and MPs have been asked to bring women constituents to Parliament in the coming days. BJP president JP Nadda met many of them on Monday.
Women's Reservation Bill: Things you must know 
1. The women's reservation bill guarantees a 33 per cent quota in Lok Sabha and state assemblies.
2. One-third of the seats reserved for Scheduled Castes and Scheduled Tribes will be reserved for women from those groups.
3. Reserved seats may be allotted by rotation to different constituencies in the state or union territory.
4. Reservation of seats for women shall cease to exist 15 years after the commencement of this Amendment Act.
5. The Women's Reservation Bill was first introduced in 1996 and even cleared by the Rajya Sabha in March 2010, but lapsed after the Lok Sabha failed to pass it.
Read: Tura engineer accused of taking Rs. 30,000 bribe to pass bill, contractor files case in HC
WATCH:
Find latest news from every corner of Northeast India at hubnetwork.in, your online source for breaking news, video coverage.
Also, Follow us on-
Twitter-twitter.com/nemediahub
Youtube channel- www.youtube.com/@NortheastMediaHub2020
Instagram- www.instagram.com/nemediahub